How to use Bkav Tool
08:47:42 | 07-06-2019
I. Checking your computer and sending log to Bkav Contact Center
Step 1: Run BkavTool.exe file (Link here)
Step 2: To record log, click "Kiểm tra virus" on the screen

Step 3: A new window appears, select the folder (like Desktop) to save log file, then click OK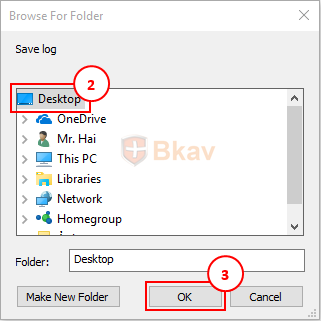 Step 4: The program will record log into file BL.bkc at the selected folder
If you are using Bkav IS, please send the file to the exclusive email address for customers printed on Bkav IS license card.

II. Sending virus definitions to Bkav Contact Center
After receiving file BL.bkc you have sent, Bkav will analyze and send file BT.dat to your email address.
Step 1: Upon receiving file BT.dat, you should save this file on Desktop, then run file BkavTool.exe and click "Xử lý"

Step 2: The program will pop-up a new window, select the folder (such as Desktop) to save file BS.bkc, then click OK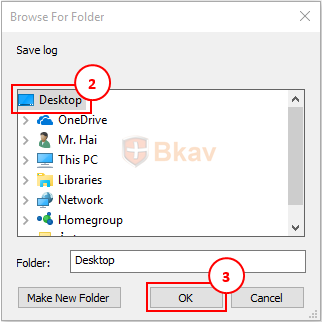 Step 3: If "Virus Alert !" window appears, click "Tiếp" to remove virus
Step 4: Click "Đóng lại" when this button appears
Step 5: Please send file BS.bkc as attachment in email to Bkav so that Bkav can analyze and update into the software's latest version
If you are using Bkav IS, in case of any related issues, please contact through exclusive phone number or email address for Bkav IS customers on the software's Support Tab for timely support.
Bkav

How to address and prevent WannaCry virus

How to optimize WiFi driver on Windows 10?

Computer virus and signs to recognize

Advice on how to avoid the risks of losing Facebook account

Instruction on how to block annoying ads in apps on Bphone

Warning on Unfriend Alert software stealing Facebook password

Computer screen turns black, appearing the message of "You may be a victim…"

What is super polymorphic virus?

Is it necessary to regularly scan the entire computer by Bkav Pro?

How to set password for Excel file?
Customer support
Complaints handling procedure