Warning on Unfriend Alert software stealing Facebook password
11:44:00 | 11-07-2019
Question:
Recently when using Facebook, I learn that Unfriend Alert software allows users to know who removes you from their Facebook Friendlist. This is a great feature that many Facebook users want to use, but I couldn't find the source of this software and wonder if it is released by Facebook or another manufacturer? Can Bkav explain it to me?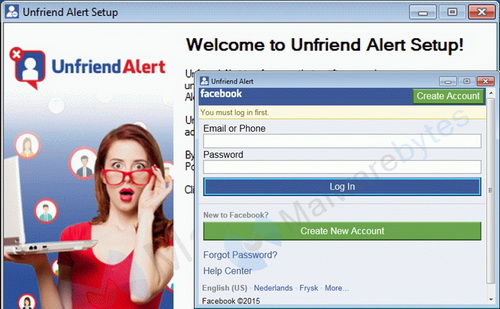 Answer:
Unfriend Alert is not the software released by Facebook but by a third party, when using this software, users will be stolen Facebook account information. Unfriend Alert is rated as an unwanted program because it often displays unnecessary ads and tricks users into installing other free and malicious applications when visiting websites on such browsers as Chrome, Firefox and Internet Explorer and you cannot block these ads or software.
In using, Unfriend Alert requires users to log in their Facebook account to activate the services of tracking and alerting about unfriend actions. After you enter your login information, Unfriend Alert will send this information to the website "yougotunfriended.com" owned by hackers.
Therefore, Bkav recommends you remove the Unfriend Alert and change your Facebook password immediately if you have installed and used this software. In addition, you should not enter your Facebook password when using third-party services or software under any circumstances because Facebook has provided the Oauth API login system for third-party applications. With this system, users do not need to provide login information.
Besides, you can refer to how to prevent the risk of losing your Facebook account at the following link: Advice on how to avoid the risk of losing your Facebook account.