Why must regularly update security software and scan for virus with the latest version
10:04:00 | 11-11-2011
New virus variants are emerging every hour, and even every minute. Virus is inevitable once a computer is in use. Such threats are able to propagate via the Internet such as email, chatting or via intermediate carriers like USB drives or CD drives, etc.
There are many types of virus with different severity levels. After infecting a machine, virus may slow down its performance, corrupt the infected files, cause data loss and system crash. Such threats like spyware and adware use victim's machine to launch illegal advertisements, send junk emails, annoying users, steal private or account information, credit card number from infected machines and reduce system security. Some types of viruses also take advantage of victim's machine to create a botnet to attack a server system or other websites.
If the antivirus software is not updated on a regular basis, virus scan will be rendered ineffective and new virus variants cannot be removed thoroughly. Thus, the computer does not have full protection against virus, causing the abovementioned risks. Regular system scans with the up-to-date software will minimize the risk of getting infected.
To protect your computer from those threats, you are recommended to pick up a good security software for long-term use. The security software is supposed to meet the following criteria: it must be a licensed software updated on regular basis and provided along with direct technical support on the emergence of virus-related issues.
If you are using Bkav IS 2015, connect to the Internet so that the software will automatically update the latest version. In case Bkav IS 2015 has not updated the latest version yet, you can go to License, choose Check for update. Then scan for virus with this latest version following these guides.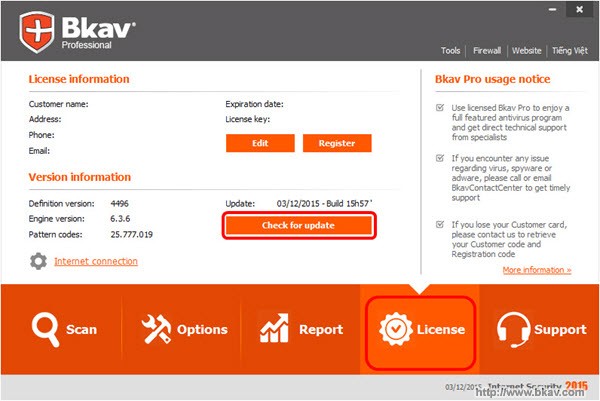 Bkav