Bkav eHoaDon is selected for direct connection with General Department of Taxation
01:59:00 | 09-11-2021
Bkav, among a few other companies, has just been chosen to deploy technical connection before entering an official agreement to become an e-invoice provider that is connected directly with Viet Nam's General Department of Taxation (in receiving, transmitting and storing data). To be chosen, an e-invoice provider must satisfy strict requirements concerning human resource, finance, technology and, especially, must be among those having the largest numbers of customers.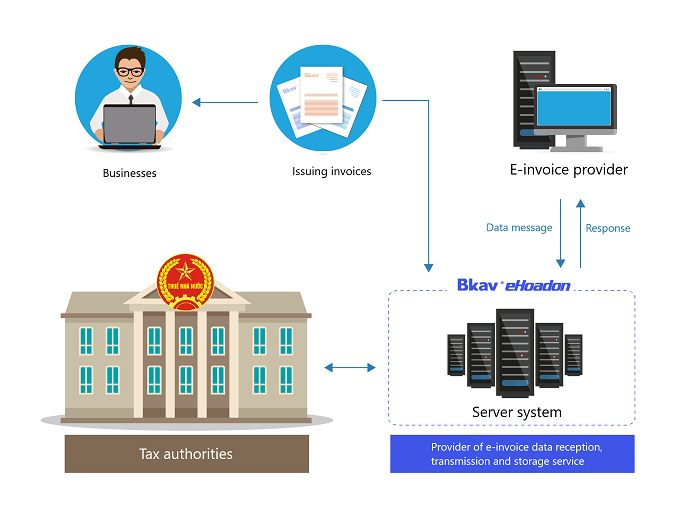 In these years of national digital transformation, electronic invoices are used widely for transactions like goods sales and purchases, service provision, and so on. However, when e-invoice providers have not been connected directly to General Department of Taxation, businesses have to face certain obstacles like cumbersome procedures, compulsory periodic reports to tax authorities on invoice usage, etc.
To remove the obstacles, the Ministry of Finance has issued Circular 78/2021/TT-BTC stipulating the direct connection between the General Department of Taxation and a number of large e-invoice service providers. Accordingly, in order to be selected for direct data transmission, reception, providers must meet a series of criteria concerning human resource, finance, technology and, especially, must be among those with largest bases of e-invoice customers.
Mr. Nguyen Kho Dzin – General Director of Digital Transformation Platform Company, a subsidiary of Bkav Corporation, shared: "Bkav is a leading e-invoice provider in Viet Nam. Due to our direct connection to the system of the General Department of Taxation, hundreds of thousands of customers can submit their registration to tax authorities right on our eHoadon software, eliminating the need of complex tax declaration systems as before. Specifically, businesses no longer have to spend time performing periodic reporting on invoice usage".
Bkav eHoadon, released in January 2017, is a total solution for businesses to switch to electric invoices instead of paper invoices. The product has been deployed in hundreds of thousands of businesses nationwide, with outstanding names like Hoa Son Group, Bitexco Group, Son Ha Group, Daikin Group, KIDO Group, and chain stores like KingBBQ, ThaiExpress, Pizza Hut, Highlands Coffee, etc.
Bkav