Bluezone has reached 100,000 downloads per day
11:46:00 | 29-05-2021
As of May 27 afternoon, the total downloads of Bluezone reached 33.49 million, an increase of 142 thousand compared to the previous day, according to data from the Authority of Information Technology Application​ (Vietnam's Ministry of Information and Communications). Compared to the end of April, when the COVID-19 pandemic outbroke again, the downloads of Bluezone increased by about 3 million. On average, there were 100,000 downloads per day. In the last three days, every day the downloads of Bluezone have increased by about 150 thousand.
On the app stores for iOS and Android, Bluezone has continuously increased its rankings. Currently, the application ranks Top 2 among the most downloaded applications in Vietnam on both mobile platforms.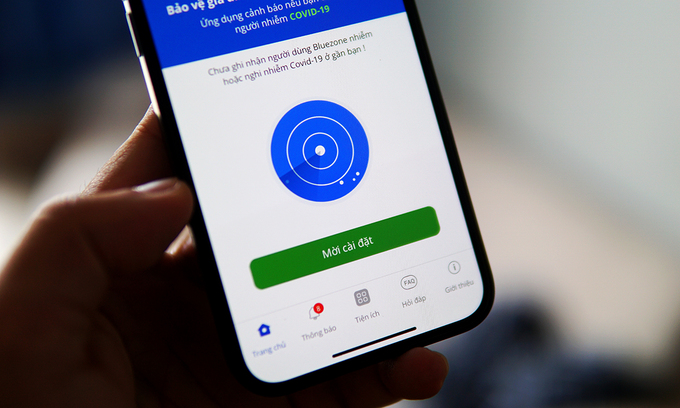 Bac Ninh and Bac Giang are provinces with a sharp increase in Bluezone downloads. In the last 10 days, the downloads of Bluezone in Bac Giang have increased from 384,452 to 433,001. The ratio of Bluezone users to the population in this province has reached 21.31%, ranking 9th in the country, up three places compared to May 18.
In Bac Ninh, the downloads are currently 447 thousand, accounting for 32.66% of the population, ranking 5th in the country. Da Nang, Hai Duong, Hanoi, Bac Ninh, Quang Ninh are five provinces with the highest percentage of people downloading Bluezone.
Starting as a COVID-19 tracing application, Bluezone has added many utilities, such as medical declaration, domestic movement declaration, check-in code scanning, pandemic news update.
Data of contact history from Bluezone is stored on users' phones and is only used to serve health authorities with consent. Bluezone does not store location, use or access other information on users' mobile phones. In previous outbreaks of the pandemic in Hanoi and Da Nang, Bluezone helped detect hundreds of F1, F2 beyond the traditional tracing method.
Source: VnExpress