Ha Nam must monitor all cases of fever, cough, sore throat
10:41:00 | 15-05-2021
The Ministry of Health requires Ha Nam province to monitor all cases of fever, cough, and sore throat.
All of these cases must be home quarantined and tested. These are cases with signals, especially in the vicinity of COVID patients.
My series of " Total solutions for COVID-19 prevention" share the same idea. The difference is the Ministry of Health requires testing for ALL during an outbreak. My recommendation focuses on the times with no outbreak, suggesting that all patients going to hospitals when having severe symptoms of cough, fever should be tested, so that we can discover cases that can help to identify underlying outbreaks.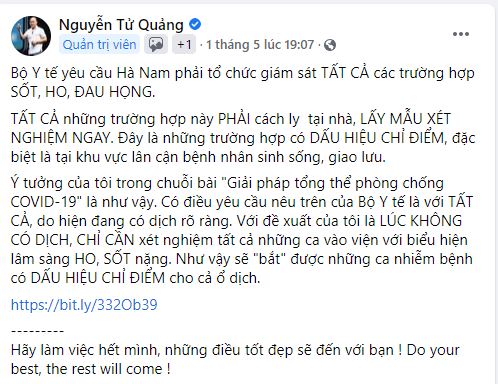 CEO Nguyen Tu Quang