The Final Round of WhiteHat Grand Prix 06
11:41:00 | 27-12-2020
At 9:00 a.m. December 27, the Opening Ceremony of the Final Round of WhiteHat Grand Prix 06 global cybersecurity competition officially takes place at Bkav Corporation. The event is broadcast online at Facebook.com/WhiteHat.vn and YouTube.com/BkavCorp.
Mr. Nguyen Thanh Phuc, Director of the Authority of Information Security (Ministry of Information and Communication) delivers the speech at the Opening Ceremony.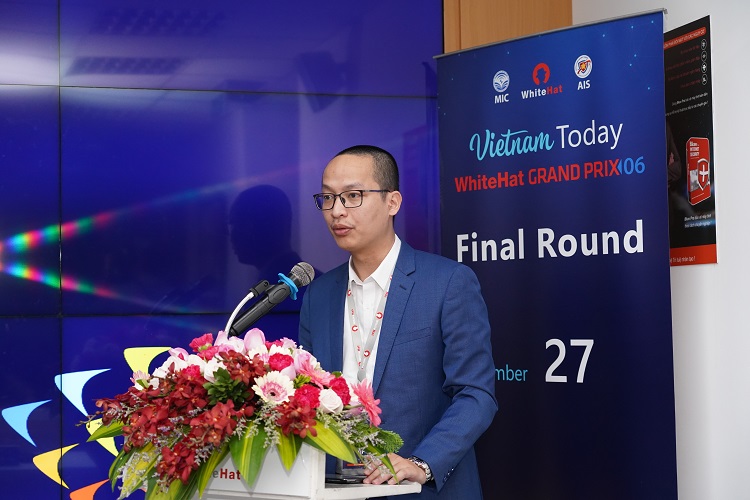 Mr. Ngo Tuan Anh, Bkav's Vice President of Cyber Security gives good luck to Top 10 teams at the Final Round.
Technical Team of the Final Round of WhiteHat Grand Prix 06
After the Opening Ceremony, the Final Round of WhiteHat Grand Prix 06 starts at 09:30. This is an 8-hour competition between 10 excellent teams, of which 2 teams are from the host country Vietnam, 3 from the US, 2 from Korea and 3 others from Russia, India and Germany. Details of the competition will be reported at Vietnam Cyber Security Community WhiteHat.vn and website GrandPrix.WhiteHatVN.com. All information related to the competition will also be updated on Twitter Twitter.com/WhiteHat.vn, Facebook Facebook.com/WhiteHat.vn, and Instagram Instagram.com/WhiteHat.vn.
In this Final Round, the challenges are intended to greatly classify the teams' abilities. After solving Jeopardy challenges, the Finalists will enter the Attack/Defense program in a simulated environment. For the purpose of this program, the Organizer has built up a Security Management System that uses real hardware devices to make the fight realistic. The mission of the teams includes attacking, exploiting others' vulnerabilities to disable the system of security cameras, motion detectors, surveillance lights, etc. while keeping their own systems protected. To be successful, the teams need practical skills and deep understanding of infrastructure security, application security, encryption, web security, etc.
The Final Round is also added a bug bounty program in core systems. This is a special Private Bug Bounty for the teams, where they can show off their skills and qualifications. The software and systems involving the WhiteHat Bug Bounty include the system providing fundamental services, monitoring the quality of the Internet of Vietnam; software used popularly in Vietnam, including software for Internet connection as well as public key infrastructure software that helps ensure transactions on the Internet and so on.
The prizes of WhiteHat Grand Prix 06 include: The First Prize worth VND 230 million (approximately USD 10,000), the Second and Third prizes worth VND 45 million (approximately USD 2,000) and VND 23 million (approximately USD 1,000) respectively. In addition, teams also have the opportunity to get additional bounties per bug they find.
Bkav