Accompanying the Ministry of Industry and Trade to promote e-contracts in Vietnam
03:52:00 | 29-06-2022
At the National Electronic Contract Development Conference in mid-June, Bkav Corporation was honored to sign with the Ministry of Industry and Trade the "Agreement on Cooperation in the Program to Develop e-Contracts in Vietnam". As an e-Contract service provider, Bkav will work with the Ministry of Industry and Trade to promote the widespread deployment of e-contracts to businesses and people nationwide.

The Bkav eContract electronic contract is a platform that assists businesses and individuals in their digital transformation in signing various types of contracts. Instead of having to print the contracts to sign and stamp, the parties only need to use the eContract Platform for remote signing in the cyber environment. With the use of digital signature and certification from the Ministry of Industry and Trade, electronic contracts have the same legal value as or even higher than paper contracts. The conversion to electronic contracts will help businesses and people save up to 70% on printing and delivery costs, and especially shorten the sales and service delivery process by 50%.
Mr. Nguyen Kho Din, General Director of Bkav SME Digital Transformation Platform Company, a member of Bkav Corporation, said: "With the launch of Bkav eContract Platform, Bkav has built a full ecosystem of products that any business needs: digital signature, TVAN electronic tax, IVAN electronic social insurance, eHoadon electronic invoice, and electronic contract eContract, etc. eContract will help businesses with full digital transformation in the process of selling goods and providing services".
The conference also announced the establishment of the Vietnam Electronic Contract Development Axis. The Axis will play a key role in supporting the e-Contract Attestation Organizations in providing services and at the same time a portal to look up and validate e-contracts for third parties. Bkav is one of the first enterprises selected by the Ministry of Industry and Trade to connect to the Axis to deploy e-Contract services.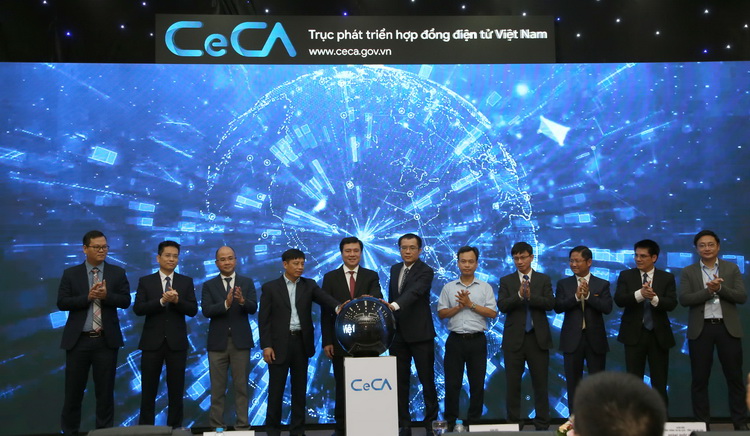 Deputy Minister of Industry and Trade Nguyen Sinh Nhat Tan activated the Vietnam Electronic Contract Development Axis
Bkav