Bkav is licensed to provide the remote signing service
03:50:00 | 01-07-2022
On June 1, Bkav Corporation was officially granted a license by the Ministry of Information and Communications for the remote signing service of the public digital certificate authority.
Bkav Remote Signing is the first remote digital signing solution in Vietnam developed in the direction of 'Make in Vietnam', and is owned by Bkav. The important devices and components of the system strictly comply with European standards and Circular 16/2019/TT-BTTTT of the Ministry of Information & Communications. The highlight of the Bkav Remote Signing solution is that users do not need USB tokens like traditional digital signing but can use smartphones and tablets to digitally sign. The remote signing service offers many conveniences, especially for individual users when allowing digital signing anytime, anywhere at a reasonable cost.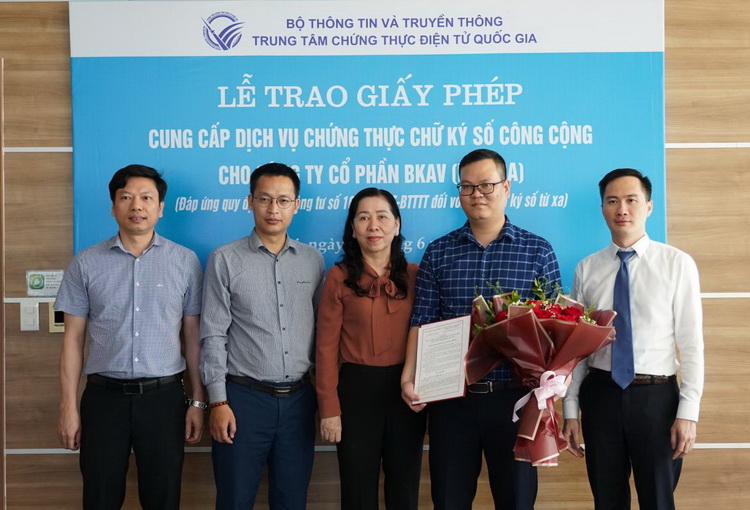 Mr. Nguyen Kho Din, General Director of Bkav SME Digital Transformation Platform Company, a member of Bkav Corporation, said: "With the remote digital signing solution, Bkav offers customers a great experience. When signing digitally, customers do not need USB tokens; just with smartphones, they can digitally sign anytime, anywhere. At the same time, at a reasonable cost, Bkav Remote Signing will expand the customer base for individuals to use in electronic transaction services, helping to ensure the safety of transactions in the cyber environment".
Being granted the license to provide the remote digital signing service by the Ministry of Information and Communications is an important legal basis for Bkav to deploy this service to businesses, organizations, and individuals nationwide in the near future.
Currently, Bkav has built a full ecosystem of products that any business needs: digital signature, TVAN electronic tax, IVAN electronic social insurance, eHoadon electronic invoice, and electronic contract eContract, etc.
Bkav