What did the Vietnamese Ambassador to Myanmar say about Bphone 3?
03:31:00 | 16-07-2019
Vietnamese Ambassador to Myanmar, Dr. Luan Thuy Duong was impressed with the strategy of Bphone in Myanmar market of high potential but also fierce competition.
After attending the Bphone lauching event in Yangon last week, Ambassador Luan Thuy Duong shared on her Facebook that the event "expressed the feature of high technology, introduced the outstanding superiority of Bphone 3", and "showed the capacities and the stategy of penetrating Myanmar market".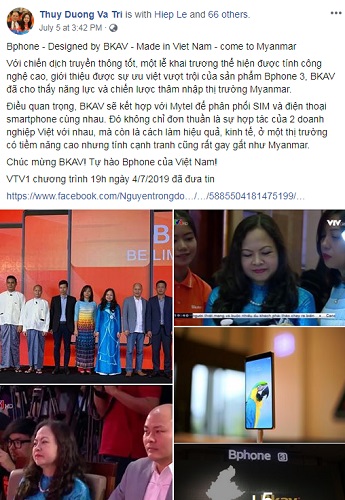 Ambassador Luan Thuy Duong stated that "any enteprises that have invested in Myanmar are brave and ready to cope with challenges".
Bkav shared that it had studied Myanmar market for 6 months before officially launching its product here. By cooperating with Mytel, the third largest mobile operator but with the fastest growth rate of customers in Myanmar, the image and brand of Bphone 3 gradually had presented and approached Myanmar users before offical launching through such activities as TV commercial in golden hours on television, lucky draw for Bphone 3, appearing in big newspapers, etc.
Ambassador Luan Thuy Duong commented that the media campaign of Bphone was good, but the importance was the cooperation between Bkav and Mytel, whose largest shareholder was Viettel. "This is not purely the cooperation between two Vietnamese enterprises, but also an effective and economic way in the market of high potential but fierce competition such as Myanmar".
Together with the Ambassador, the leaders of Vietnamese large enterprises operating in Myanmar also congratulated Bphone on entering Myanmar market.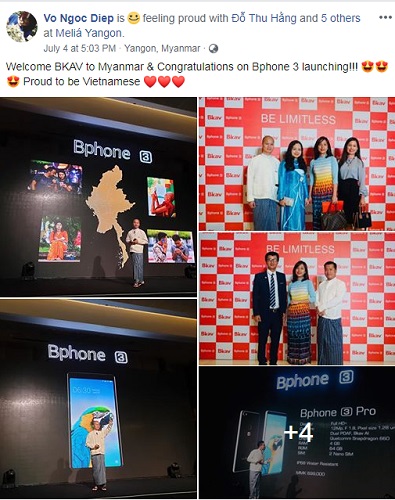 The Commercial Counselor of Vietnam Embassy in Myanmar, Vo Ngoc Diep congratulated Bphone 3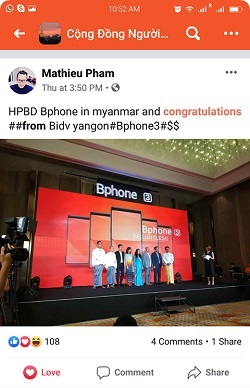 Deputy General Director of BIDV, Yangon Branch - Pham Minh Tuan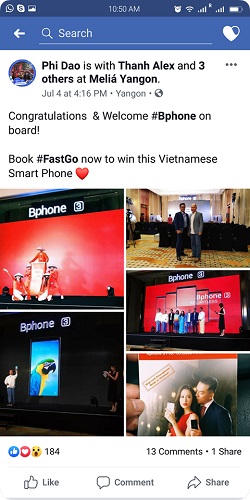 CEO Fastgo Myanmar- Dao Quy Phi
Since early 7/2019, Bphone 3 is available in nearly 100 stores of Mytel throughout Myanmar and is considered as one of the most technologically advanced smartphones in Myanmar market recently. Beside distribution, Bkav has set a goal of investing in the customer care system in a methodolic and professional way because Myanmar people really care for after-sales care. Together with Mytel, the firm has set up 3 main warranty centers in Yangon, Mandalay and Shan and nearly 30 points receiving products for warranty in other places.
VnReview