'Vietnam needs people like Nguyen Tu Quang to take the lead'
04:31:00 | 14-11-2018
This is what Dr. Mai Liem Truc, former Deputy Minister of Posts and Telecommunications, shared at the Vietnam Innovation Conference. After the session on Policies supporting the telecommunications industry towards 5G, CEO Nguyen Tu Quang, Bkav Corporation participated in the discussion on the topic of Promoting innovations through friendly regulations and supportive ecosystems. Many attendees at the conference expressed their admiration for what CEO Nguyen Tu Quang has been doing on the road to fulfill the mission of creating the smartphone manufacturing industry in Vietnam.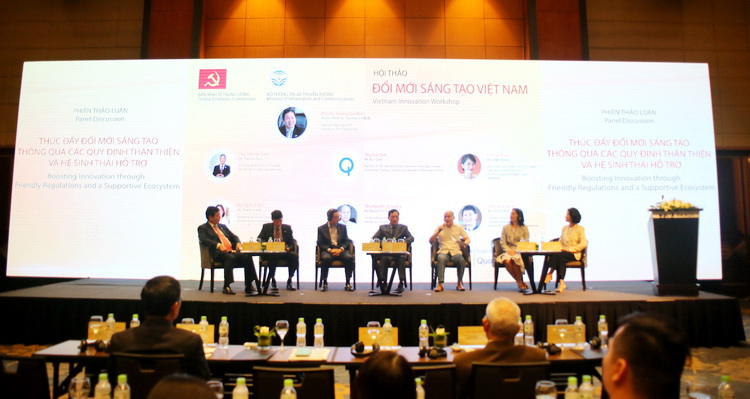 Some questions to CEO Nguyen Tu Quang asked by attendees:
Question: In competing with Apple, Samsung, do you have any fears?
CEO Nguyen Tu Quang: Actually, we have no fear at all. I also told my staff that 'we are who we think we are'. So, if we feel scared in the first place, we cannot create things that can compete well with them. Let me tell you a specific example. More than a dozen years ago, we made the first device of toilet water sprayers. Now in some big restaurants, you may see they are using our Bkav SmartHome. That was the first device. When I put it on the market, I encountered the brand problem right away. Stores could not sell because it could not compete with Japanese products. Many shops even had to say this was from Japan. By saying that, they could sell well because we did it very well.
At that time, I realized that products were sold together with the brandname of their country, of the manufacturer, here is Japan. So, if we produced the products that were as good as theirs, then we lost. So I decided to have better products than theirs together with our national brandname, which was obviously not as good as theirs, to compete with them. That was the reason why I made the strategy to compete with Apple, with Samsung. With such orientation, I believe that Vietnamese people are very capable. I do not want to talk about war. But clearly it partly shows the ability and determination of Vietnamese people to create miracles. I have such faith. I look at history and I have enough confidence.
Question: I am very impressed with Mr. Quang's presentation, it is my admiration to be exact. Today I hear Mr. Quang introduce smartphone Bphone. I am very impressed you dare to think and dare to do, especially in the context that the information technology world is growing rapidly and we must go into the heart of the storm. It is very difficult!
I was very impressed with you in the smiley chart, I mean the smiley chart of OEM value chain, processing is at the bottom with the lowest value added and on the top is the highest value added. I see you sell Bphone at the price of about 7 million. Meanwhile, as you said, the components are completely imported from foreign countries: the US, Japan and Korea. So can you tell me the percentage of components in the price of 7 million?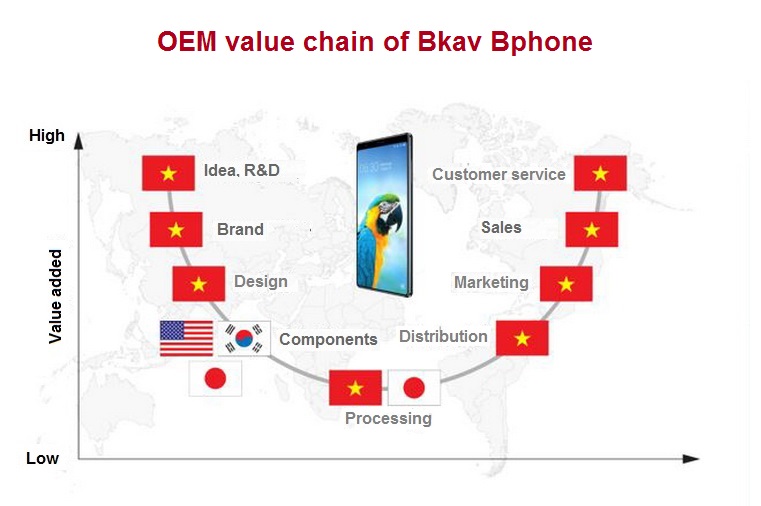 OEM value chain
CEO Nguyen Tu Quang: Yes, as you can see, the smiley chart shows value added, the vertical axis is the value added. You can see that most of the value added is in the stages of research, ideas, design, etc. while processing and components have very low value added. So the strategy of companies that produce components and materials is to supply to all manufacturers. They are big companies but they provide all manufacturers. Here we are talking about smartphone, the value added of a smartphone is in the stages of design, market, marketing, sales, after-sales, etc.
You can also see, currently Apple and Samsung are using components of all companies in the world. For example, Japan is famous for capacitors and resistors. There is a company called Murata that we are working with. They have hundreds of years of experience with these things and they provide the whole world, they provide Apple, Samsung, Chinese companies and Bkav. So the value added in that case is like the noodle story. The noodle shop that we like, whether it sells well depends on the know-how or the profession of the owner. It has accumulated many years of the family know-how. It also buys noodles, onions and other ingredients like us. Obviously it can sell well, whether we can sell well or not is not sure. The value added is there.
Question: Can Bkav produce components? And if yes, when? What are necessary and sufficient conditions?
CEO Nguyen Tu Quang: I confirm that we should not produce components. Because there are companies like Qualcomm that provide components to all manufacturers, except Apple. We don't need to do that because Qualcomm is doing it very well, and we cannot do it as well as Qualcomm. For smartphone, we will create value added there. Qualcomm provides components to all. We are certainly not as good as they are. Or for capacitors, resistors, Japan has been doing them for hundreds of years, the price sometimes is very cheap, just a few cents. Therefore, we should not compete with them and should not do it. But it is good for them, because they provide the whole world.
Question: In Bkav's strategy, which I consider very ambitious, by 2023 we will account for 34.7% of the smartphone market, equivalent to 2 billion USD. If we are not proactive in components, but completely importing like this, is it too ambitious? And is it feasible?
CEO Nguyen Tu Quang: This is really our plan. As I analyzed earlier, in the China market, in 2012 Samsung occupied the No. 1 market share, which was very high. But by 2018, Samsung had only 0.8%, less than 1%. If local companies own technologies, they can produce competitive products just like I said before. And that can be repeated with other manufacturers.
You know this field is fiercely competitive. A big company can disappear out of the market in just one day. A specific example is Nokia. Or Samsung, maybe it will be like that, who knows. Actually we are in the industry and we know it. Then who will be after them? Okey, we've seen some Chinese companies already. And I believe Vietnam will have a place in it.
Question: I had the opportunity to visit Mr. Quang's company and I admire what you are doing to create Bphone. So are you interested in intellectual property in particular and technology companies in general?
CEO Nguyen Tu Quang: I would like to represent some technology companies and startups answering this very correct question. As Ms. Thach Le Anh (Vietnam Silicon Valley Founder) shared earlier that sometimes they registered intellectual properties for inventions but sometimes they don't because if yes, those inventions can be copied. So do we, there are things that we will apply to the National Intellectual Property Office, there are also things we have to keep for ourselves. Because our country is different, developed countries already have ready conditions, they can do fast and they have the market. That is, the intellectual property they offer, they will exploit it first. But in our country, obviously our condition is not as convenient as theirs, what I bring out might be exploited by others first. That's not good. So, we seriously consider which are public and which are not.
For example, earlier I talked about antenna technology. We seriously considered submitting this technology to the Intellectual Property Office, and then no was our decision. Because this was our secret. Obviously, our output cannot be as much as theirs. If we put it out, they can copy, obviously then I have no advantage. For start-ups, saying this does not mean I advise you not to submit for intellectual properties, there are things you should still submit and then investors will evaluate. But for us, we have to consider it.
In fact, in society today, intellectual property is more about companies protecting their products, it's quite different from intellectual property many years ago, like in the time of Edison, etc. Now, intellectual property sometimes is to compete, to go to court. But it is not really for the production.
As in China, their products are copied. I have no time to say more. But copying never surpasses the one that you copy. So it is best to own core technology to create.
The Vietnam Innovation Conference was co-organized by the Vietnam Central Economic Committee and the Ministry of Information and Communication, which took place on the morning of November 14 in Hanoi. The event had the atttendance of Mr. Cao Duc Phat, Member of the Party Central Committee, Standing Deputy Head of the Central Economic Committee, Mr. Nguyen Manh Hung, Member of the Party Central Committee, Minister of Information and Communications, Dr. Mai Liem Truc, former Deputy Minister of Posts and Telecomunications, Mr. Tran Van Tung, Deputy Minister of Science and Technology, and leaders from Ministry of Information and Communication, Vietnam Internet Association, Vietnam Silicon Valley, World Bank, Qualcomm Group, FPT, Viettel, CMC and Bkav Corporation.
Bkav
Others