Bkav eHoadon in food restaurant chain as King BBQ, ThaiExpress, Khaolao
07:00:18 | 13-06-2019
Customers no longer have to wait to get invoices at food restaurant chain such as BBQ, ThaiExpress, Khaolao, etc. What they need to do now are providing information and getting back electronic invoice via email. This is one of the most obvious utilities since Redsun's restaurant chain applied Bkav eHoadon.
Owning a lot of famous food brands, Redsun currently has 22 branches with 180 restaurants nationwide. Therefore, its operation model is relatively complicated. Moreover, Redsun uses a foreign sales management software, that makes a challenge to any electronic invoice provider. However, Bkav eHoadon has the ability to support even if the sales software does not allow the editing and updating. No other electronic invoicing software can do this. Besides, many options have been proposed and tested by Bkav's technical team in order to find out the most optimal solution for the entire chain of stores. Currently all Redsun's restaurant chain nationwide has successfully implemented Bkav eHoadon.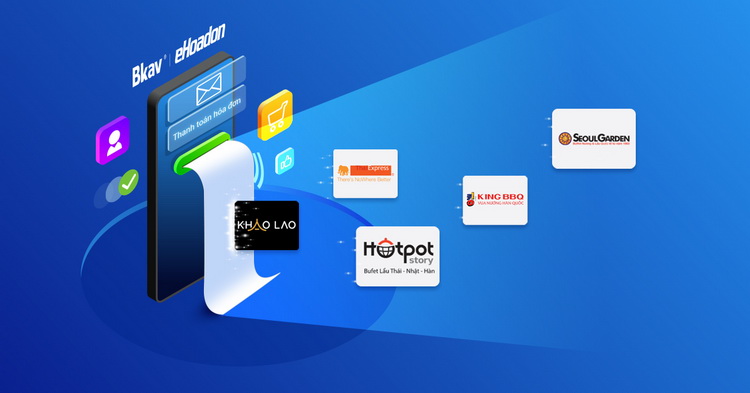 Bkav eHoadon offering a lot of benefits for businesses
"With a huge invoice number being continuously issued each year, we are always concerned about storage. Since using Bkav's electronic invoice, we no longer have to worry about the risks of storage, misplacement of invoices. Finding invoice also becomes easy. E-invoice is really a new step in the development of businesses", said RedSun representative after the deployment of Bkav eHoadon.
Thanks to these remarkable utilities, besides Redsun, a series of famous fast-food restaurant chains in Vietnam such as Jollibee, The Pizza Company, etc. have also selected and used Bkav eHoadon.
Bkav

Bkav officially opens Bphone Store

Macro photo taken by Bphone 3 won the international Mobile Photography contest

A cross-border Bphone community gradually formed

The 90-ton golden plated pagoda in Myanmar through the lens of Bphone 3

What did the Vietnamese Ambassador to Myanmar say about Bphone 3?

Highlands Coffee has officially applied Bkav eHoadon

Bphone enters Myanmar to offer limitless experience

Bphone 3, Mytel suddenly appear in Myanmar television prime time

A series of famous fast food restaurants choose to use Bkav eHoadon

The world's leading shipping groups choose to use Bkav eHoadon