The first smartphone manufacturer to launch onsite warranty service
03:58:12 | 07-06-2019
Users who have trouble with their Bphone such as broken screen, unable to call etc. will be supported by Bkav's technicians at home.
Bphone onsite warranty policy has just been announced by Bkav Corporation recently. Accordingly, Bkav is the first smartphone manufacturer to deploy this service in Vietnam.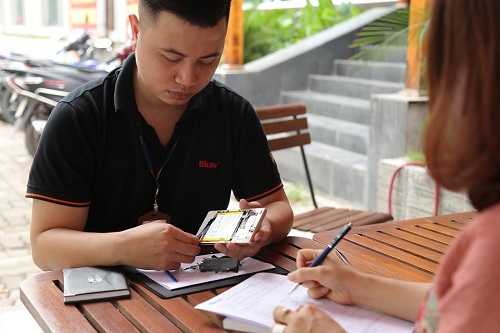 Bkav's technicians come to support users when their Bphone break down, directly at users' houses or workplaces.
Onsite warranty is a service that many manufacturers apply to household items such as washing machines, air conditioners, refrigerators, TVs etc. In cases where it is necessary to replace electronic components, repairers often have to bring the damaged parts to the office to handle, then return users' houses to reassign the devices. This usually takes more than half a day, even 1 day, depending on the availability of replacement parts and the distance.
The above-mentioned household appliances are big, whose circuit design and construction are not too complicated compared to personal electronic devices such as smartphones.
With new warranty policy, Bphone users just need to call Bkav to inform the issues. Bkav will send technicians to users' houses or workplaces to handle all those issues.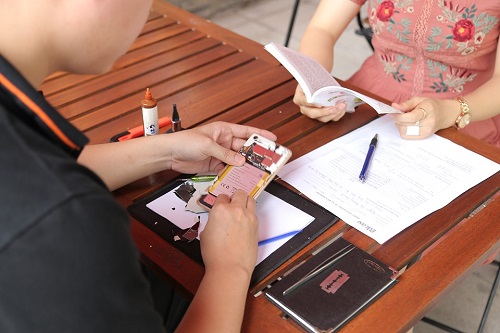 This service is applied first in Hanoi urban districts from May 15
Bkav said that after a period of testing, this service will be applied first in Hanoi urban districts from May 15. In Ho Chi Minh City and other provinces, Bkav staff will come to users' houses or workplaces to clarify the issues of Bphone.
Previously, Bkav also implemented the policy to deliver Bphone to customers' houses and receive warranty requests on site. "Onsite warranty is a new step in Bphone customer care service. This is also a challenge that Bkav sets for itself, to produce the following product better than the previous ones, while it takes a great effort to invest in the onsite warranty service. The ultimate goal is to optimize the benefits of Bphone users", said Bkav representative.
In spite of being newly launched, Bphone's onsite warranty service has received many positive feedbacks from customers. Users appreciate its convenience. New policy helps them to save time as well as ensure phone connection, especially when smartphone has become an essential object in people's lives and work.
Bkav also sets up multiple channels to receive user feedbacks including social network, phone and email. Questions or suggestions of customers are handled within 24 hours. Comments on product features from users will be used as a basis to update the software afterwards. Bkav customer care employees also periodically call users to ask about their using of the products and give detailed instructions to customers when they have problems.
Bkav in many consecutive years belongs to Top 10 Perfect Services voted by Vietnam Association of Consumer Standards and Protection, Top 10 Most Famous Brands in Vietnam.
Bkav

Bkav officially opens Bphone Store

Macro photo taken by Bphone 3 won the international Mobile Photography contest

A cross-border Bphone community gradually formed

The 90-ton golden plated pagoda in Myanmar through the lens of Bphone 3

What did the Vietnamese Ambassador to Myanmar say about Bphone 3?

Highlands Coffee has officially applied Bkav eHoadon

Bphone enters Myanmar to offer limitless experience

Bphone 3, Mytel suddenly appear in Myanmar television prime time

A series of famous fast food restaurants choose to use Bkav eHoadon

The world's leading shipping groups choose to use Bkav eHoadon