BkavPro 2009 Internet Security - Impressive debut with global ambition
12:01:00 | 02-10-2009
On September 09, 2009, BkavPro 2009 Internet Security was officially launched. The following article reflects the opinion of a reporter from DTiNews who participated in the launching ceremony.
DTiNews - On September 29, 2009, BkavPro 2009 was impressively launched with a firm message to rule the domestic antivirus market and reach out to global market. Eventually there has been a qualified "made-in-Vietnam" antivirus software. However, there are still doubts around that.
On August 25, the Beta version of BkavPro 2009 Internet Security was released. According to Bkav, there were as many as 150,000 customers trying this version.
Compared with the Beta version, the official version of BkavPro 2009 Internet Security is integrated with two more features namely Reputation Based Detection and Parental Control (control accesses to porn sites).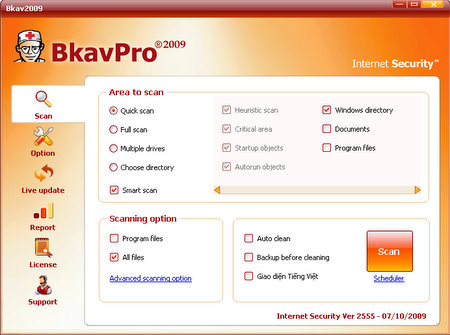 Bkav 2009 Internet Security's Interface
"BkavPro 2009 Internet Security is the strategic product with a technology breakthrough," said Mr Nguyen Tu Quang, Bkav General Director. "The debut of the new product and recent brand promotion campaigns have shown Bkav's determination to rule domestic antivirus market." Bkav said that BkavPro 2009 Internet Security is completely compatible with Windows 7 - Microsoft operating system to be launched.
BkavPro 2009 Internet Security also marks a milestone in Bkav commercial development. The latest version in the familiar series of Bkav antivirus software no longer offers free version. "To have qualified products and services, reinvestment is necessary. Thus, it is crucial to commercialize the product for professional development," Quang said.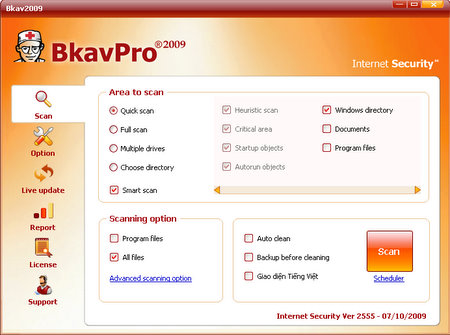 Multiple scan option
Bkav customers will have their software version automatically upgraded to BkavPro 2009 Internet Security without paying additional fee.
"We have invested a lot in our Contact Center, partly to solve this issue. Customers will have their questions answered 24/7", Nguyen Tu Quang added. At this product launching ceremony, Bkav also claimed to promote BkavPro 2009 Internet Security to global market in 2010.
"With 14 year experience in antivirus software development, we are confident to participate in the global competition," Quang said. "First of all, ruling the domestic market will become a leverage to our plan towards global market ".
For long, different Bkav versions have been the topic of dispute among domestic IT specialists with both good and bad remarks, lot of praises yet complaints as well. But finally, 14 years after the the first Bkav anti-virus developed by "The IT Knight" Nguyen Tu Quang, Bkav is still growing strong. Bkav is now a large software vendor with a working staff of more than 500.
Bkav's recent moves have showed that the company is getting closer to a highly specialized and professional model, similar to typical Western enterprises. The most noticeable move has been the commercialization of Bkav products. Starting from a simple and provided-free software 14 years ago, Bkav products also went through a period of "half sell, half give" in the past few years. BkavPro 2009 Internet Security has now been officially launched without any free version. Bkav has been demonstrating its closer approach to a professional security enterprise.
The real quality of BkavPro 2009 internet Security will need time to be justified by consumers. Bkav's ambition, too, will need time to be proved. However, Nguyen Tu Quang's efforts and the confidence to "stand tall" against global security giants should be credited. "We are going to bring BkavPro 2009 Internet Security out to the world, starting with the US market" said Quang. "Figure out your main market and win the battle there. You'll be known to the world."
DTiNews