Drop virus, swindle unlicensed Windows users for money
12:01:00 | 05-04-2011
Recently, Bkav's virus monitoring system has detected a type of malware which once infects the system, will take over the control of the whole system and generate fake warnings with a view to gaining some money from users.
Once the virus is activated, users are unable to use their computers, and at the same time, a warning appears on screen: "Windows license locked… System reinstallation may lead to the loss of personal data". Then with detailed instructions, virus entices users to call Microsoft's switchboard to get Windows activation key for fixing the error.
Amid the extensive use of unlicensed Windows currently, users are highly likely to misconceive that this is Microsoft's Windows activation service, and make a call following the virus' instructions.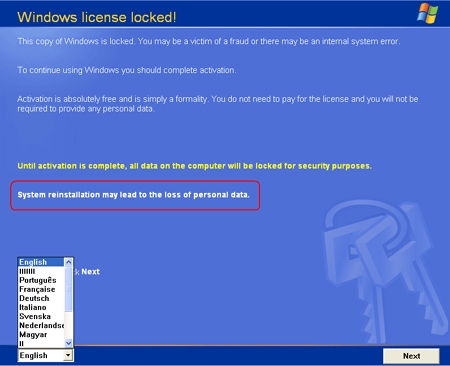 Virus' fake warning
Hacker has taken advantage of the fact that a great number of users are using unlicensed Windows, resulting in their worry upon receipt of such warning. Bkav has found out that each call costs 0.7 USD. Experiments also show that only after several calls can users manage to connect to the switchboard. Of course, these calls are all charged, and it is hacker's scenario.
Bkav researchers have got the secret code dug out from the virus itself, without activation call. Users whose computers are infected with this virus can use the code "1351236" to retrieve the temporary control of their computer. However, Bkav recommends users employ licensed antivirus software to enjoy the comprehensive protection.
Bkav