Safe Run Technology and Bkav 2011
12:01:00 | 22-06-2011
(Computing and life) Safe Run Technology has brought a new philosophy to antivirus softwares. Bkav Internet Security Company has succeeded in employing Safe Run in Bkav antivirus software version 2011 and Bkav 2011 was officially launched in the middle of May in Hanoi. Computing and life would like to provide the readers the discussion with Mr. Vu Ngoc Son – Director of Bkav R&D about the philosophy of Safe Run and version Bkav 2011.
A part of Bkav Contact
Could you give us the detailed explanation of the differences or the advantages of Bkav 2011?
The new version - Bkav 2011 has been added, upgraded with new features and technologies of Bkav such as new rootkit scan technology, new Self Defense technology, advanced registry protection technology, system exploration feature for people good at IT, etc. Among those, the most special feature is Bkav Safe Run - the breakthrough technology.
Bkav Safe Run divides the system into two zones: a safe one (Green Zone) and a controlled one (Gray Zone). Our engineers have succeeded in researching the mechanism which allows the redirection of all threatening impacts on the system from Green Zone to Gray Zone to control. Thus with Safe Run turned on, even when user unconsciously opens a virus file or a malicious website, the system stays safe.
In such a nowadays world filled with risks of viruses, spywares, Safe Run technology will bring high effectiveness; especially for people who often work on Internet environment and usually receive unknown files and links probably containing viruses or malicious codes. In fact, users cannot always verify the origin of these files or links during their works. When users feel suspicious, they can open them with Bkav Safe Run although these files or webs containing virus because they won't be able to cause any harm to system, so it will prevent the risk of information disclosure.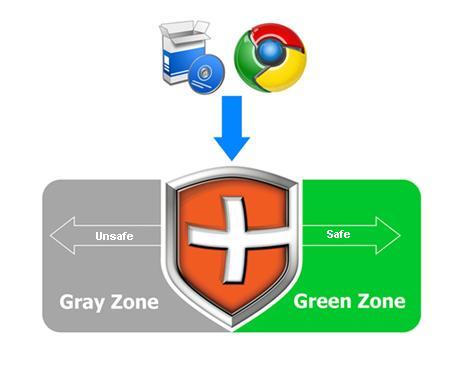 The illustration of Safe Run Technology
As you said, Bkav 2011 employs the mainstream Safe Run technology – the completely new technology. Could you please tell us how "new" it is and whether Bkav is slower in using it compared with other antivirus developers? What are the advantages of Bkav in comparison with other antivirus softwares?
Safe Run technology is one of the state-of-the-art technologies employed in antivirus softwares by vendors. At the moment, only 4 antivirus vendors in the world employ this technology in their products. Before Bkav, Avast!, Kaspersky and Comodo have employed Safe Run technology in their version 2011.
Bkav have employed Safe Run technology later, so Bkav has an advantage of the later maker, which is more complete. For example, in term of usage, Bkav's approach comes from user's behavior. Users can open files, surf webs as usual but it will be controlled. Users only need to right-click to open a file .doc extension but with other antivirus softwares, at first they have to open text editors in Safe Run and then they open data files with text editors. Therefore, users will take many steps that not everybody knows how to properly open. Another example is the ability to blockade processes changing computer environment. Bkav Lab has tested malicious codes that affect not only files or registry but also computer environment. The result shows that when these malicious codes execute in Safe Run, only Bkav Safe Run can completely prevent processes from changing the computer environment.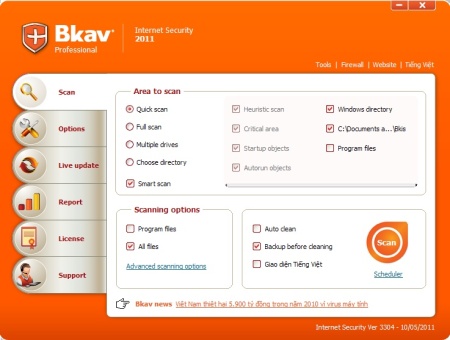 The interface of Bkav 2011
Why is Bkav 2011 with Safe Run technology considered as the advanced one while it only takes control of malicious codes? Isn't it better to remove them right away? Could you give a detailed explanation for this matter?
Safe Run's philosophy is to help users safely open unknown files and webs in temporary prevention way, and it does not completely replace traditional virus removal by virus definitions. Users will make their decision to open files and webs in Safe Run or not. Normally, on receiving suspicious file or webs, users perform virus scanning by all antivirus softwares but cannot detect any malicious code. At that time, users can still feel suspicious but because of their work, they have to open these files or webs, accepting high risk of infection. On the contrary, they can open them in Safe Run without worrying about malicious virus infection. In case there are new viruses that have not been identified by any antivirus softwares yet, Safe Run will prevent them infecting users 'computers. And for the viruses updated by Bkav, Bkav will automatically remove them.
How many types of malicious codes is Bkav 2011 able to control until now and what about the capacity of Bkav 2011 in detecting and controlling new malicious codes?
Currently, the signature database of Bkav 2011 has more than 7.9 million samples. Bkav updates on average from 300 to 400 new virus strains and thousands of virus definitions every day. For early detection and control of unidentified malicious codes, Bkav has employed Heuristic detection technology and Proactive protection technology. These technologies help Bkav detect new malicious codes when they show the same suspicious behavior as a type of virus Bkav updated before and simultaneously isolate the malicious codes on computer and prevent them from stealing user's personal information.
Could you tell us about the business policy for Bkav 2011?
As usual, we will promote marketing activities for our product since the release of new version. Bkav 2011 is effort of specialists, engineers of Bkav in the past year. Therefore, it should be widely introduced to users so that they can efficiently use new technologies that are employed in the product. Currently, we are promoting our products on TVC and offering customers purchasing our new product desiring discount sales. Simultaneously, marketing activity at agencies will confirm the overwhelming dominance over foreign antivirus softwares.
Thank you very much!
Computing and life