Bkav launches gold plated SmartHome for super luxury villas
02:25:00 | 12-09-2014
Bkav Corporation and Phu My Hung Corporation have just announced the cooperation to bring SmartHome technology by Bkav into Phu My Hung's super luxury villas of the project Chateau (District 7, Ho Chi Minh City). Accordingly, the luxury Bkav SmartHome version (Royal Edition) with gold plated devices is now available for villa buyers.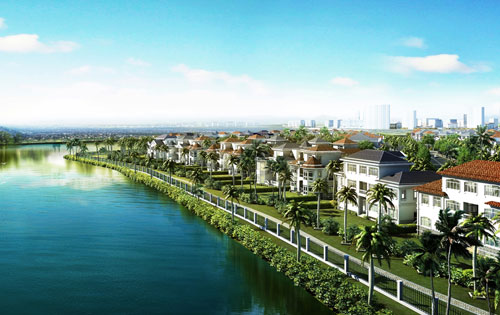 The Chateau is a super-luxury, professionally-invested real estate product by Phu My Hung with 103 riverside villas, with prices varied from several millions to tens of millions USD per villa. Located on the area of more than 16,000m2, the construction density at Chateau is only approximately 20%, which means the remaining area, more than 80%, is spent for green space and gardens. With the prime location in the heart of Phu My Hung urban area which is only 15 minute drive from District 1 (Ho Chi Minh City), it can be said that Chateau is the number one of luxury real estate sector in Vietnam.
Mr. Vu Thanh Thang, Vice President of hardware and SmartHome, Bkav Corporation, said: "We are living in a world of technology. A perfect house must have not only an elegant design or large value, but also emotions and the ability to understand its owners. This can only be realized with technologies like Bkav SmartHome".
Smart home is an indispensable trend for luxury villas, using the famous villa of the billionaire Bill Gates as the model. Exclusively for the super luxury villas, Bkav released a special version of SmartHome. All of touch switches, control panels in the house, access control devices, etc. are plated with gold, hence enhancing the elegance of the house.
Bkav SmartHome is a complete smart home system which helps homeowners manage and control their house via the visual 3D interface on a smartphone or tablet. Devices in the 3D design are synced with the reality ones. The systems of lighting control, curtain control, environment control, security, entertainment, etc. are connected and operated under the smart context scenarios, bringing the high comfort and luxury life for homeowners.
In the middle of June, 2014, after more than 10 years of research and development, Bkav officially launched Bkav SmartHome system. The product surprised the world of technology and were considered a dominantly high class and quality product compared to "big names" such as Schneider (France), Siemens (Germany) or similar products of technology "giants" such as Google, Apple, etc., which are actively taking part in this field recently.
Bkav