Bphone being launched on May 26, witnessed by 1,500 guests
03:08:00 | 18-05-2015
(VnExpress) The first smartphone of Bkav shall be launched at the National Convention Center, Hanoi on May 26, 2015. The event is expected to be one of the most impressive product launching events of Vietnam.
According to Bkav's Facebook fanpage, 1,500 guests including tech-lovers from technology forums, readers of some presses, national and international correspondents shall be invited to attend the launching event. Especially, the guests shall be the first users to directly experience the product right after the launch.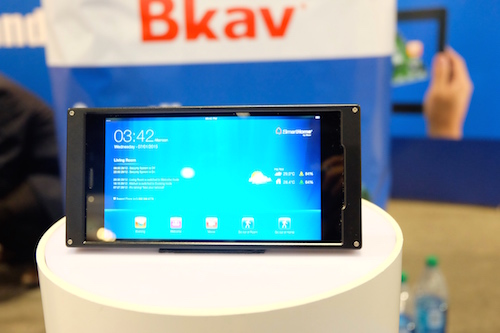 Sparking off lots of debates from its appearance in CES 2015; the smartphone's design and configuration are shared in drops. Until now, all that people know Bphone include: high-end product with beautiful and styled design, strong configuration, high-quality components and reasonable price.
Bphone shall have aluminum unibody, dual-tone flash, Qualcomm Snapdragon chip and 5-inch screen manufactured by Sharp. There's rumor that the smartphone shall be sold for 13-15 millions Vietnam Dong, belonging to high-end segmentation. Before, it was confirmed by an internal information source of Bkav that Bphone shall be only sold online.
Most recently, Bkav said that the manufacturing of sapphire glass for Bphone camera protection was delayed due to insufficient production of assembling robots. Therefore, Bphone could not be launched in April as prior announcement.
From disclosure on the fanpage, Bphone launching event shall be one of the most impressive events of Vietnam. Technology experts say if Bphone satisfies the expectation of Vietnamese users, the launching event shall be the historic milestone of Vietnam electronics industry.
Source: VnExpress Newspaper