Why Vietnam is good at pandemic prevention?
11:02:00 | 15-04-2021
There are many factors that help us to be recognized as the country that has practiced the world's most effective prevention campaign against the COVID-19. It is impossible not to mention the organizational structure.
During the pandemic prevention days, I have noticed a characteristic of the organizational apparatus involved in tracing and stamping out the disease: the entire health and security systems, even in COMMUNES AND WARDS, and even military sites participated in the fight against the pandemic in a CLOSE manner.
These factors, together with citizens' compliance with government regulations, have created a "wall" against the pandemic just like THE PAST WARS OF OUR COUNTRY.
As a result, our pandemic prevention outcome is certain. Social isolation and distancing might have been A LITTLE TOO STRICT, but with the gained experience and reasoning, we can confidently REDUCE THE STRICTNESS while ensuring both effective pandemic prevention and resumption of the normal life.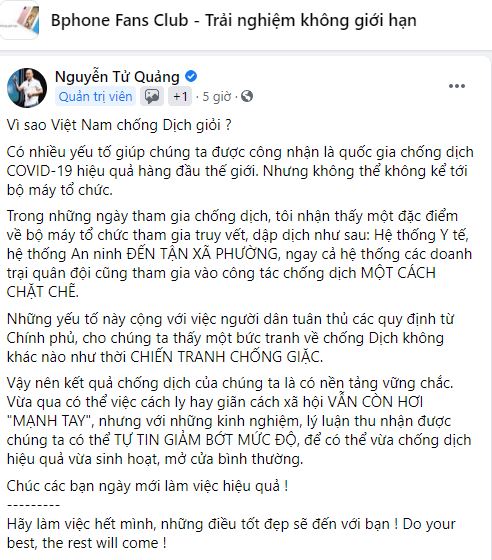 CEO Nguyễn Tử Quảng