Bkav Internet Security 2018 launched with AI technology
08:34:00 | 26-02-2018
January 16, 2018, Bkav Corporation officially launched the latest version of Bkav Internet Security antivirus software integrated with cloud computing technology, Artificial Intelligence (AI) that automatically analyze, early detect risks, remove virus, protect system against spyware, protect users' data and accounts. Bkav Internet Security 2018 is integrated with the new technology called Anti-CoinMiner to protect users against cryptocurrency miner malware. The developer said that the scanning speed of Bkav Internet Security 2018 increases 150% compared with other versions.
Bkav Internet Security 2018 establishes a real time monitoring system which records all abnormal features, symptoms, behaviors of applications, executable files on the systems. Artificial Intelligence integrated in Bkav Internet Security (AI Antivirus) will summarize the received data, analyze and indicate the risks that users can encounter such as: data being deleted, being tracked by spyware or accounts being stolen, etc. then give commands to handle, prevent and remove the malware.
Mr. Vu Ngoc Son, Vice President of Anti Malware, Bkav said: "Bkav Internet Security is integrated with outstanding technologies developed in more than 10 years by Bkav, as well as added AI which is a breakthrough solution, protecting users comprehensively against malware and their new variants which constantly emerge".
The manufacturer said that Anti Ransomware technology integrated in Bkav Internet Security 2018 protects users against ransomware while Anti Adware technology removes adware hidden in browser plugins.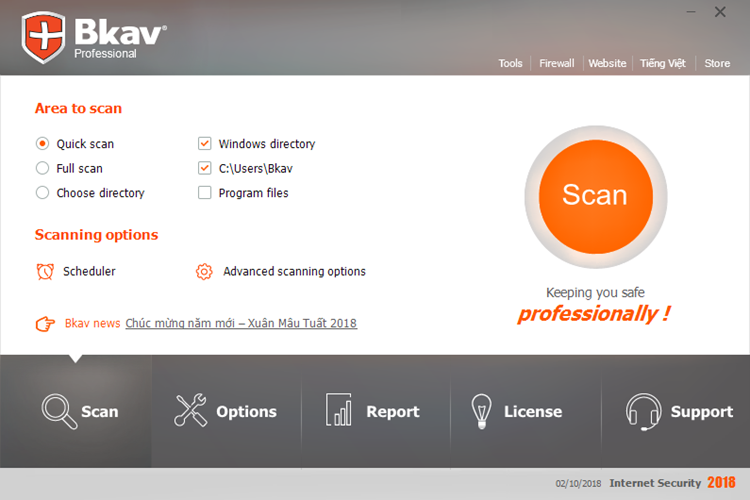 Bkav Internet Security 2018's interface is refreshed based on Fluent Design language of Microsoft. Using lighting in combination with natural materials brings the new experiences for users but still ensures the friendliness, easy to use inherited from previous versions.
Especially, in the situation of coin miner malware explosion recently, Bkav Internet Security 2018 is equipped with the Anti-CoinMiner technology which automatically removes cryptocurrency mining malware without the need to update new samples.
Bkav Internet Security 2018 still keeps the current price at $39.99/1 year/1 device. Customers can be automatically upgraded to the latest version free from January 16, 2018.
Bkav