Mastering technologies: The key contributor to Viet Nam's successful control of Covid-19
01:38:00 | 05-11-2020
A workshop that aims at sharing with the world about "Applications of Technologies in Prevention and Treatment of Covid-19 Pandemic" was held by Viet Nam Ministry of Information and Communications, in coordination with the Ministry of Health and the Ministry of Foreign Affairs. The event was joined by representatives from the Embassies of many countries and international organizations, together with representatives of international press in Viet Nam.
In the world, the Covid-19 pandemic remains complicated. Up to now, Viet Nam has been recognized as a country that has led a good fight against the pandemic, ensuring a normal life for its people. One of the factors that help Viet Nam succeed lies it its application of technologies in the prevention and treatment of Covid-19.
At the workshop, Viet Nam Ministry of Health shared its experiences in the fight against Covid-19, while representative from the Authority of Information Technology Application, the Ministry of Information and Communications of Viet Nam, presented the application of information technology (IT) to prevent and combat the disease, including: Applying IT in propaganda activities, Application for the people, and Application for the authorities.
It's the real situation in Viet Nam that, besides professional measures by the health sector, the strategy to apply technologies in controlling, preventing and treating Covid-19 has been promoted. Among the technologies promoted are: The app for alerting and tracing close contacts with Covid-19 cases Bluezone; the application of high flow nasal cannula (HFNC) device in treating Covid-19; successful development of test kits used for diagnosing Covid-19 cases; the software for health declaration Ncovi, and so on.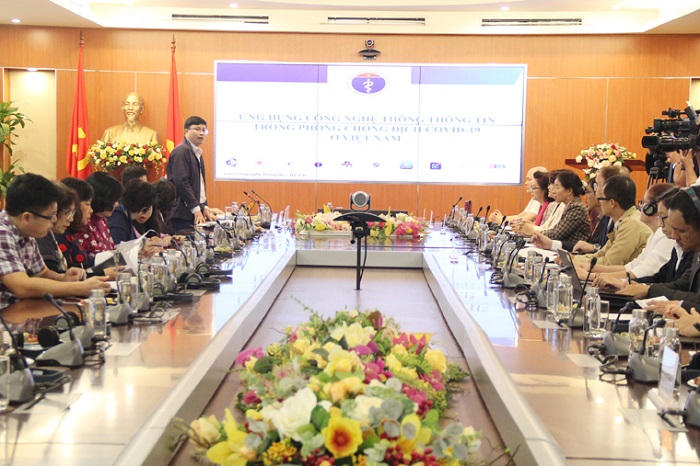 The contact tracing app Bluezone is considered as a technological shield that protects Vietnamese against the Covid-19 pandemic. The app's developer – Bkav Corporation – at the workshop shared its experiences and measures to deploy the app in the new situation. More than 20 million Vietnamese people have installed and used Bluezone.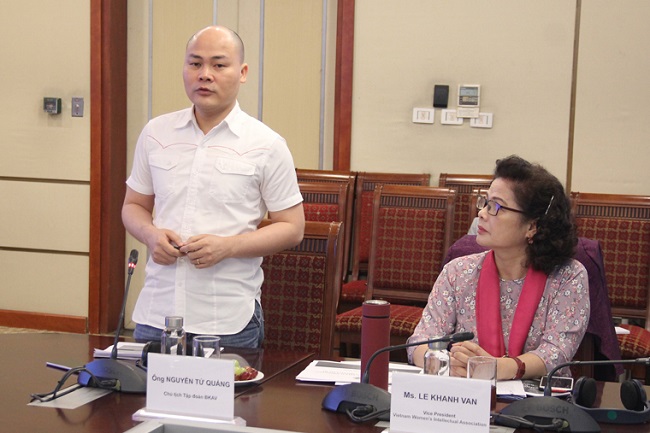 Mr. Nguyen Tu Quang, Chairman of Bkav Corporation (Bluezone developer) shared his experience and measures to deploy Bluezone application in the new situation.
Regarding the treatment of Covid-19, representative from Viet Nam's National Hospital of Tropical Diseases shared their practical experiences in treating Covid-19 and other respiratory diseases using high flow nasal cannula (HFNC) device. One of the "turning points" in the fight against Covid-19 in Viet Nam comes from the decision to use non-invasive ventilation in place of endotracheal intubation for some certain severe cases. This helps to save resources while benefiting the patients.
Another technological product developed in the Covid-19 fight is the test kit of Sao Thai Duong Joint Stock Company. A new version which will help to boost the testing speed, high flow and correct detection of RNA of SARS-CoV-2 is being developed. Besides, the products that enable effective prevention of Covid-19 like silver nanoparticles, antiseptic gels were introduced by Viet Nam Association for Intellectual Women at the workshop.
Bkav