Bphone 4 will be launched in March 2020
03:56:00 | 19-02-2020
Early morning of February 18, CEO Nguyen Tu Quang himself announced on the fanpage of Bphone Fans Club that Bphone 4 would be launched in March. The launch event will be organized in a modern and technological style, and livestreamed widespread for techlovers to easily follow.
Sharing on the community of Bphone lovers, Bkav CEO said: "It is quite dificult to make the decision. However the Covid-19 is under control. The situation is expected to be better in March. The event will be held in a modern and technological style, with limited number of invitees, but livestreamed widespread for all techlovers to follow. Let's wait for the achievement of Bkav engineers and you yourselves with enthusiastic suggestions in the past one year".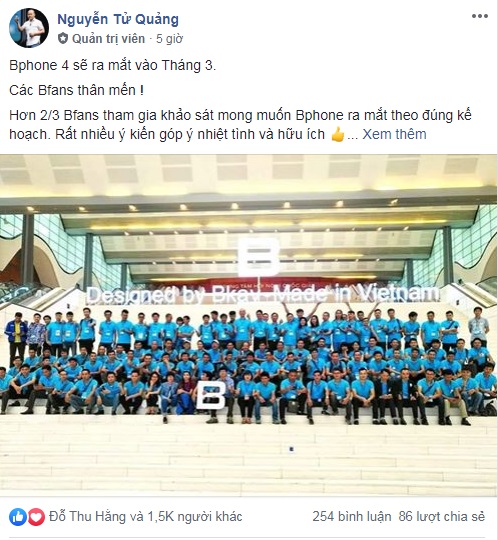 Screenshot of Bkav CEO's Facebook
Earlier, CEO Nguyen Tu Quang made a vote about "launching Bphone 4 as planned or waiting for the end of the disease caused by Corona virus". After 6 hours of posting, there were more than 2.000 members voting for launching as planned but the event was in small scale and emphasized on livestream, while only 900 members voted for the other choice.
To prepare for Bphone 4, Bkav has established a chain of Bphone Stores across the country for customers to have pratical experience of the product in the easiest and most convenient way. Up to now, Bphone is known for owning the power of "Computing Photography" and expected to pioneer in this field.
Three previous Bphone launches were held on a large scale at the National Convention Center (Hanoi), with the attendance of up to 2,000 people.
Bkav