Bkav listed Top 10 Best Vietnamese Goods – Services for the 5th consecutive year
03:00:00 | 28-08-2019
Bkav Corporation has just been honored Top 10 Best Vietnamese Goods - Services voted by consumers for the 5th consecutive year. Top 10 Best Vietnamese Goods - Services is an annual event organized by Vietnam Standards and Consumer Association and the Institute of Economics and Culture.
The Award Ceremony in Hanoi on August 17 also named Viettel, Tan A Dai Thanh and Habeco, etc. The results were published based on surveying users nationwide in order to sort out businesses with products and services of good quality and high reputation with consumers, environmental friendliness, high competition, etc.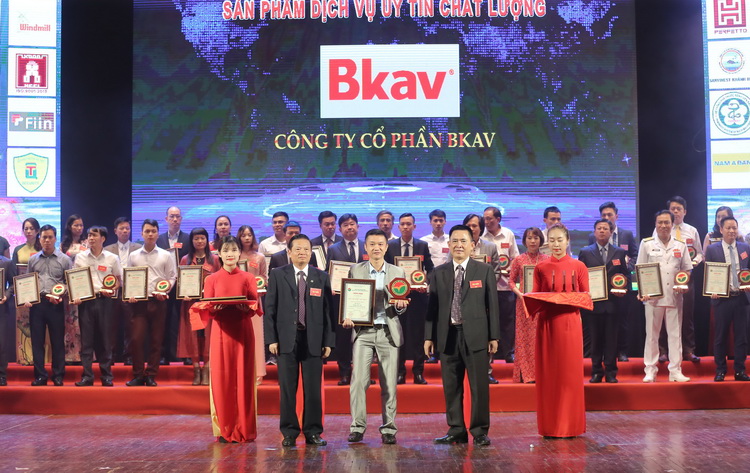 Mr. Do Thu Hang, Bkav Director of Communications said: "Bkav believes only by developing science and technology, relying on intelligence and human resources can Vietnam develop. Right from the first days, we have oriented to do things that are useful to the society and the community based on our technological capabilities. The award of Top 10 Best Vietnamese Goods – Services for the 5th consecutive year has recognized Bkav's efforts. This is our great honor".
Established in 1995, Bkav is a Vietnamese technology corporation that specializes in cyber security, software, smartphone and smart electronic devices, smarthome, etc. In many years, Bkav's antivirus has been honored as "Users' favorite information security product". Bkav antivirus software dominates the domestic market, chosen by up to 73.95% businesses.
Bkav is the pioneer with the mission to build Vietnam's smartphone manufacturing industry. Early July, Bkav's latest premium smartphone Bphone 3 was launched in Myanmar together with widespread distribution system and best customer services. The manufacturer just officially opened Bphone Store, bringing customers a full range of services including product experience, sales, technical support. Bphone Store is also a place for Bphone lovers as well as Bkav's customers to meet.
Bkav