Bkav meets the standards of Remote Signing service provision process
01:32:00 | 09-11-2021
Bkav has just become the first digital signature service provider officially recognized by Vietnam's Ministry of Information and Communications to meet all the criteria for evaluating standards on management, operation, and mining policies for remote signing. This is the first condition for Bkav Remote Signing - a solution that allows digital signing on mobile devices, to be available to the market.
Remote Signing is the new generation of digital signatures that offer the highest level of convenience, compliance and security on mobile devices for signer authentication. With Remote Signing, users do not need USB Token like traditional digital signatures, but can use smartphones and tablets to digitally sign. Remote Signing brings many conveniences, especially for individual users when allowing digital signing anytime, anywhere at a reasonable cost.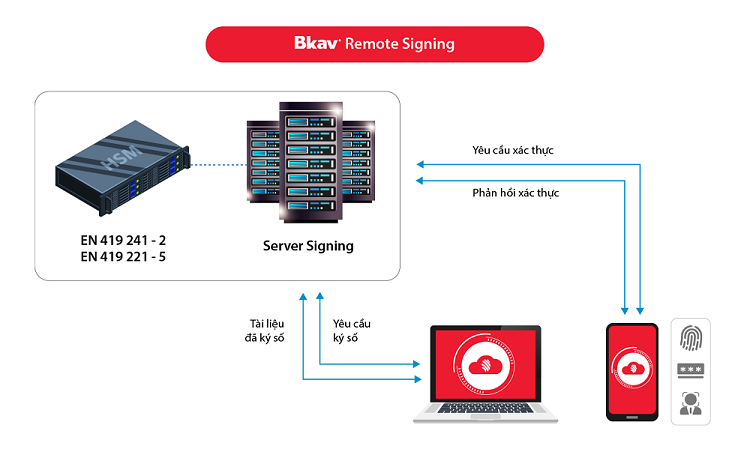 In the context of accelerating the implementation of digital transformation in Vietnam, the use of digital signatures in electronic transactions is an important solution. Currently, 100% of Vietnam businesses have used digital signatures, but the percentage of individual users is still small. To accelerate the universalization of digital signatures in the whole society, it is necessary to simplify the use of digital signatures, while ensuring the integrity, authenticity and non-repudiation of data when digitally signed. Remote Signing is the solution to these problems.
Organizations providing Public Digital Signature Certification services in Vietnam, who want to implement Remote Signing, need to be assessed and licensed by the Ministry of Information and Communications. To be licensed, units must meet 100% of the criteria with thousands of strict requirements from system equipment, operating procedures to personnel involved in providing services.
Nguyen Kho Din – General Director of Digital Transformation Platform Company, a member of Bkav Corporation said: "More than 10 years of experience in the field of digital signatures is the foundation for Bkav to pioneer in deploying Bkav Remote Signing. Achieving the standards of the process of providing remote digital signing services is the first solid step for Bkav Remote Signing to reach users. This is also a big step in the roadmap to promote the implementation of personal digital signatures in Vietnam, contributing to accelerating the country's digital transformation".
Bkav Remote Signing is the first remote digital signing solution in Vietnam developed in the direction of "Make in Vietnam", owned by Bkav. The important equipment and components of the system strictly comply with European standards and the Regulations of Circular No. 16/2019/TT-BTTTT. The highlight of Bkav's solution is to fully support advanced authentication mechanisms such as fingerprint recognition, face recognition, etc. to ensure convenience and safety for electronic transactions.
Bkav officially provides Public Digital Signature Certification service since 2010, is one of the first three licensed units in Vietnam. Up to now, Bkav has had hundreds of thousands of customers using the service, in all fields such as Tax, Customs, Banking, Securities, Hospital etc. Bkav is also a founding member and currently holds a leading role Chairman of the Club of Digital Signatures and Electronic Transactions in Vietnam.
Bkav