Platform for online sampling and test result return
02:28:00 | 24-09-2021
The National Technology Center for COVID-19 Prevention and Control has put into operation a Platform for online sampling and test result return to assist medical staff in managing and taking samples.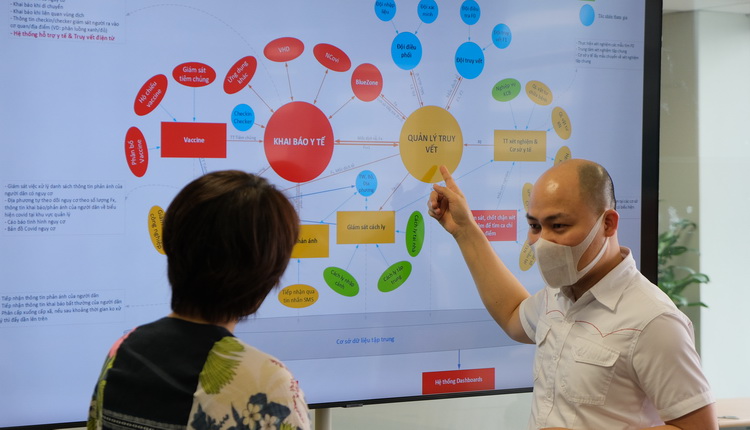 The Platform is being deployed in localities such as the provinces/cities of Tay Ninh, Binh Duong, Bac Giang, Dong Nai, Dong Thap, Can Tho, Vinh Long, and Ba Ria – Vung Tau, etc. Other 26 localities are in the process of deployment training.
Previously, before being sampled, people would fill out information on a pre-printed form for medical staff to enter data into an excel file. This process is complex and slow while statistics from such data is difficult because the data is not linked with other systems. Besides, the information may be missing and inaccurate.
The Platform for online sampling and test result return solves the above problems
With the Platform for online sampling and test result return, people will install Bluezone application and make medical declaration first. They then receive a personal QR code on the phonewhich is submitted to medical staff as sampling. The medical staff will use a scanner or phone to scan the barcode on the test tube, then scan the person's personal QR code to pair information. If there is no smartphone, people can fill in the medical declaration form and medical staff will enter information directly on the Platform during the sampling process. People will receive test results right on Bluezone application.
With this new method, people only need make medical declaration on Bluezone, and medical staff only need to scan the code to push data into the system instead of having to manually enter data into excel files. Therefore, the sampling will be very fast and accurate, eliminating manual input and avoiding errors. The automatic data entry process will also minimize contact, reducing the possibility of infection.
According to Bkav's CEO Nguyen Tu Quang, Chief Architect of National Technology System for COVID-19 Prevention and Control: "Currently, there are places where test results are delayed from 3-5 days, leading to late pandemic control. In the fight against COVID-19, testing plays an important and decisive role in a pandemic prevention and control campaign. The Platform for online sampling and test result return will support quick and timely sampling, reducing stress for medical staff".
Along with the deployment of medical declaration and close contact detection applications, testing management software will continue to support the health sector in the prevention and control of COVID-19 pandemic.
Bkav