Bkav CEO: 'My first invention is an automatic flushing device for the toilet'
03:43:00 | 10-06-2021
(VNF) According to Mr. Nguyen Tu Quang, his first useful invention or patent, granted by the National Office of Intellectual Property 17 years ago, was an automatic flushing device for the toilet.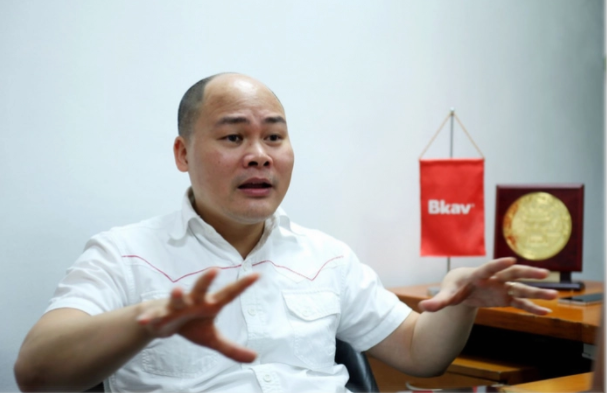 Answering a question about his first patent, Mr. Quang said that this question helped him recall Bkav's transforming from a software company to a "hard and soft" technology corporation.
According to Mr. Quang, as a company that invested in R&D, Bkav was very conscious in registering intellectual property rights. Mr. Quang's first invention, granted by the National Office of Intellectual Property 17 years ago, was an automatic flushing device for the toilet.
"If you are a man, you will know this device. This is a device used in men restrooms, it will automatically flush to clean the tub after use. 17 years ago, this device was only available in the most luxurious buildings, but today it has become a standard of public hygiene", Quang recalled.
According to Mr. Quang, he himself did not expect that a device for the toilet opened up a field of hardware for Bkav, including SmartHome, smartphone, AI View camera and most recently the COVID-19 testing device.
In a recent sharing, Bkav CEO Nguyen Tu Quang revealed a research plan on COVID-19 testing device using saline.
Specifically, according to Mr. Quang, currently, the cost of COVID-19 testing ranges from 200,000 to 700,000 VND/test. Besides, the sampling work is also complicated and difficult.
To solve this problem, Quang said that Bkav had been working on a device to detect COVID-19. With this device, the person to be tested will gargle with saline, then put it in a test tube and then in Bkav's device to get the result.
In particular, currently the available COVID-19 testing devices take 30 minutes or even hours to get the results, while Bkav's device only takes 10 seconds.
According to Mr. Quang, Bkav is currently coordinating with the National Hospital for Tropical Diseases to conduct the research and have positive results with the accuracy over 90%.
"If this device is successful, it will change our strategy in fighting against COVID-19. For example, in industrial parks, workers just need to rinse their mouths with saline in the morning, put it in the testing machine to know who is negative and who is positive. If a worker is negative, continue to work, if a worker is positive, go to the isolation area", said Mr. Quang.
Mr. Quang also said that this technology used artificial intelligence (AI). Accordingly, Bkav uses a frequency range of light to shine on the saline mouthwash of the tested, then collect it with a sensor at the output and measures which frequencies are absorbed to a greater or lesser extent.
Source: Vietnam Finance