eMeeting - online meeting platform for digital transformation
04:28:00 | 17-05-2021
Recognizing that the eMeeting platform of AIC and Bkav is a product with many aspirations, Deputy Minister Nguyen Huy Dung said that it is the aspiration to master technology and overcome the shadow of technology giants in the world.
Make in Vietnam online meeting platform for digital transformation
On April 16, eMeeting platform, a product of the cooperation between AIC and Bkav, was officially introduced at the Vietnam Digital Technology Challenge Forum, organized by the Ministry of Information and Communications.
Developed by a team of Vietnamese engineers with "all in one" philosophy, eMeeting platform has all necessary features of meetings such as scheduling, reminder, document sharing, screen sharing, online video sharing, meeting management, administration, voting etc.
The screen background changing feature uses AI (Artificial Intelligence) to process images, allowing participants to join meetings with international partners on the background of Vietnam's scenes such as Ha Long Bay, Quoc Tu Giam, Ben Thanh Market, Hue Ancient Capital etc.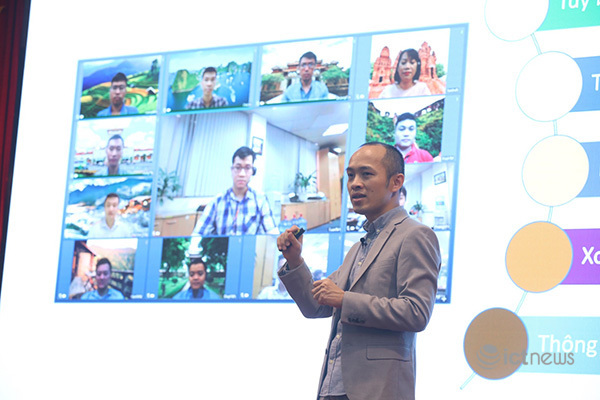 Bkav Vice President Vu Ngoc Son introduces eMeeting platform (Photo: M. Quyet)
For user convenience, eMeeting enables users to join meetings with just one touch on mobile devices such as smartphone, tablet or desktop, laptop.
The conference mode of eMeeting is completely done by software, which can be easily operated and controlled by a device with medium configuration. Accordingly, the meeting operator can arrange the display position of the participants according to customizable scenarios, alternately display them at predetermined time points or show the screen footer etc.
In particular, eMeeting's optimal data compression algorithm saves bandwidth, transmits sound and images well even in case of poor Internet connection. Especially, eMeeting can support meetings with up to 200 participants.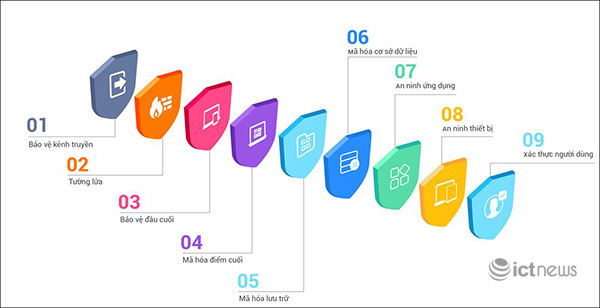 According to Bkav Vice President Vu Ngoc Son, with the advantage of a cyber security company, the producer has equipped eMeeting with a protection system of up to 9 security layers. "Customers can be completely assured to use eMeeting, without having to worry about insecurity issues when meeting online such as meeting content revealed or stranger intruding into the meeting room", Mr. Son shared.
Vietnamese digital technology enterprises have their own big dreams
According to the developer, eMeeting has solved many "difficult" problems of the society, especially during times of social distancing in Vietnam to cope with COVID-19. The solution has been deployed for online learning at 14 schools of Quang Ninh province, Bac Ninh province, Yen Bai province, Ninh Binh province, Ho Chi Minh City, with tens of thousands of student and teacher accounts, supporting millions of online learning sessions.
eMeeting is also used by doctors of National Hospital for Tropical Diseases to consult citizens about COVID-19. In Hue, eMeeting is also used to update 24/24 about the city's pandemic prevention, as well as to set up virtual clinics to support remote medical treatment.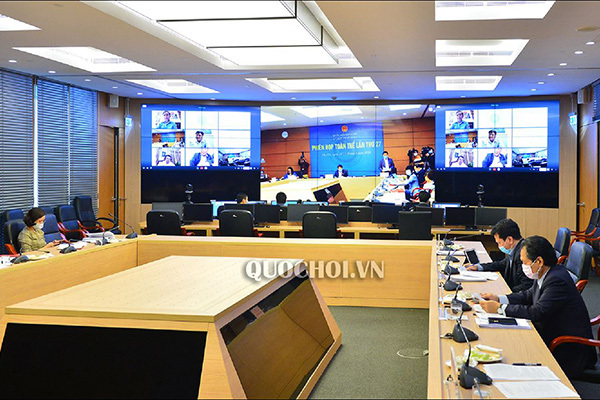 Vietnam is one of the first 21 parliaments in the world to have online meetings
At the first online session in the history of the National Assembly of Vietnam, the 9th session of the 14th National Assembly, eMeeting was used. Delegates can even hold meetings via iPad in their local offices, with sound and video quality qualified, without having to go to meeting rooms equipped with expensive specialized equipment.
With eMeeting, difficult problems of online learning, online meeting, online medical examination and treatment have been solved by Vietnamese engineers, made in Vietnam. The eMeeting development team said they are ready to solve more difficult problems, even new ways of working online based on this technology platform.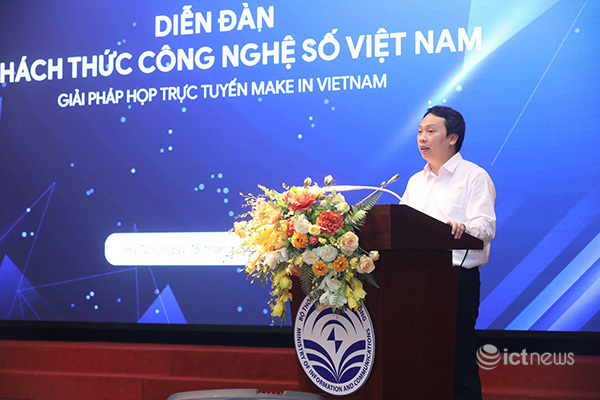 Deputy Minister Nguyen Huy Dung says: Aspiration is a condition for the Ministry of Information and Communications and the Vietnamese business community to work together and realize the national digital transformation goal (Photo: M. Quyet)
Sharing at the event, Deputy Minister of Information and Communications Nguyen Huy Dung assessed that, eMeeting of AIC and Bkav is a product with many aspirations. It is the desire to master technology, and overcome the shadow of the technology giants in the world.
There have been many concerns about disadvantages of Make in Vietnam online meeting solutions compared to Zoom, Microsoft Team… But that's okay! "The introduction of eMeeting today is a strong affirmation that Vietnam businesses will not give up, dare to accept challenges to make the aspiration of Make in Vietnam come true in the near future", Deputy Minister emphasized.
The Deputy Minister also pointed out that empathy is an essential condition for businesses to find and resolve pain for the society. Another condition that the Ministry of Information and Communications and the Vietnamese business community will accompany together to realize the national digital transformation goal is "Aspiration".
Big goals and great ambitions are always rooted in aspirations! An individual's life-changing dream may need a family's aspirations. The big goal of changing the destiny of an entire country will need the aspirations of an entire nation. Digital transformation, digital government, digital economy, and digital society are just such a goal.
Aspiration will need to go through the test to become an aspiration big enough. The more challenges there are, the more proving that desire is true, because it is a desire made up of real pain.
At the event, the Deputy Minister said: "Vietnam businesses, especially digital technology businesses, please create your own big dreams, big thoughts to change your future, your destiny as well as our country's. Because if you - businesses don't build your own dreams, other people will hire you to build their dreams".
Source: ICTnews