It is necessary to test COVID-19 for patients with symptoms of cough, fever
10:33:00 | 15-05-2021
A doctor had severe reaction when I recommended: 'People with symptoms of cough, fever should go to the hospital for COVID-19 test'.
May 2, in VTV1, Associate Professor, Dr. Tran Dac Phu, Director of General Department of Preventive Medicine, adviser of the Center for Emergency Public Health Event (Ministry of Health), also made the same recommendation.
Nhan Dan Online Newspaper reported: On May 2, at the meeting of the National Steering Committee for COVID-19 Prevention in Ha Nam province, the Secretary of Ha Nam Provincial Party Committee concluded:
"The Head of Medical Station of Dao Ly commune, Ly Nhan district, Luong Thanh Ngoc, is responsible for the case: a patient with symptoms of cough, fever was not treated promptly, causing community infections. The Provincial Party Committee is reviewing to give suitable discipline".
It is clear that COVID-19 community infection is caused by medical facilities who have failed to fulfill their responsibilities.
My recommendation is to ensure the standard of pandemic prevention regardless of the doctor's level.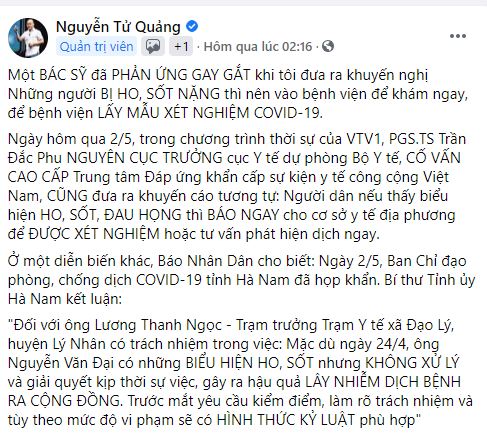 CEO Nguyen Tu Quang