Hospitals should implement COVID-19 test strictly
10:30:00 | 15-05-2021
The new COVID-19 infection discovered in Da Nang does not belong to any identified outbreak.
Once again, the new outbreak is discovered based on heavy symptoms of cough, fever on a patient going to hospital for examination.
Specifically, May 2 afternoon, that patient went to Hoan My Hospital, Da Nang City, and then took a sample for testing. The result was positive for SARS-CoV-2, he is currently waiting for confirmation.
As I have analyzed in the series for Total solutions for COVID-19 prevention, hospitals should implement COVID-19 test strictly, so that every outbreak can be discovered when the number of cases is small and the handling is still simple.
We must also be ready for such small but in control outbreaks.
Currently, we are working with the Ministry of Information and Communications and the Ministry of Health to implement technology solutions to control the pandemic.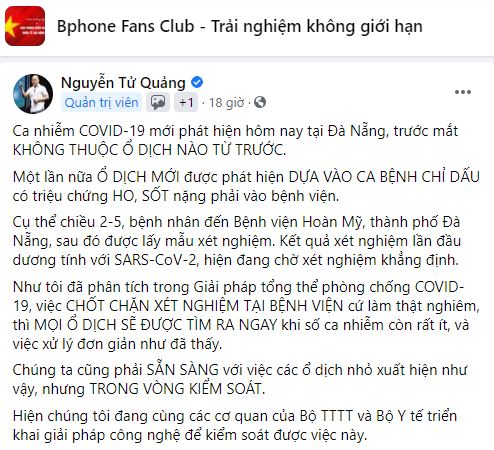 CEO Nguyen Tu Quang