Vietnam is experiencing a very sensitive COVID-19 period
03:25:00 | 13-05-2021
Vietnam is experiencing a very sensitive COVID-19 period with 4 concurrent outbreaks across the country.
I think that the outbreaks in the provinces of Ha Nam and Vinh Phuc are not worrying, because we know when the F0s appeared in the community. It is about 15 days from the moment they appeared, which means 3 cycles of the virus. Therefore, the number of cases is still small, around 3x3x3 = 27 cases.
The worrying outbreaks are in Da Nang and Hanoi. We are not sure their source of infection and how long they have lasted.
In one previous post, I mentioned a staff visiting H * clinic in Hanoi. She had the symptoms of cough, fever but she was not tested for COVID-19. If this status is popular in other clinics, the risk of large hidden outbreaks will be very high.
I hope the results of screening tests in Hanoi and Da Nang in the next few days will give good results, with few cases of infections.
I highly appreciate the latest Directive of Hanoi People's, which requires people to immediately go to a medical facility when they have the symptoms of cough, fever, shortness of breath or suspected symptoms of COVID-19 for timely examination and treatment.
Under the current situation, clinics and hospitals need to strictly carry out the screening and testing for people with the symptoms of cough, fever, so that the pandemic would not break out seriously.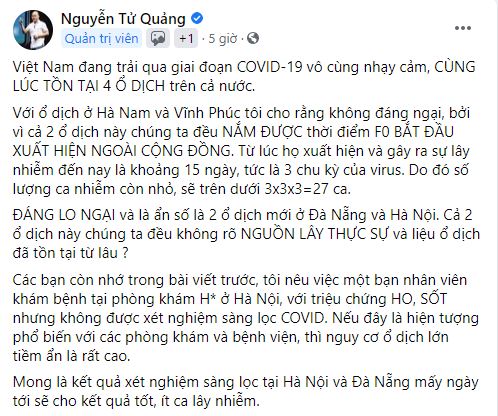 CEO Nguyen Tu Quang