B86 is first smartphone officially equipped with underwater photo and video taking feature
02:35:00 | 24-07-2020
This is shared by CEO Nguyen Tu Quang on Bphone users and lovers community - Bphone Fans Club on July 23. Immediately after this sharing, Bkav CEO analyzed more thoroughly his statement, and expressed his pride in the creativity of Vietnamese engineers. According to Mr. Quang, we have the right to "explode" to the world, WHY NOT?
Bkav.com would like to quote the sharing of CEO Nguyen Tu Quang:
Some of you say iPhone, Samsung, Sony or Huawei phones can also take photos under the water. This is not wrong, even Bphone 2017 launched in 2017 had this ability. However, if it is to be fully equipped with the function of taking underwater photos and videos, NO DEVICES HAVE ACHIEVED THIS BEFORE!
When the phone is in water, the touch screen will work no more, it will be "lagged". While the operation with camera is mostly to touch the screen, some companies use hard buttons instead, but this is not enough to replace the tasks of touching the screen mentioned above.
For Bphone B86, it is totally different. Our engineers have created a control system that uses the front and rear cameras, and proximity light sensor to completely replace screen touch tasks. As a result, you can perform all operations of taking photos, recording videos, switching front and rear cameras in a FULL and COMFORTABLE way under the water. This is IMPOSSIBLE with other phones.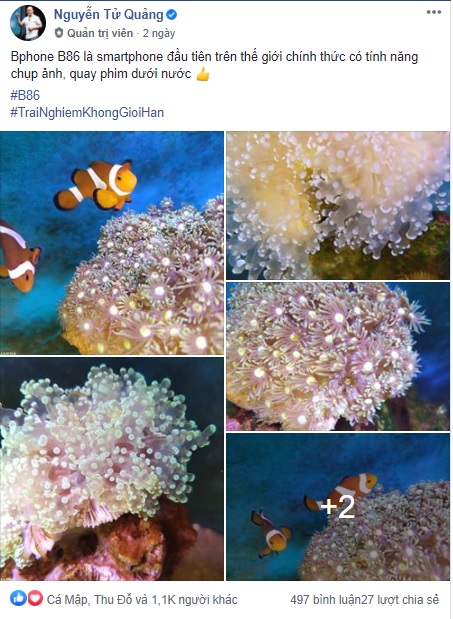 (Bphone B86 is the world first smartphone officially equipped with underwater photo and video taking feature)
With other phones, you first perform shooting or recording, and then lift the device out of water to switch modes or switch front and rear cameras. You even have to find a way to dry the screen before you can operate on it. Therefore, it is difficult to create underwater photos or clips as high quality as with Bphone.
Bkav's engineers also have to overcome the disturbance of proximity light sensor in the water environment. They also have to overcome the challenge of recognizing images from cameras in continuously changing water environment to recognize commands from users. In addition, to perform this feature both front and rear cameras must be activated at the same time, which is not available by default.
The theory is simple but CREATION and IMPLEMENTATION are not simple. I am really proud of the creativity of Vietnamese engineers. We have the right to "explode" to the world, WHY NOT?
We pioneered the top-notch screen design, then Sony and Google did the same thing. Macro photography using computing photography technology of Bphone is now the standard of most smartphones in the world.
Despite that, by default some of you are will to "curse" as soon as any Vietnamese "dares" to say great things of international stature. It is the great PREJUDICE that is deeply rooted and we must dislodge it from every Vietnamese person. Only then can we have the opportunity to compete with the world, to make Vietnam stronger or accept to always be lagged behind.
Bkav