Bkav is licensed to provide e-contract authentication service
01:57:00 | 05-10-2022
Bkav Corporation has just become one of the first companies officially authorised to offer the electronic contract authentication service. The Bkav eContract platform allows all signings such as contracts, minutes, documents, etc. of businesses and individuals to be done anytime, anywhere with just a smartphone, no need for a computer.
Currently, businesses are allowed to declare taxes and use invoices online, but most other documents, such as contracts, minutes, etc., still have to be done manually on paper. This causes inconvenience and printing and storage expenses, as well as time for delivery. "Bkav eContract shortens the process of providing goods and services by at least 50% and saves up to 80% of costs. The Bkav eContract platform allows businesses and individuals to sign these documents online, anytime, and anywhere with just a smartphone," said Mr. Nguyen Kho Din, General Director of SME Digital Transformation Platform Company, a member of Bkav Corporation.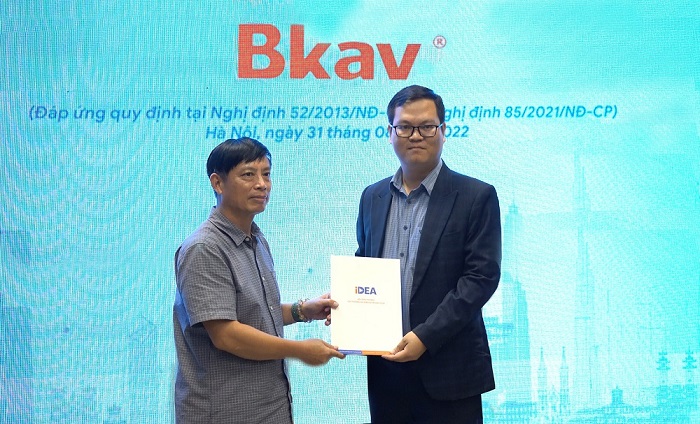 Developing and applying electronic contracts in society is an important goal in the digital transformation plan of the goverment. By 2025, 80% of enterprises will apply e-contracts and by 2030, 100% will apply.
Currently, Bkav has built a full ecosystem of products ranging from Digital signature, TVAN electronic tax, IVAN electronic social insurance, eHoadon electronic invoice, and eContract electronic contract, and so on. A series of famous brands are using Bkav's products, such as Hoa Sen Group, Son Ha Group, Bitexco Group, Tan Hiep Phat, VnDirect, etc.
Bkav