Customers pre-ordering the Bphone A85 5G began to receive the devices
11:00:00 | 27-05-2022
On May 25, customers who pre-ordered Bphone A85 5G, the latest smartphone from Bkav Corporation, began to receive the devices.
In sharing this, CEO Nguyen Tu Quang said: "There is nothing happier than knowing that most people say the machine is beautiful and smooth to use! Please continue to experience the features. I believe it will be as interesting as the appearance of the device".
In the Bphone Fans Club, many members have good feedback about the Bphone A85 5G. The product is commended for its design of faux leather back and curved screen. Member Quoc Oai commented: "A85 5G is excellent. The Amoled screen is bright and sharp, the appearance is attractive, and the configuration is powerful, so photos taken in low light are also good".
Before that, in the early experience sessions at Bphone Store Hanoi and Bphone Store Ho Chi Minh City, Bphone A85 5G also received very positive feedback.
The Bphone A85 5G is a high-end smartphone with the highest USAGE VALUE. The product has a list price of 9,490,000 VND.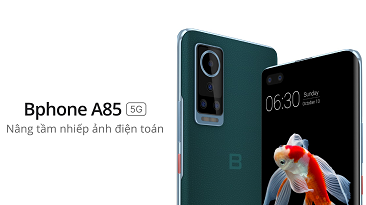 Bkav