Bkav CEO: Government chooses 5 key tech enterprises to promote development like Korea
07:42:26 | 14-06-2019
(ICTNews) Bkav CEO believed that products of domestic enterprises with good quality and core technologies, if there was support from the government in terms of policies and consumer confidence, could take back market share from Samsung or Apple.
Speaking at the Conference deploying 2019 tasks of the Vietnam Ministry of Information and Communications, Mr. Nguyen Tu Quang, CEO of Bkav Corporation said that the present was a great opportunity for Vietnam to become a great nation in science and technology. The Ministry of Information and Communications could advise the Government to select 5 key technology enterprises to promote the development.
"South Korea has only three big companies including Samsung, LG and SK with a turnover of over $300 billion, leading the science and technology industry. Similarly, China has Huawei and Xiaomi, these businesses own core technology and have large market share. Even iPhone in China accounts for less than 1% of the market share", said Mr. Nguyen Tu Quang.
From the lessons of Korea and China, Bkav CEO said that Vietnam should invest in key companies. For businesses to have competitive potentials, the Government and the Ministry of Information and Communications should support enterprises to develop more aggressively.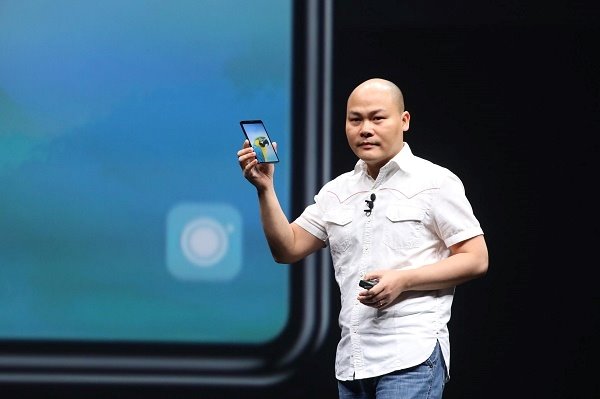 Bkav CEO Nguyen Tu Quang
Particularly for Bkav, in the past 9 years of research, Bkav has launched Bphone smartphone, receiving the welcome of technology community and consumers. Bphone now has the 3rd version.
Bkav CEO also said that Bkav was an original design manufacturer, owning core technologies, being able to produce products whose quality would be comparable to Samsung and Apple with competitive prices. For Chinese products in general, Bphone had better quality, aluminum frame, glass surfaces, Qualcomm chip from the US instead of chips from Taiwan or China.
"Recently, Vietnam market also has the participation of VinGroup, Vietnamese enterprises can produce products from cheap price to high-end. Local corporations can take market share of global groups, use it as the launcher to reach out to the global market, can completely become the Samsung and LG of Korea", Mr. Nguyen Tu Quang said and also stated that products of domestic enterprises with better quality and better core technology, if there was more consumer confidence, could take back the domestic market share from Samsung or Apple.
Bkav's captain expressed the assumption that if Bkav had the help of the Government on mechanism, it would be totally feasible for Bkav to occupy the market share, replacing market share of Samsung, Oppo or iPhone, thereby leading to the development of other businesses.
For Vietnam to have a key industry, a prerequisite was to master core technologies, own outstanding technology products.
Bkav CEO acknowledged the efforts of the Ministry of Information and Communications in recent time such as working together with enterprises to gradually remove difficulties. However, at the moment, this enterprise was facing obstacles in approaching capital.
Specifically, the traditional credit mechanism was only suitable for fields with tangible assets, not suitable for technology products with specific characteristics. For example, in 9 years, Bkav had invested nearly VND 1,000 billion (from the souce of software), and did not use bank loans. In the coming time, Bkav would need the capital of about 200 billion dong, but it faced difficulties when borrowing money from banks.
Research results of technology companies were difficult for valuation compared to real estate, which was difficult for banks to valuate. Also according to the sharing of Bkav CEO, with a strongly developed country like Korea, technology companies of this country were supported very well by Korean Industrial Bank, creating conditions for many businesses to develop.
"Not only Bkav, but other technology enterprises are aslo facing difficulties. The Ministry of Information and Communications is highly recommended to support technology enterprises to approach capital more conveniently", said Mr. Nguyen Tu Quang.
According to ICTnews

The 90-ton golden plated pagoda in Myanmar through the lens of Bphone 3

What did the Vietnamese Ambassador to Myanmar say about Bphone 3?

Highlands Coffee has officially applied Bkav eHoadon

Bphone enters Myanmar to offer limitless experience

Bphone 3, Mytel suddenly appear in Myanmar television prime time

A series of famous fast food restaurants choose to use Bkav eHoadon

The world's leading shipping groups choose to use Bkav eHoadon

Hanoi honors Bkav Pro and Bkav CA as key industrial products

Digital signature: Solution for secure authentication in online securities transactions

The group of rich man Le Phuoc Vu uses electronic invoice Bkav eHoadon