Bphone 3 – the world's first Android smartphone with bottomless design, slim and equal bezel at 3 edges
02:36:00 | 12-11-2018
On October 10, 2018, Bkav Corporation officially launched its third generation smartphone Bphone at the National Convention Center (Ha Noi, Viet Nam). The launching event was attended by more than 2,500 guests including reporters, partners, Bphone Fans Club members, customers and tech lovers in Viet Nam.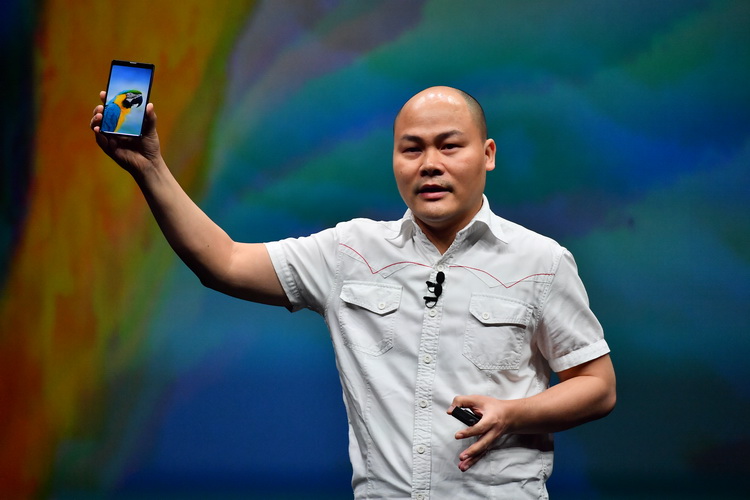 In the morning of the 10th October, Hanoi was quite cold with an early-season rain from the previous night. However, since 7 a.m, the community of Bphone Fans Club and many other guests all gathered at the National Convention Center, where the launching event of Bphone 3 took place.
One hour before the opening, the reception lobby was full of guests queueing up to attend the event. Inside the large hall with a capacity of up to 3,000 people, a giant screen of 18mx10m with the system of modern sound, lighting, and professional cameras were ready for the ceremony.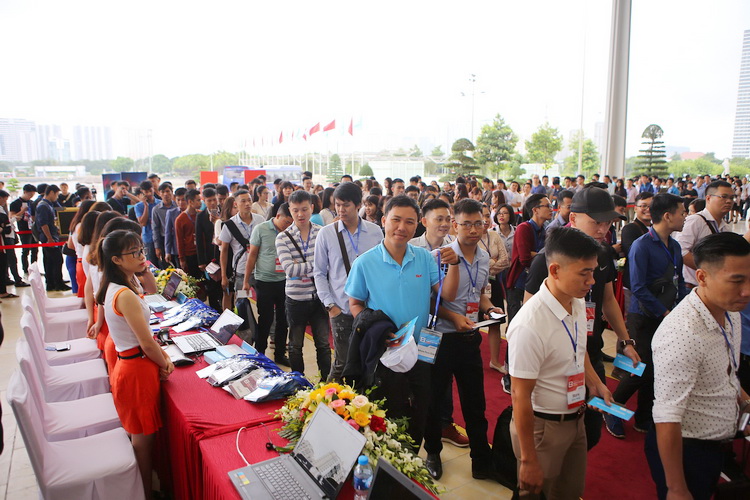 9h30, the launching event officially started with a clip and a review of Bphone previous generations.
9h35, Mr. Nguyen Tu Quang, CEO - Chairman of Bkav Corporation appeared on the stage with Bphone 3 - the central point of the ceremony on his hand. Mr. Quang claimed: "Bphone 3 is the first Android smartphone in the world to have a design that we call bottomless design".
The first Android smartphone in the world to have a bottomless design
The screen of Bphone 3 almost touches its bottom that holds the antenna. This is a great challenge for all manufacturers in terms of electronic and mechanical design. That is also the reason why most smartphones on the market have a relatively thick ribbon at the bottom, called the "chin". It is not easy to have a bottomless and chinless design like Bphone 3, but Bkav's engineers have succeeded in overcoming the challenge of antenna design and mechanical design, creating a new generation of smartphone with the screen almost occupying the front.
Bphone 3 is a smartphone with the slimmest equal bezels ever
From Bphone 1 to Bphone 3, Bkav has always pursued the design philosophy of a blocked aluminum frame that combines two surfaces of glass, as simple as a glass sheet.
Mr. Hoang Manh Cuong, Design Director of Bkav shared on the stage: "As a glass sheet, it must have equal bezels, which we had wished to do from previous versions but technology conditions at that time did not allow this. And with Bkav's technology now, Bphone 3 has a design that is asymptotic to a glass sheet. A simplified design as the design philosophy that Bkav has set up".
Bphone 3 has an impressive bottomless design, with slim bezels, just 2.25mm and equal at three edges, creating a homogeneous display, being asymptotic to a glass sheet and creating a different feeling. It can be said that Bphone 3 is the smartphone that owns the slimmest and equal bezels ever.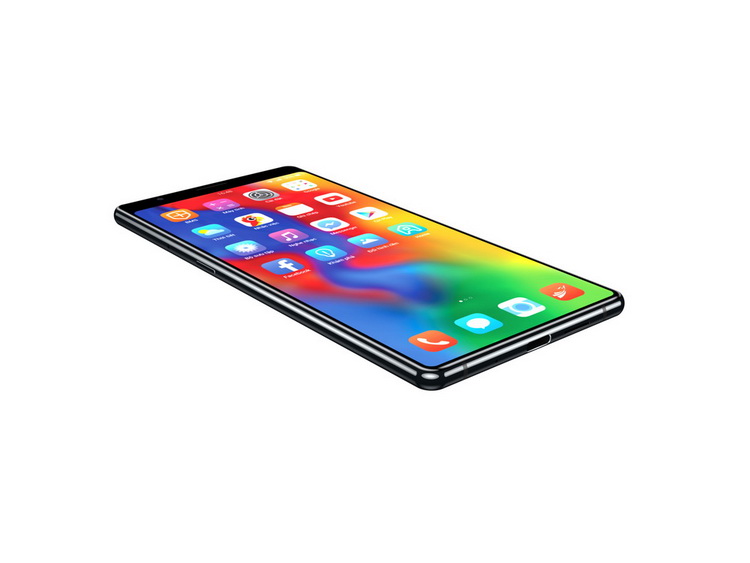 A render of Bphone 3
Single camera with AI operating throughout and DeepLap algorithm of Google
Bphone 3 belongs to the group of smartphones with camera of best configuration on the market today: sensor equipped with PDAF Dual Pixel technology, large pixel dimension, etc. The hardware configuration of camera on Bphone 3 is equivalent to the configuration of iPhone X.
In addition to hardware, Bkav has also invested in research of technologies and algorithms for camera on Bphone 3 to be more excellent. With the technology of low light capturing called sNight, camera on Bphone 3 is able to take night photos in an excellent way, creating night shots that are very clear and especially have no noise. The manufacturer confirms that in the same condition, most of other smartphones will produce photos with noise.
Camera on Bphone 3 is single camera, but capable of taking excellent bokeh photos. Bokeh technology on Bphone 3 is combined between the semantic image segmentation technology of Google's DeepLab open source project and Bkav's Nature Bokeh Dual Pixel technology. With this semantic image segmentation, Google certificates that the ability of bokeh on single camera is of equivalent quality to dual camera of high-end smartphones and much better than smartphones of other segments. With Nature Bokeh Dual Pixel of Bkav, the bokeh of photos is handle naturally and deeply, creating emotional images.
With Bphone 2, Bkav was the first manufacturer in the world to bring Artificial Intelligence (AI) to camera of smartphone. On August 8, 2017, Bkav launched Bphone 2 with AI camera. One month later, on September 12, 2017, Apple was the second manufacturer to equip its smartphone with artificial intelligence. The manufacturer claimed that on Bphone 3, AI would appear throughout in all operations of camera.
Bphone 3 is equipped with the highest level of anti-theft protection
As a manufacturer with the starting point in network security, Bkav has equipped its Bphone 3 with the highest level of anti-theft technology. With Bphone 3, even if the device has been reset to factory settings (factory reset), the owner can remotely perform such operations as positioning the phone, taking pictures with front or rear camera to see who is using the phone, commanding to lock the device, etc.
Bphone 3 is protected by Bkav Mobile Security antivirus software of special version, integrated deeply inside the kernel of BOS operating system.
Bphone 3 is a virus-free and spam-free smartphone equipped with AI technology in the virus protection and anti-spam filtering technology called Smart Filter.
Users will be fully protected because Bphone 3 is a smartphone of top security, anti-theft, anti-virus and spam-free. Apart from Bphone 3, there are no other smartphones in the world that can provide such comprehensive protection.
Bphone 3 has 50% greater performance than Bphone 2
Compared with Bphone 2, the performance of Bphone 3 is 50% greater due to being equipped with the processor Kryo 260, which supports the tasks related to machine learning. With this configuration, Bphone 3 can handle all heavy games today.
Battery of Bphone 3 is comfortable for use in 1.5 days and the experience of battery usage is better than Bphone 2. According to the manufacturer, there are three factors contributing to the durability of battery including energy saving chip, optimal design of electronic circuit and antenna design technology. For the phone to be used comfortably in 1.5 days but with a bottomless design like Bphone 3, it is a huge challenge in terms of antenna design. And Bkav has used smart antenna technology to solve this design problem.
Compared with Bphone 2, the screen of Bphone 3 is 30% brighter, its color accuracy is better, screen area is 15% larger, while overall size is smaller.
From Bphone 2 to Bphone 3, Bkav has always used more than 90% high-end components from American, Japanese and Korean suppliers to ensure the quality of the product.
"Components are key to the endurance, performance and power consumption of the phone. Today the component market is divided into three levels of quality. Tier 1 usually consists of suppliers from the US, Japan, Europe. Tier 2 is usually suppliers from Korea, Taiwan, etc. Tier 3 is components from Chinese manufacturers. Phones equipped with low-cost components are cheaper and the quality drops significantly over time", said Mr. Tran Viet Hai, Mobile Hardware Director of Bkav.
Bphone 3 uses the operating system BOS 3.0 with full gesture
At the launching event, Bkav also introduced the operating system BOS 3.0, the latest version for Bphone 3. Bkav put into BOS 3.0 a full gesture system that completely eliminated the navigation bar. All common daily tasks such as Back, Home, multitasking interface, control panel, sound adjustment, brightness adjustment, screen off, etc. can be done with gestures easily. With a full gesture system, there is almost no need for hard keys.
BOS is an operating system developed by Bkav for Bphone based on the Android platform. BOS retains and promotes the openness of Android while giving users smoother and more convenient experience.
Bphone 3 is capable of IP68 waterproof
Bphone 3 is towards IP68 waterproof, which means the phone can be immersed in water at a depth of 1.5m over a 30-minute period. With this waterproof standard, users can shoot movies and take pictures underwater. To achieve this goal, Bkav has invested in waterproofing technology, mechanical engineering, as well as used advanced waterproof materials to equip Bphone 3.
Bphone 3 does not have any problems when being spilled with coffee or orange juice, or dropped into the soup, fallen into the sea, etc. In these situations, users can use water to wash, clean, and then use comfortably with no effect to the device.
On the stage of the launching ceremony, Mr. Vu Thanh Thang, Vice President of Bkav's Engineering Division said that: "After being taken out of the water environment, the phone's speaker would have a slight cracked sound at first. But there is nothing to worry. Speaker diaphragm is still exposed to the outside environment for sound to escape, so water can reach the diaphragm, but water can not enter the device because the diaphragm of Bphone 3 is waterproof".
Bphone 3 is the first smartphone in the segment that is equipped with IP68 waterproof technology.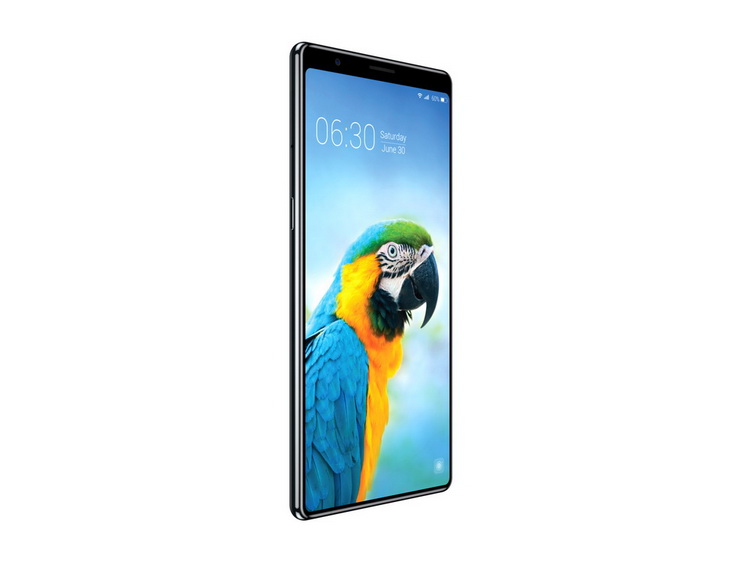 Qualcomm is astounded that Vietnam can create breakthrough designs just like top brands
Mr. Thieu Phuong Nam, General Director of Qualcomm in Vietnam, Laos and Cambodia shared a few words at the event:
"With over-30-year investment in innovation and nearly $45 billion invested in research and development, Qualcomm is proud to be Bkav's technology partner from the very beginning. And today, we congratulate Bkav on launching Bphone 3 in Vietnam.
We are amazed that Vietnam not only enters the smartphone market but also creates as innovative design as leading brands.
As regularly working with Bkav, I see their endeavors are truly exceptional, their methodical way of working is just as leading corporations in the world that I've known.
As a Vietnamese, I am very proud of this product".
Bphone 3 is priced at 6,999,000 VND
At the end of the launching event, the manufacturer introduced the third-generation Bphone with two versions Bphone 3 and Bphone 3 Pro.
Bphone 3 has two color options of Black Titan and White Silver. Black Titan option has the back in black and the frame in titanium. The White Silver has white back and silver frame.
Bphone 3 has a screen of Full HD+, camera of 12MP, F1.8, Dual PDAF, Qualcomm Snapdragon 636 chip, 3GB RAM, 32GB internal memory and dual SIM.
Bphone 3 Pro has two color options of Black Gold and White Gold. The Black Gold has the back in black and the frame in gold. The White Gold has white back and gold frame.
Bphone 3 Pro has a screen of Full HD+, camera of 12Mp, F1.8, Dual PDAF, Qualcomm Snapdragon 660 chip, 4GB RAM, 64GB internal memory and dual SIM.
Both versions have impressive bottomless design, excellent camera, and IP68 waterproof of the flagships.
CEO Nguyen Tu Quang said: "We have put the features of high-end flagships into mid-end and upper-midrange smartphones. This is truly the great effort, enthusiasm of Bkav, of more than 1,500 Bkav people".
Bphone 3 is priced at 6,990,000 VND.
Bphone 3 Pro is priced at 9,990,000 VND.
"Bphone 3 is truly a QUALITATIVE smartphone – high-end smartphone Made in Viet Nam", Mr. Quang concluded.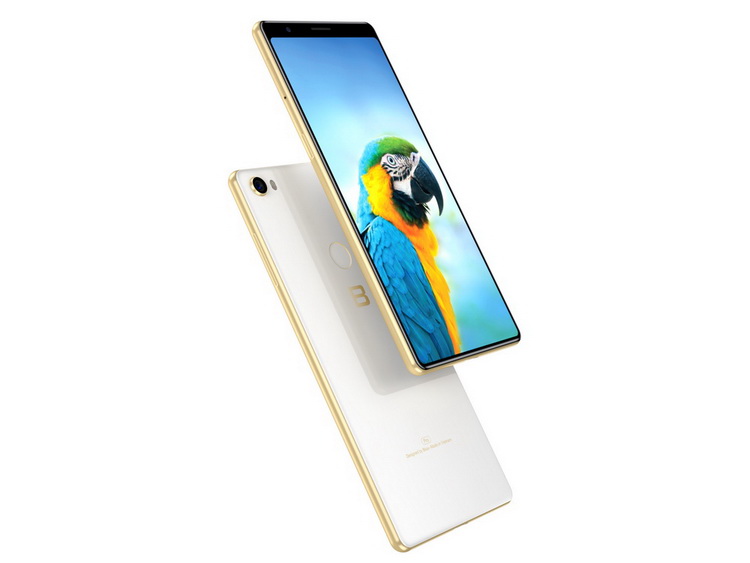 Bphone 3 Pro
Bkav has set up a chain of over 300 stores across the country to distribute Bphone 3
Bkav has set up more than 300 chain stores across the country to bring Bphone 3 closer to its customers. This is a new strategy that Bkav has studied for a long time.
"Bphone 1 and Bphone 2 had the problem of not enough places and phones for experience across the country", said Ms. Dong Vu Mai Phuong, Marketing Director of Bkav. "With Bphone 3, we want to give our users the experience of Bkav-standard dedicated sales service and customer service. With its expanding network, Bkav wants Bphone 3 to reach out to more people. Thereby, we will bring Bphone 3 to each house".
Bkav will officially sell Bphone 3 on October 19, 2018. On the opening day, users can come for experience and buy Bphone 3 at Bkav's chain of 300 stores nationwide or order Bphone 3 at Bphone.vn. The list of chain stores is available on Bphone.vn.
Before the opening day, users can order Bphone 3 at Bphone.vn. Pre-order program is available from October 10th to 18th:
+ Discount of 500 thousand VND for first 1000 customers that order Bphone 3
+ Discount of 1 million for first 500 customers that order Bphone 3 Pro.
On the 19th of October, Bkav will send the first products to customers. Warranty policy of Bkav is still to change for a new one for smartphones sold within 30 days.
Bkav