Bkav Pro Internet Security
Bkav Pro Internet Security
is the antivirus software pioneering in using cloud computing technology in security, the best software chosen by Vietnam Information Security Association.
Bkav Internet Security removes malwares in real-time and is especially equipped with technologies which detect malwares based on their behavior, helping preventing malware intrusion without having to update their signatures beforehand. Therefore, to protect your computer against every threats caused by malware, including targeted-attack malware, ransomware, etc. With features like Anti Leak, Safe Payment, Anti Keylogger, etc. your data and privacy will be ensured in safety regardless of where you are, what you are doing like surfing the web, connecting to social networking sites, or carrying online transactions.
Using Bkav Pro Internet Security, you are continuously updated with the latest protection technologies, while getting direct support from leading security experts. The interesting thing is that you don't have to pay for this unlimited technical support service. Free yourself from the burden of having to act like a security expert, you can trust in Bkav Pro Internet Security.
You can order Bkav Pro
here
.
Bkav Pro, Bkav Home Plus and Bkav Home comparison:
| Feature | Bkav Pro | Bkav Home |
| --- | --- | --- |
| In-memory virus scan | | |
| Anti Leak | | |
| Safe Payment | | |
| Anti Keylogger | | |
| Scan scheduling | | |
| Running in kernel mode | | |
| Safe Download | | |
| Auto update | | |
| Registry protection | | |
| Personal firewall | | |
| Self-defence | | |
| Deep scan | | |
| Smart scan | | |
| Quick scan | | |
| Memory optimization | | |
| Packed file scan | | |
| Anti Leak | | |
| Anti Fake AV | | |
| Realtime Protection | | |
| Reputation Based Detection | | |
| Trojan, Backdoor removal | | |
| Bkav Community-based protection Online System - BCOS | | |
| Anti Rootkit | | |
| Virtual Keyboard | | |
| Prevent hackers from penetrating and control computers | | |
| Prevent virus spreading via chat programs | | |
| Share – full Protection | | |
| Site Advisor | | |
| Parental Control | | |
| Host Intrusion Prevention system - HIPS | | |
| Safe Run | | |
| USB Protection | | |
| Remove metamorphic virus | | |
| Remove deep-infecting virus | | |
| Anti Ransomware | | |
| Safe Facebook | | |
| Live Connect | | |
| Exclusive support phone number | | |
| Exclusive support email | | |
Some images of Bkav Pro Internet Security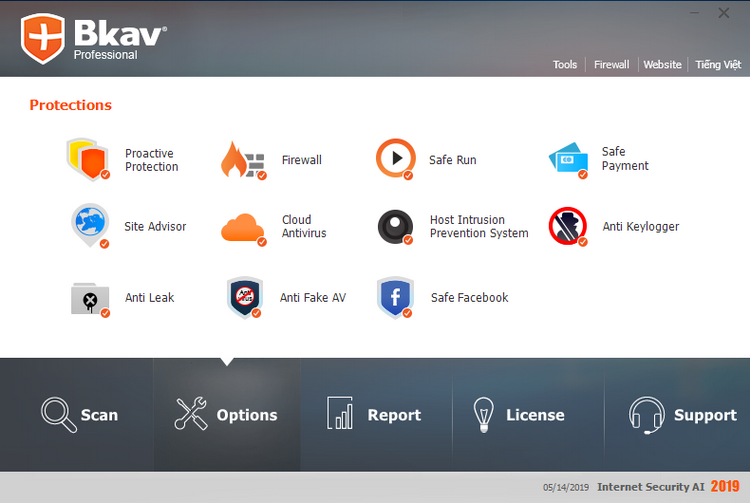 Main interface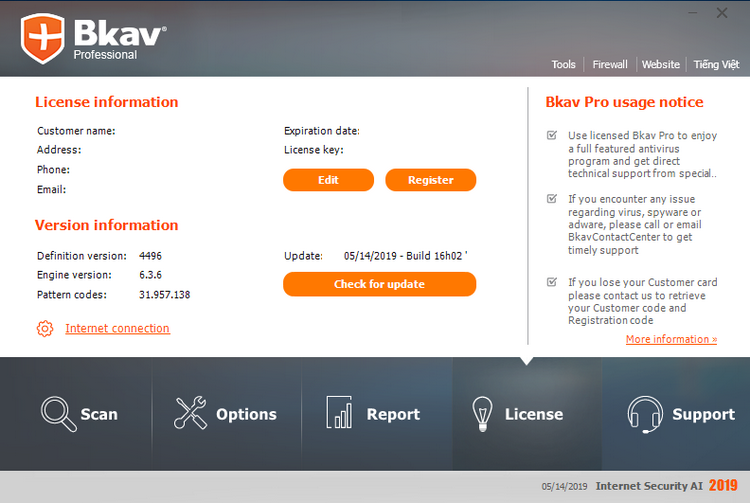 New features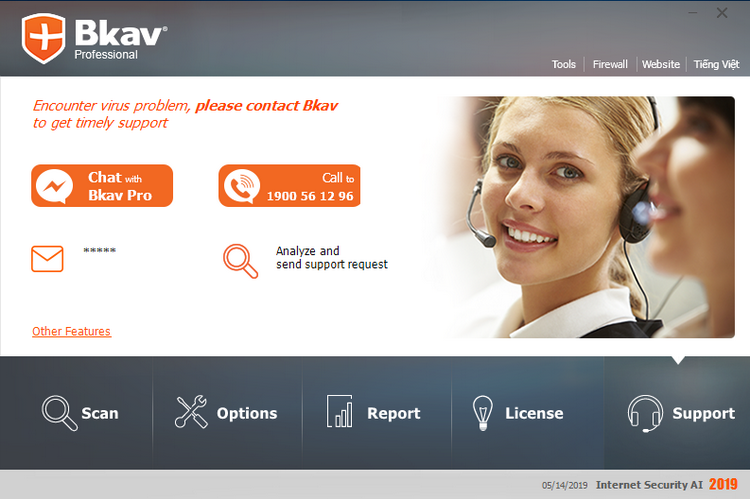 Live update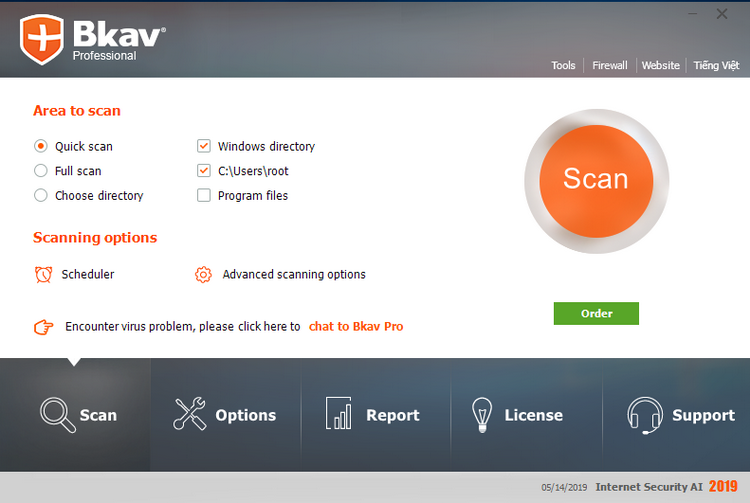 Technical support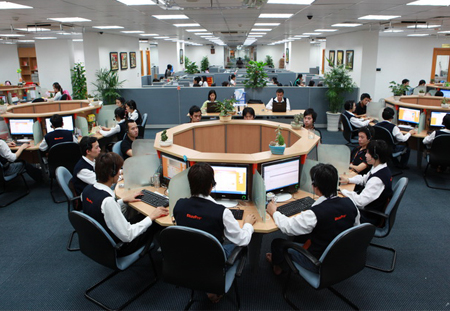 A corner of Bkav Pro Customer Care Center