Bphone design process: 2009 criticized by Qualcomm, 4 years board not working until Bphone 2017
This week, Bkav had an open sharing with representatives of Tinhte.vn forum (the most popular technology forum in Vietnam) on Bphone 2017. Bkav would like to introduce the article of Mod Duy Luan about the arduous processing producing a Bphone.
Talking to CEO Nguyen Tu Quang and his staff at Bkav, I heard the design story of Bkav. The story is quite interesting, from a company disqualified by Qualcomm to the effort to make the first prototype, persuading the world largest mobile chip maker to help create the Bphone, as well as the sharing on how Bphone components are made and assembled in Vietnam.
2009 - 2012: Continuous failure, no circuit board could work
It all started in 2009 when Bkav realized that smartphones would be a potential market in the future and CEO Quang wanted Bkav to have a footprint in this area. Of course, you have a lot of ways to make a smartphone, such as buying existing models and labelling your logos, buying components to assemble according to existing models, or making your own smartphone from scratch. Of course, as you have known, Bkav chose the hardest way: to do everything from the beginning, in order to make a machine closest to the company's desire about experience, features and design. According to Mr. Quang, this was also an opportunity for him to try a new and difficult industry, and let people know that Vietnam can also make smartphones.
To begin with, Bkav bought all the best smartphones in the market, tore them out to see components and their suppliers. Mr. Quang especially liked the iPhone because it was highly appreciated, and he wanted the smartphone made by Bkav to be of such quality. So he focused on the iPhone and made a list of component suppliers selected by Apple. That was also the reason why Bphone 1 and Bphone 2 used many components of the same origins as the iPhone.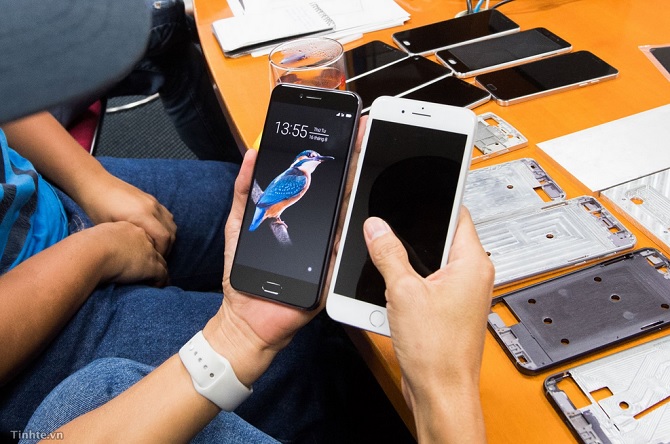 After making a preliminary plan, Bkav began to find out where to buy components or which suppliers to get help. Bkav asked a head hunter recruiting skilled and experienced people in this field to start the project. Actually, Bkav had studied the hardware before, so they wanted to make a prototype.
At that time, Qualcomm had a representative in Vietnam. Bkav also approached, but Qualcomm Vietnam refused to help because they did not believe that Bkav could make a smartphone on their own without using available models. So Bkav contacted other mobile chip makers such as Intel, Freescale, MediaTek, etc. All shook their heads and refused to cooperate for the same reason as Qualcomm, they did not believe and did not imagine that a company of software like Bkav could make a hardware product that was good and big enough, not to mention smartphone manufacturing was not an easy field. At that time, not many Vietnamese companies wanted to make their own smartphones from the beginning, so the refusals of partners were understandable.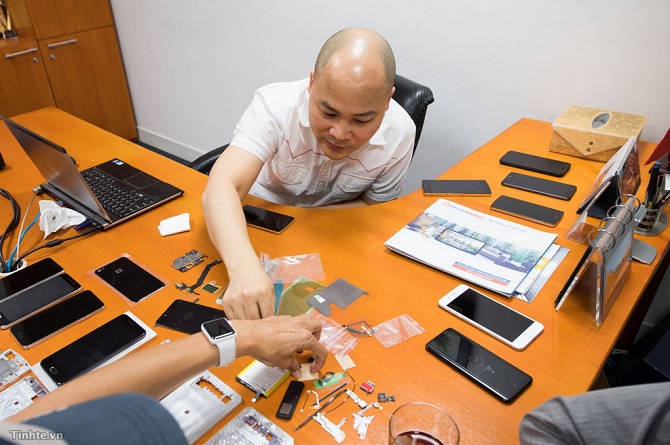 Only Freescale agreed after efforts of convincing, and they gave Bkav some sample chips to design the circuit board. Freescale was not a chip maker for smartphones, they mainly made components for entertainment devices and audiovisual systems, so it was difficult to put Freescale chip into smartphone. According to Bkav engineers, the most difficult thing was that Freescale components did not have built-in baseband chips - the processor operating all mobile signal-related functions. Bkav also could not find any compatible baseband chip themselves, so they had to do their own research.
Feeling making smartphones seemingly too difficult, Bkav changed their intention to tablet to avoid the baseband. But even so, Bkav could not make this board run yet. In the period from 2009 to 2011, during Tet holiday, Bkav kept sending board designs to Ho Chi Minh City or to China for printing test boards. Within this 3 years, no board could run.
Not giving up, Bkav continued this project, though only on a small scale compared to other products that the company was in business. By 2013, the first board that could run made the whole company very happy. And they brought this product to Qualcomm Vietnam to ask for support, because Bkav believed that when Qualcomm saw Bkav efforts in the past 4 years, they would think differently.
And this time Qualcomm agreed. They started working with Bkav to prepare for the birth of the first Bphone.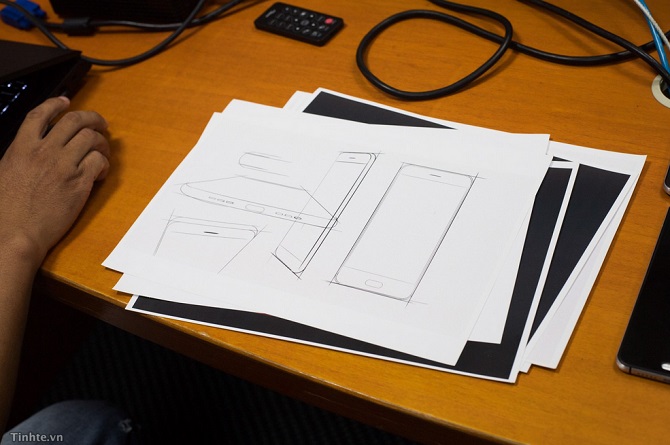 2014 - 2015: The first Bphone was born
Since early 2014, Qualcomm and Bkav have started working together, of course Qualcomm provided the chips and technical support needed to make Bphone. With the experience of a long-time mobile chip maker and the one who had made many reference designs for other companies, Qualcomm easily helped Bkav on the way to realize their desire. They could make the machine run and the mobile network operate.
Now the electronic parts inside were temporarily fine, Mr. Quang started thinking about the design. He studied the use of reference design provided by Qualcomm for partners, but the design of Bphone needed to be different than that, so reference design could not be used. The use of reference design also bound Bkav to an almost fixed list of providers, in which not all vendors achieved high standards. So, Bkav decided to do all on their own, no more reference designs.
Learning from the iPhone, Bkav decided that their smartphone would have the following elements:
Refinement
Simplicity
Easy-to-use
Difference
Bkav believed that iPhone was successful for the same reasons, and all products that were considered "good" in the world follow the same path. Previously, Bkav was also in business of smart home items under the SmartHome brand so they understood how good hardware should be.
But there were not many partners in Vietnam who could produce products at the level that Bkav wanted. SmartHome devices that were manufactured by partners throughout Vietnam were not good, not sharp and had no high quality. As he said, we were competing with Japanese products (in smart home market), if our products had no name and then no good quality, then we could not sell. So after a trial period, Bkav decided to build its own factory to produce these items.
These factories were also utilized to manufacture and assemble smartphones, of course Bkav had to invest more specialized machines, such as CNC machines, component pickers, new conveyor systems, etc.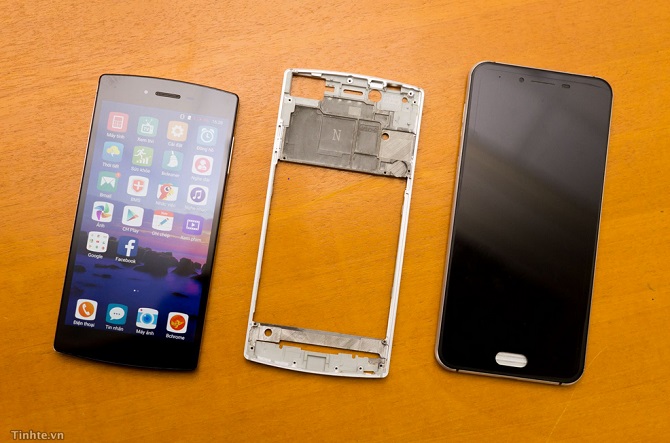 Bphone 1, aluminum of Bphone 2016 unlaunched (larger screen) and Bphone 2017 prototype
Once assured that they had the ability to produce what they wanted, Bkav came back to choosing the design and they chose the design of the Bphone 1 as you have known. The design team was given the highest priority, the design had to be kept original, other engineering and mechanical groups had to find ways to do their jobs without changing the design. Of course, there were also occasions when the design had to change a little, but just a little, Bkav did not allow technical compromises to make a bad smartphone. And so Bphone 1 was born.
2016-2017: Skip a generation, wait for a better product
In 2016, after Bphone 1, Bkav still intended to make Bphone 2016 with the same design as the 1st generation but using Snapdragon 821 chip. However, Bkav found that it still had not done well enough, so after many meetings, they postponed the launch of this phone, saving energy for a better machine.
There was also a design problem. Learning from the reception of customers and consumers in general with Bphone 1, Bkav realized that the design of this phone was not bad. The company did not dare to call it beautiful, only "not bad" according to CEO Quang, but at least it made a difference to other machines. However, according to Bkav, difference was not necessarily well received, especially while others around used smartphones of similar design (and similar to the iPhone).
So for this design, Bkav decided to remove the "Difference" element from the list of Bphone properties, they accepted to learn from other competitors and followed the market trend (specifically iPhone). The new Bphone would still have to be simple, refined to every detail, but it did not need to be too different, it needed to be realistic. This was also the way that OnePlus applied to the design of OnePlus 5. They wanted to create a familiar smartphone instead of an extremely remarkable design.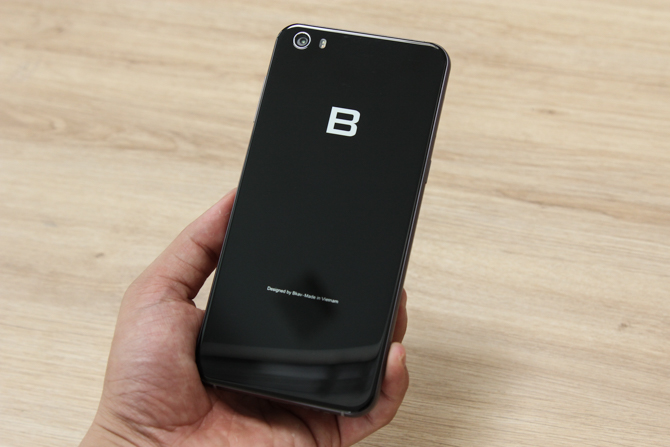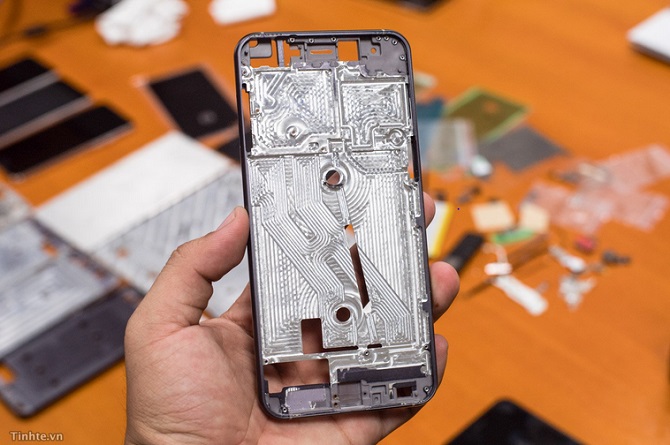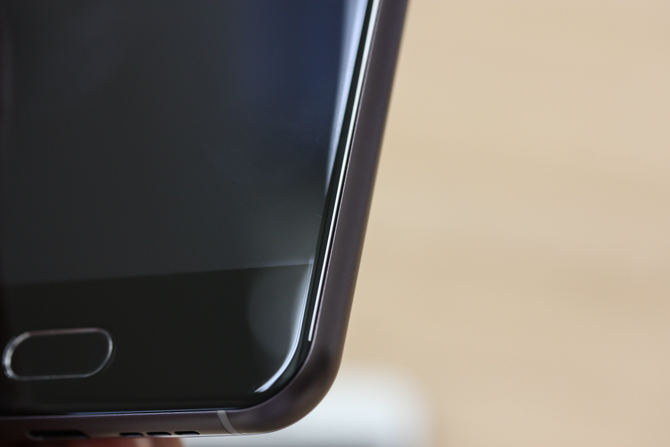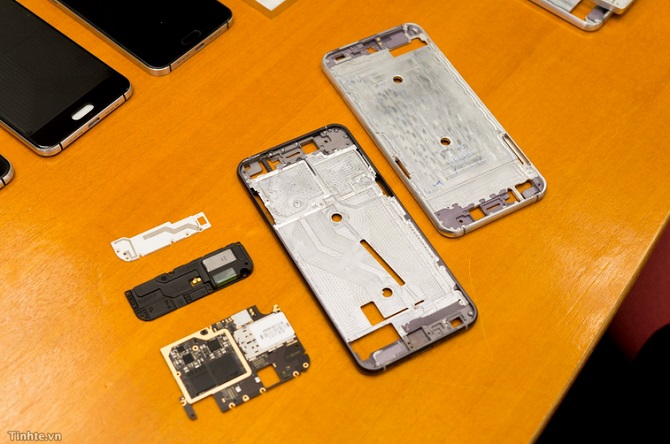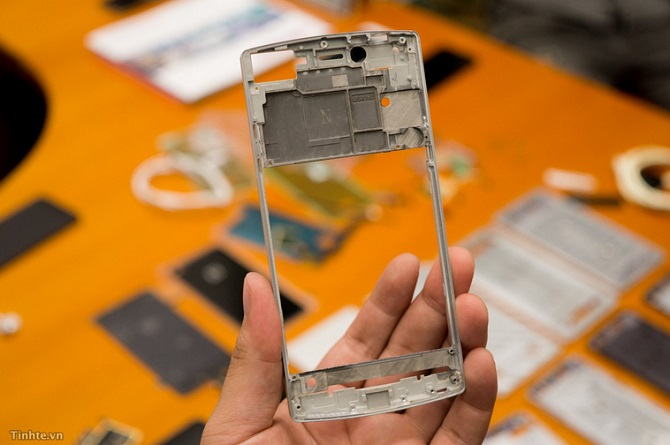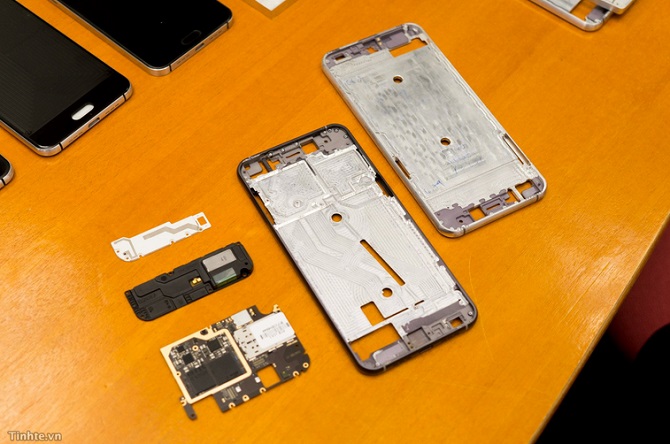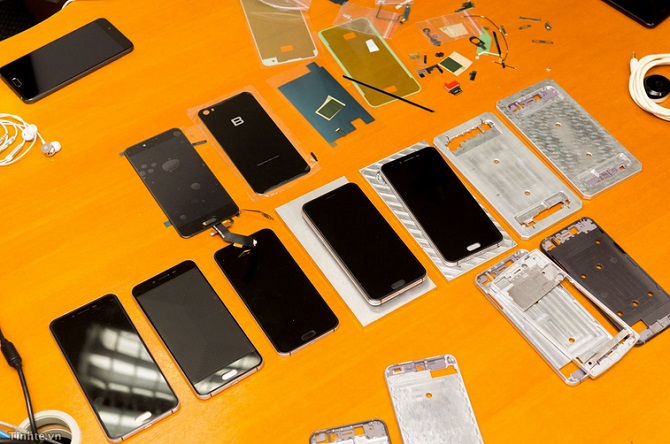 To create this design, Bkav had to calculate every millimeter to ensure that the machine was born as intended and not hindered by mechanical or technical difficulties. For example, the company originally planned to use 0.025mm tape for boards and components supplied by a Korean partner in Vietnam. But in the actual production, because of the larger screen pressure on the aluminum frame, they had to switch to use 0.03mm tape to obtain the solidity, but that could make the machine thicker so Bkav had to reduce some other components down to 0.005mm to get back the balance. Similarly, the microphone placement had to also be moved every millimeter until the best sound quality was achieved, without reverberation. A slight deviation could also cause the speaker's voice to be distorted. The capacitors on the mainboard were not beyond the rule of being as thin as possible.
Talking about the difficulty of finding a partner manufacturing 12-layer circuit boards that Bphone wanted to use, Bkav said they initially had to ask China to make the samples. But the time of sending drawings, waiting for printing and receiving back took too long, not to mention the difficulties of production and transportation in large scale. Moreover, Bkav wanted to ask the most capable partners right in Vietnam to serve the desire of "Made in Vietnam" because according to the regulations of the authorities, you had to meet the standards for your products to be called "Made in Vietnam". A product only assembled in Vietnam was not entitled this.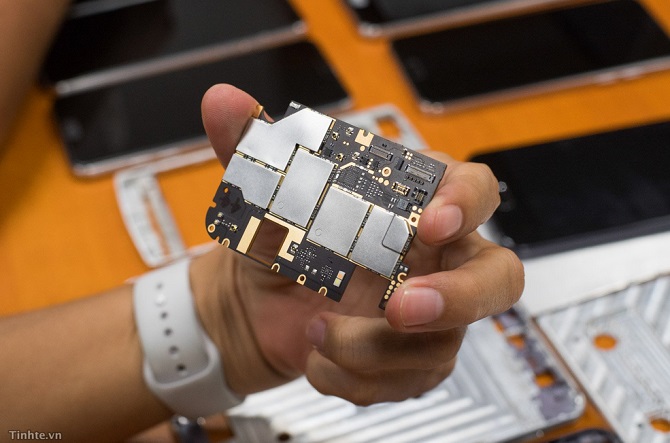 After studying carefully, Bkav chose Meiko, a Japanese company that had a factory located in Hanoi (Thach That Industrial Park). Meiko is currently making PCB boards for Tamron lens company and many other large customers. Bkav and Meiko worked together to create boards like their wishes. For those steps that Meiko did not have machines or tools available (for example, suction machines, specialized in sucking small components and shooting on the board), Bkav was willing to invest money for Meiko to buy those machines to serve Bphone.
For tape used to attach components, Bkav bought from Korean and German partners (Tesa). Some were produced in Vietnam, and Tesa tape was imported from Germany. The same went for other components, they were bought by Bkav from foreign firms that have manufacturing plants in Vietnam (Bac Ninh, Ho Chi Minh City, Hanoi, etc.) or from Vietnamese partners. . In total, Bphone 2017 has 747 components, 54% originated from Japan, 23% from the US, the rest from Korea, Taiwan and European companies.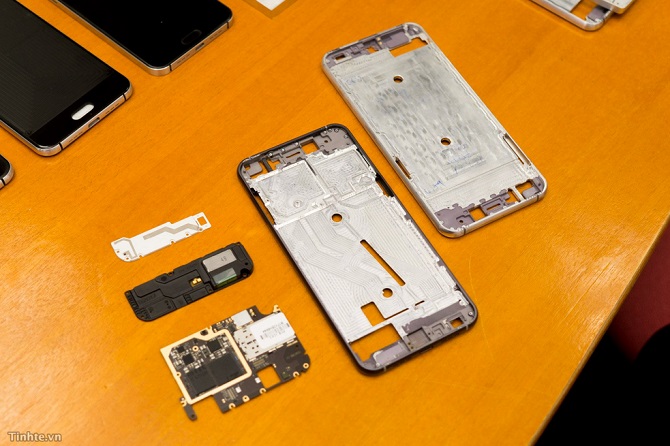 Only 6 components were bought from Chinese partners, accounting for 0.9%. These included camera packers, packers for fingerprint sensors, batteries, and speaker mesh. Camera sensor on Bphone 2017 was Sony's, OIS anti-vibration system was provided by Omron, only the packaging was handled by a Hong Kong firm (Hong Kong is directly under China, this was considered as components originated from China). The same went for the front camera and fingerprint sensor kit (the sensor itself was provided by the Swiss FPC).
For battery, Bkav bought from two partners, LG and Amperex (China). Ampere was in trouble with the battery scandal of Note 7, however, according to Bkav, the issue was because Samsung pressed Amperex to make the battery too thin, not meeting the quality, while Bkav bought a battery that was not too thin and assessed carefully, so it was not a problem.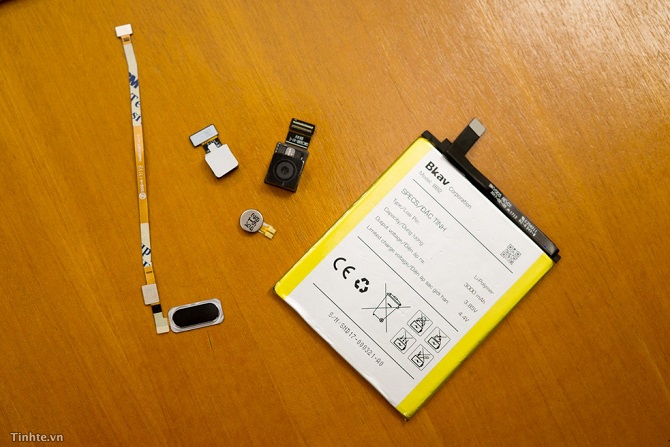 Bkav shared that the aluminum cover of Bphone 2017 was made by Bkav itself as well as bought more from partners in Bac Ninh. This partner was from Korea, they were responsible for sandblasting and polishing aluminum frames before they were delivered to Bkav's factory and another third party to assemble into a complete smartphone. Bkav said they were producing 2000 to 10,000 Bphone 2 per month, depending on market demand they would adjust this output accordingly. Bkav had an assembly plant in My Dinh, in addition to an aluminum milling plant in My Dinh and Hoai Duc areas.
Mr. Quang also shared about Bkav designing the antenna itself. The antenna seemed simple but was one of the most difficult components to design in modern smartphones because if not careful, it would be in conflict with the aluminum cover and could not catch the signal. Many big firms also had to hire third parties to design the antenna instead of doing it themselves. According to Bkav, only Apple was currently designing the antenna for their smartphones on their own, and Bkav was probably the 2nd-3rd-4th firm in the world. Bphone 2017 antenna was stamped with plastic frame at Bkav factory.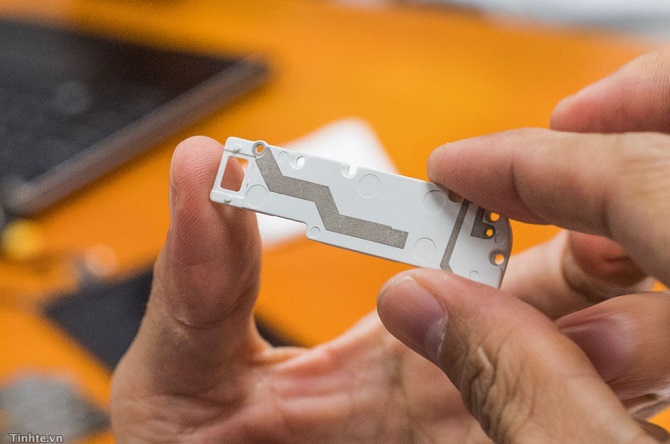 A part of the Bphone 2017antenna set
Even the same went for the most controversial DAC in the past few days. Other vendors often made DAC in adapter from USB-C port to 3.5mm port and they did it according to their own configuration so when changing the adapter to other machines using USB-C, it was not possible to work. But Bphone put this DAC into the machine thanks to a reference design from Qualcomm to increase the compatibility of the port switch adapter. If you were interested, you could find out more about Qualcomm's DAC WCD9335. As for USB-C port, it supported exporting both digital and analog audio since this was already the standard configuration of the USB Association, not something that Bkav created on its own. They only did the switching so that the machine could know when to export digital output and when to export analog output, generally nothing special.
Making hardware is not an easy way, especially in Vietnam when you don't have many partners to choose. For those that Bkav can do, Bkav will handle them on their own, for other things they hire or buy from the partners because these partners are experienced, have large-scale production, and big customers. Bkav is not foolish to do everything from beginning to end because it is just a waste of money and energy. Society has a division of labor, and Bkav understands that.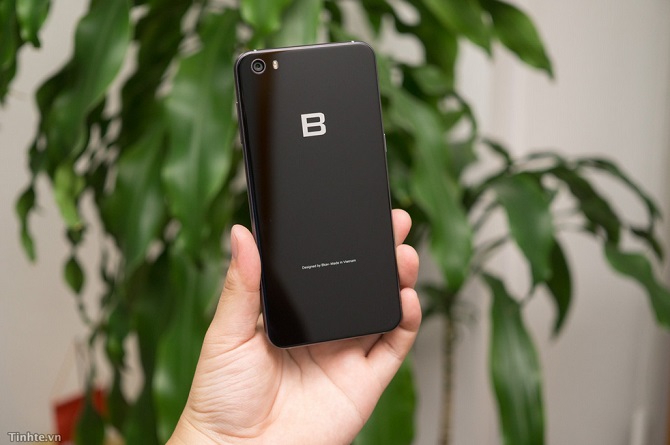 The design story sounds very good and attractive, through which I can see the desire to reach the world of Mr. Quang in particular and Bkav in general. I understand what Bkav wants, and what they are doing to achieve it. Of course, no matter how good the story is, it doesn't affect whether Bphone succeeds. Let's wait for the sale opening date, and see the selling power of the machine. As the photographer community has a saying "hold a picture and talk", I will "hold the machine and talk". The dream of bringing Vietnam to the world will be nothing if it is unable to sell to Vietnamese people. When the phone is available, I'll talk more about it. As for the business method and price positioning, I don't believe that Bkav is doing the right thing. Let time and market answer.
Source: Tinhte.vn
Others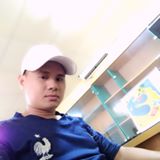 Nguyễn Minh Khang
July 02