Bkav Internet Security introduced with Anti Leak technology
20:07:00 | 17-08-2016
August 16, 2016, Bkav has officially launched the latest version of Bkav Internet Security, equipped with Anti Leak technology, which helps prevent information spills caused by targeted spyware attacks.
A range of recent network attacks, account losses are caused by the victim's computer being controlled, data being stolen by spywares. According to Bkav's research, to spread spyware, hackers send emails with text file attachments containing spyware. Such text files even include Word, Excel, PDF, PowerPoint formats, etc. Since text files are considered safe with interesting content, most email recipients are not afraid of opening the attachments, hence getting their computers infected with spyware. The spywares allow hackers to control the victim's devices remotely. They also receive hackers commands such as downloading other virus onto the computer to record keystrokes, take screenshots and steal data.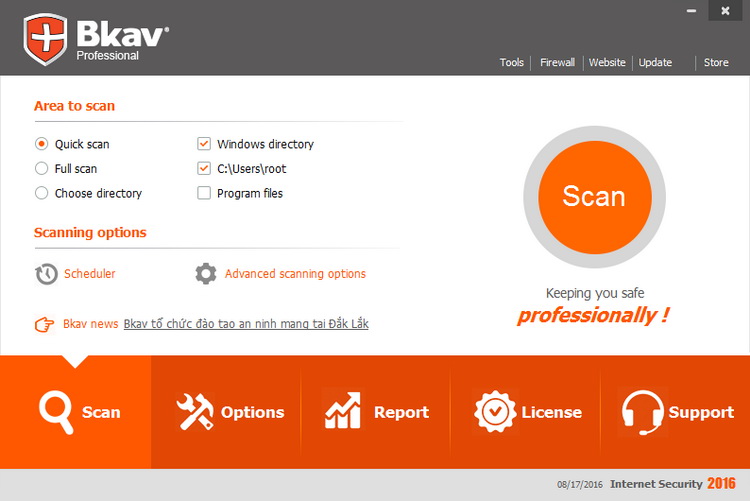 In order to protect users from threats of spywares, Bkav Internet Security is upgraded completely with Anti Leak technology. This technology includes full suite of smart technologies such as Safe Run, Anti Keylogger, HIPS, etc which have been researched and developed by Bkav engineers during the past 5 years.
Safe Run technology allows users to open files in a safe environment, avoiding risk of virus infection as opening a text file from email. Anti Keylogger technology prevents behavior of monitoring keyboard manipulation, taking screenshot, inserting executable code into running processes and clipboard information theft, data theft, etc. HIPS system helps detect and prevent the act of collecting information from computer and controlling computer remotely.
Mr. Vu Ngoc Son, Vice President of Anti Malware, Bkav said: "Attacks by spywares always bring unpredictable consequences. In addition to stealing information, this type of malware can help hackers carry out destructive actions inside the system. Anti Leak technology will protect the system completely, releasing users from the concern about spywares".
Bkav Internet Security is also upgraded with Anti Ransomware and Anti Adware technologies without the need of malware samples. Real-time protection technology is optimized to raise the speed 2 times faster.
Bkav
Not less than 5 characters!