Enter Bkav: Here's Vietnam's answer to the iPhone
23:31:00 | 11-06-2015
(Nikkei Asian Review) HANOI -- Nguyen Tu Quang marched onto the stage to an eruption of cheers, pounding beats and flashing cameras. Held high in his hand was the device he claimed would change Vietnam's technology industry forever: a domestically made high-end smartphone.
"We did it," proclaimed the man dubbed Vietnam's Steve Jobs. "This is for you."
The Bphone is Vietnam's first homegrown upmarket smartphone. Bkav, a Hanoi-based anti-virus and security software exporter, revealed in January it had developed a phone at the Consumer Electronics Show in Las Vegas. Anticipation has been building since then. The company received 11,882 orders for the phone in the 12 hours after its June 2 release.
Quang, Bkav's 40-year-old CEO and co-founder, promised a product more beautiful than Apple's iPhone and more user-friendly than Samsung Electronics' Galaxy series. And he offered this for a lower price than the rival phones. Never mind that Bkav had never made a phone before or that locally developed phones have had a shoddy reputation.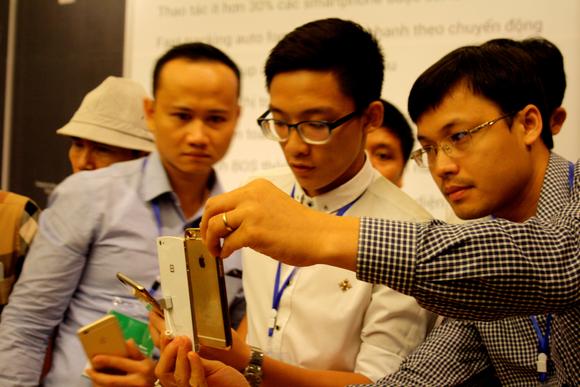 Guests at the Bphone launch compared displayed models to Apple iPhones in a designated demonstration zone. (Photo by Kim Megson)
Inspired by the success of fast-rising Xiaomi, Quang sees the Vietnam market as just the beginning for the Bphone.
"Our ultimate goal is to build a global smartphone brand, enjoyed by users worldwide," said Quang at the phone's launch May 26.
Vietnam is a major export center for cellphones and spare parts from Samsung, Nokia, LG Electronics and other brands. It is also a fast-growing market. Buoyed by rising income and the widening availability of cheap, high-speed mobile networks, Vietnamese consumers bought 11.6 million smartphones in 2014, up 57% from a year earlier, according to IDC. A Google study estimated that 36% of the country's population of more than 92 million own smartphones.
Untapped potential
Foreign brands, namely Apple, Samsung, Sony, Nokia, LG, Taiwan's Asus and Oppo from China, are by far the most popular. While Vietnamese companies, including state-run network operators Viettel Group and Vietnam Posts and Telecommunications Group, sell their own low-end branded smartphones, these have failed to gain a foothold. Poor design, low quality and insufficient marketing have conspired to keep Vietnamese smartphones down.
Quang is determined to show Vietnam can compete at the highest levels. "We are late to the market, we know that," he told the Nikkei Asian Review. "That means to create brand recognition, we have to make a product that's better than the competition. I think we've done that with the Bphone."
At last month's launch, more than 2,000 reporters, industry insiders, bloggers and VIP guests descended on the National Convention Center in Hanoi for a first look at the Bphone, eager to see if the buzz was justified.
In a launch straight out of the Apple playbook, Quang, clad in jeans and a simple company T-shirt, ran through the phone's impressive array of features. It has a sleek flat design, 5-inch full high definition screen from Sharp, Android Lollipop-based operating system and Qualcomm Snapdragon 801 chip set, all common to high-end smartphones. He boasted of the phone's high-level security protection and rapid wireless file transfer capabilities.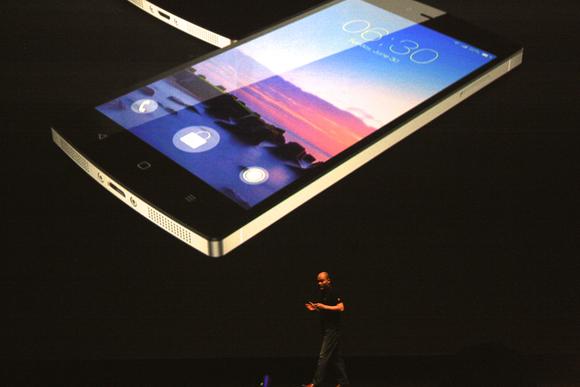 Bkav CEO Nguyen Tu Quang describes the features of the Bphone at its launch on May 26 at Hanoi's National Convention Center. (Photo by Kim Megson)
The basic 16-gigabyte Bphone is priced at 9.99 million dong ($458), 40% less than an iPhone 6 Plus. The gold-plated 128GB model costs 20.19 million dong.
Bkav is, at least initially, emulating Xiaomi's online-only sales model. The Bphone is only available via Bkav's website and a new e-commerce platform called Vala, though it was put on display at some locations of electronics retailers FPT Shop and Mobile World for a few days under agreements with Bkav. The company said it is controlling sales to protect customers from getting cheated into buying counterfeit or used phones.
Bkav's strategy is unusual in Vietnam. Apple, for example, has had great success in selling its products at FPT stores. A survey earlier this year by market research agency Epinion found that 86% of Vietnamese consumers prefer to buy smartphones and tablets in store.
Doubt and envy
On the day of its release, the Bphone attracted thousands of comments on online forums, many of which were skeptical. "Your product hasn't been tested over time yet and the price is too high compared with other popular smartphones," said a user going by the name Tho Xinh on an unofficial Bphone Facebook fan page. "I don't want to waste my money on an experiment."
Much criticism has been aimed at the enigmatic and divisive Quang. He developed his first anti-virus software as a student at Hanoi University of Technology in the mid-1990s before co-founding Bkav, now Vietnam's biggest internet security provider and a government contractor, in 2001. While admired for his self-made path to success, he is also disliked for his supreme self-confidence and bold public statements.
In the case of the Bphone, people have been frustrated by the perceived lack of transparency. The size of Bkav's investment in its development, the source of funds and even the location of the phone's factory have not been publicly disclosed.
Part of the reason Quang tends to provoke a strong reaction is cultural. "Vietnam has a collectivist culture and a centrally controlled economy," said a reporter with a state-run media agency. "Here, every achievement must be attached to a group or organization and the role of the individual downplayed. At the same time, people tend to be jealous and afraid of other people's success, especially if that success derives from real ability. Tech people can be particularly aggressive."
Such envy was evident last year when Dong Nguyen, the mild-mannered Hanoi-based developer of Flappy Bird, a mobile game that became a worldwide hit, found himself lambasted by Vitenam's online community. Many derided his creation as derivative, unsophisticated and unjustifiably popular.
For Quang, however, so far there has been as many positives as negatives online. "The Bphone has created argument, but argument is good," said Nguyen Hai Trieu, CEO of Ho Chi Minh City-based social media market research group YouNet Media. "From our analysis, we see that Bkav has created online awareness really well, and a big part of that is because of the brand of Mr. Quang."
Trieu expects this to gradually translate into sales. "[People] are starting to believe that the Bphone could be something big," he said. "It seems it has the three most important selling points -- a good interface, a good camera and good design. Early adopters will use it to explore and discover and, if it is as good as it looks, they will spread the word."
Lam Nguyen, IDC's Vietnam country manager, said it was too early to judge whether Bkav will have as much success promoting the Bphone overseas as it has had with its cybersecurity products. "If it is to compete with Apple, it must establish an even stronger ecosystem and move beyond just a single smartphone device offering," he said.
If Quang himself has any doubts, he's not showing it. "This is a historic day for the Vietnamese technology industry," he said at the launch. "We have made [the Bphone] because we love you. We have made it because we love Vietnam."
Nikkei Asian Review
You can read the original article here.
Not less than 5 characters!