Bphone teardown, exposing components inside
20:27:00 | 28-01-2016
(VnReview.vn) We have got in hand the smartphone that has attracted the biggest attention in Vietnam market currently, Bphone. This is the first-hand smartphone of the technology corporation, Bkav.
The 16 GB black Bphone we own is in the soonest shipment sent to online customers. Compared to the version we experienced at the launching event, this commercial version is well completed. Noticeably, the small openness on the edge connecting the case and the body no longer exists.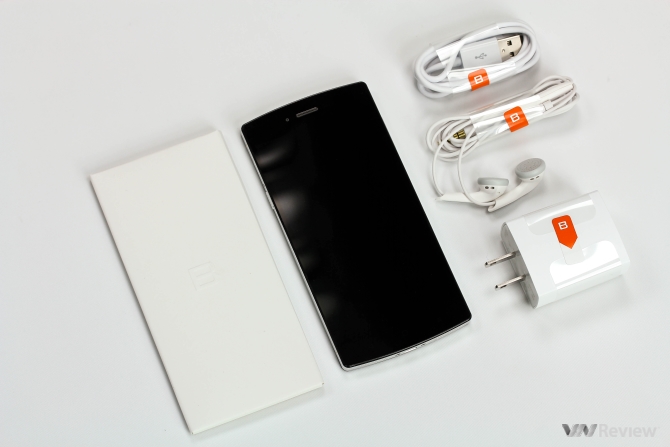 In the box, the manufacturer supplied an adapter QuickCharge 2.0 instead of a normal charger together with micro-USB cable, microphone and guidebook. Bkav informed that at first, Bphone 16GB was only equipped with normal charger, and only 64 GB and 128 GB Bphone were equipped with quick charger, however, they upgraded the charger as an apology and gratitude to customers for accepting the delivery time later than expected.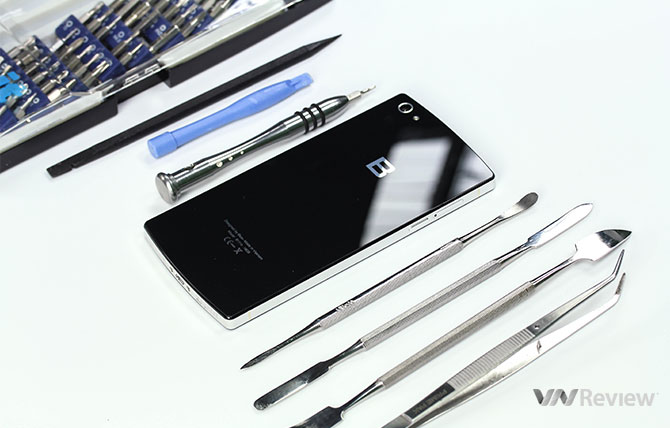 Teardown
As we have known, Bphone has metal unibody with tempered glass on the front and back faces. However, the teardown is quite simple. After removing two screws at the bottom of the phone, just a light push can remove the back of the phone which is connected with the aluminum frame through holders. Next steps are quite easy as well.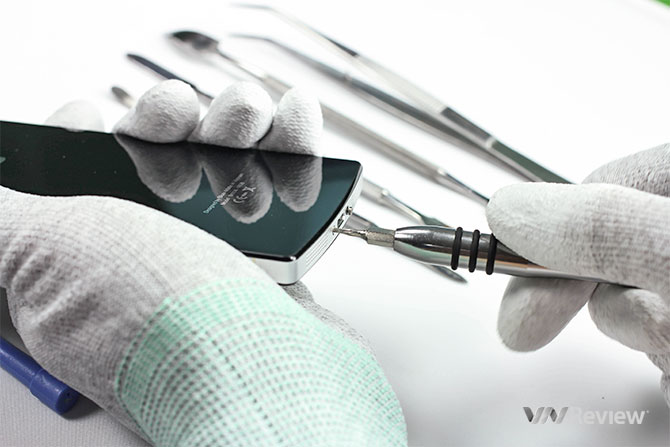 The first step in Bphone teardown is removing two screws at the bottom of the phone.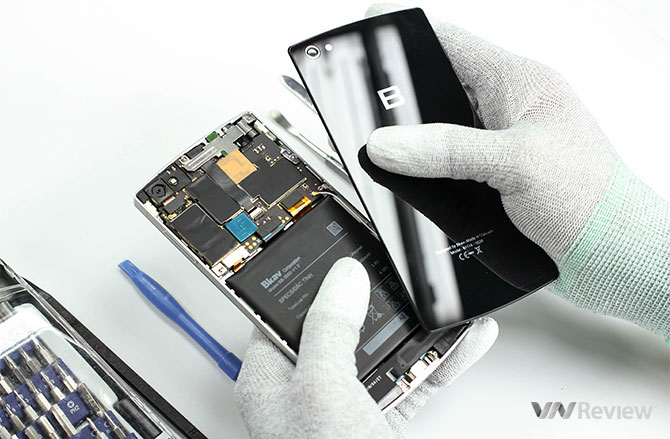 The next step is a light push to remove the back which is connected with the body through holders.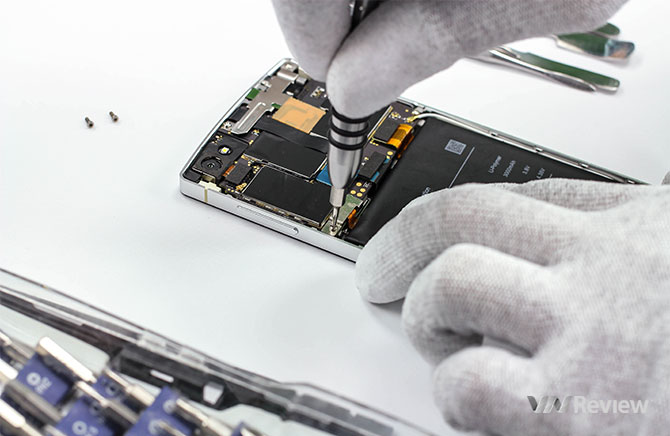 Remove battery holding tumbler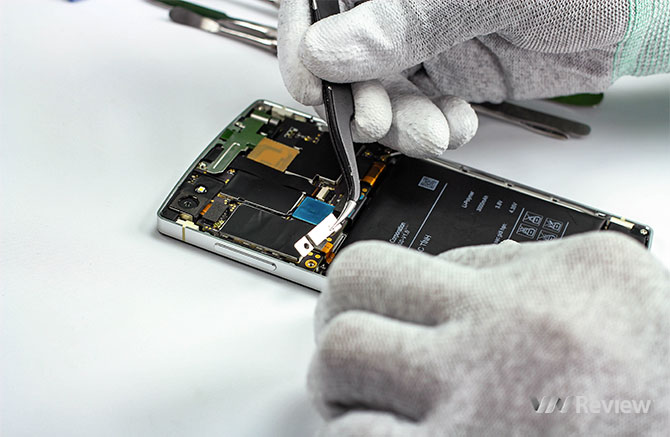 Shield is made carefully, showing that Bkav takes care of small details. There are brackets to keep connectors.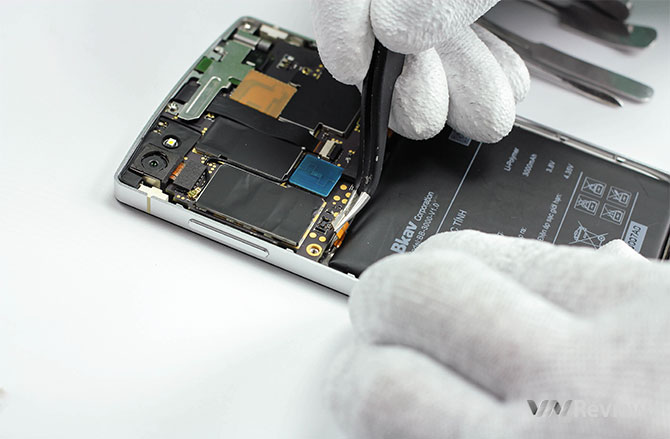 Battery cable connected to main board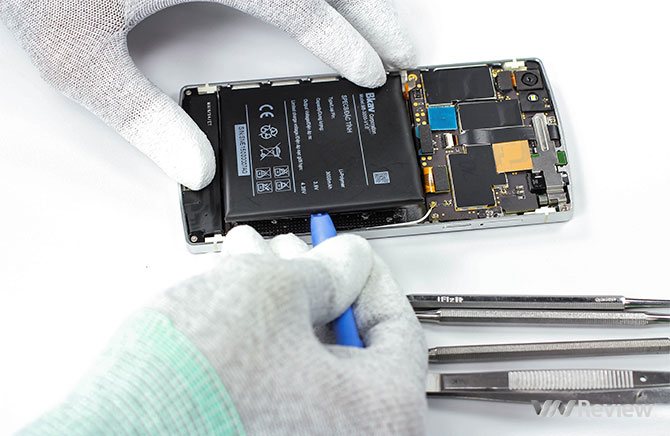 Remove battery. Battery is connected to frame by glue.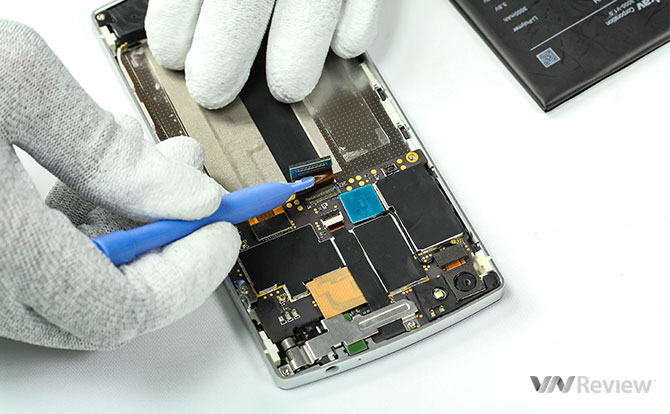 This is Flex circuit connecting USB, loud speaker to main board.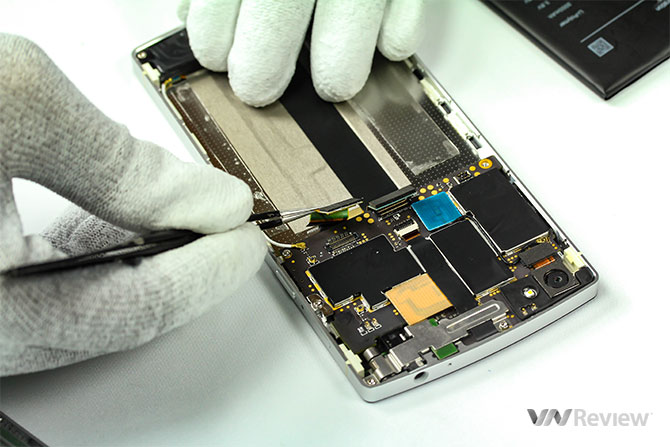 Cables connecting screen to main board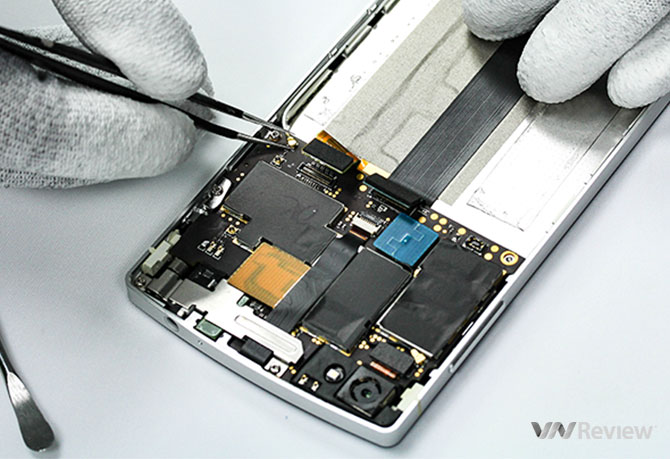 GSM antenna connector with main board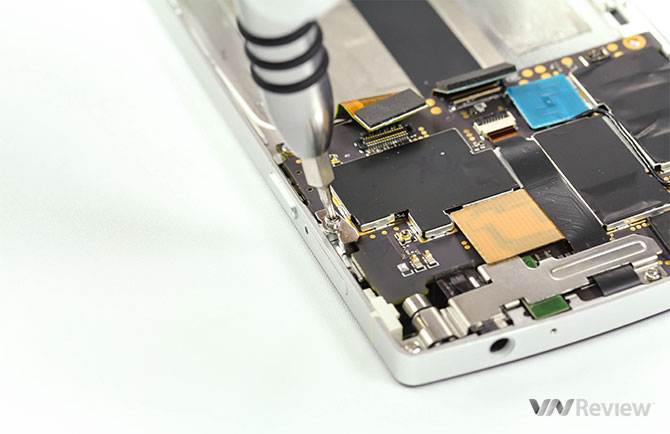 Remove SIM holder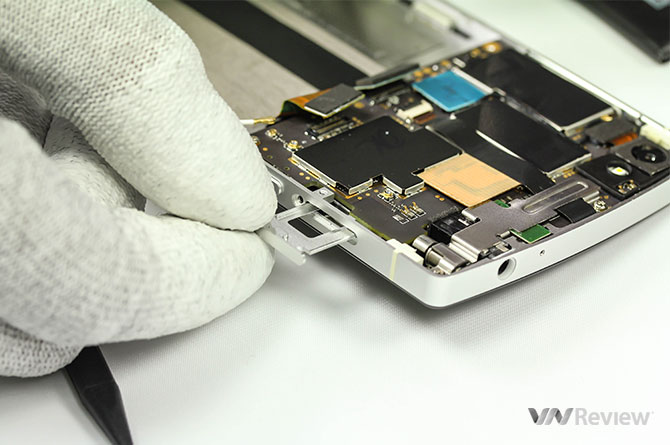 Bphone supports Nano-SIM.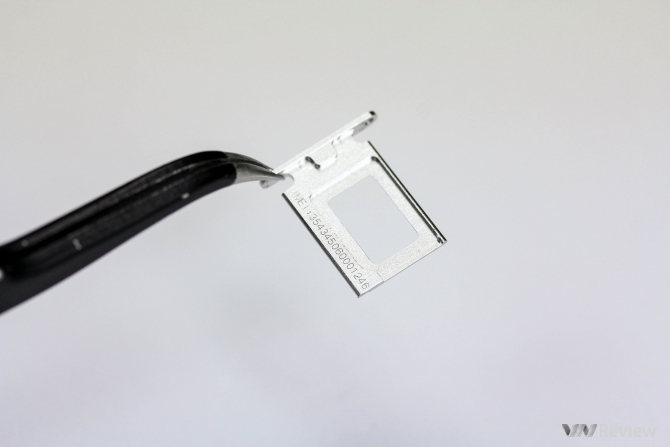 IMEI number is printed on SIM tray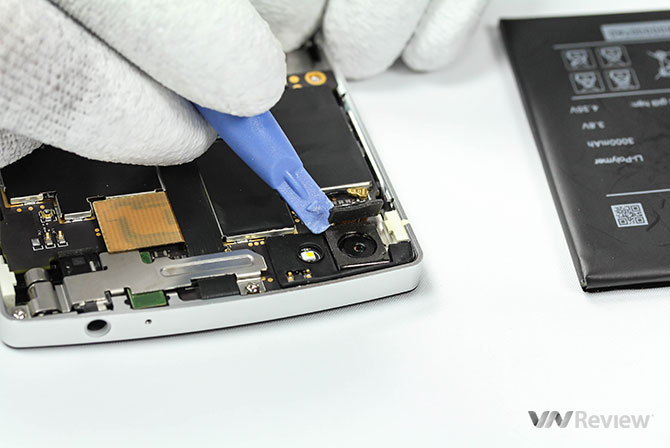 Rear camera system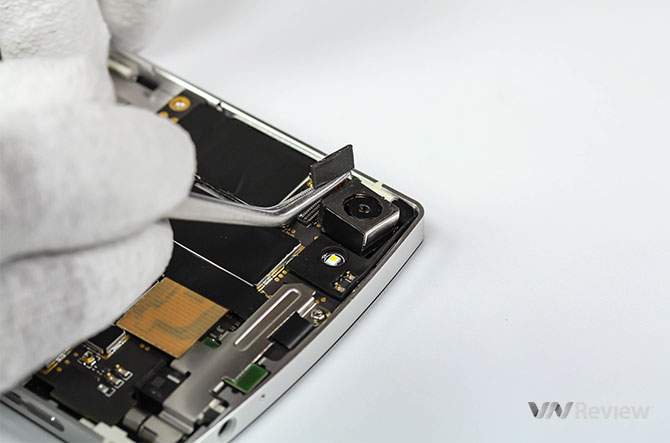 The camera system is connected to main board through connector.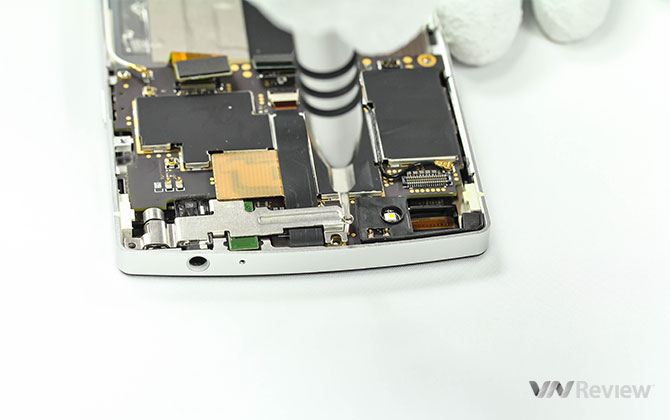 Remove vibrate motor holder and audio connector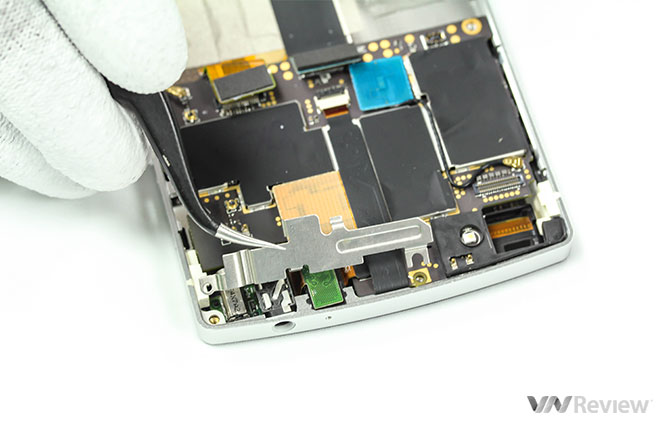 This is the holder of vibrate motor and 3.5 mm audio jack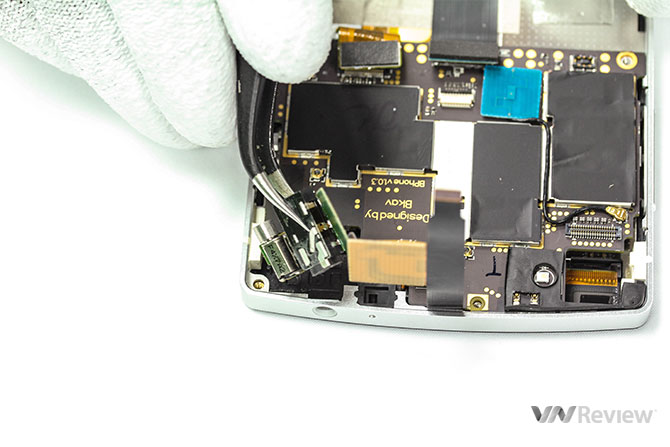 Remove the holder of vibrate motor and audio connector. 3.5 mm audio jack and vibrate motor are connected on the same Flex circuit and this circuit is connected to main board by a solid connector.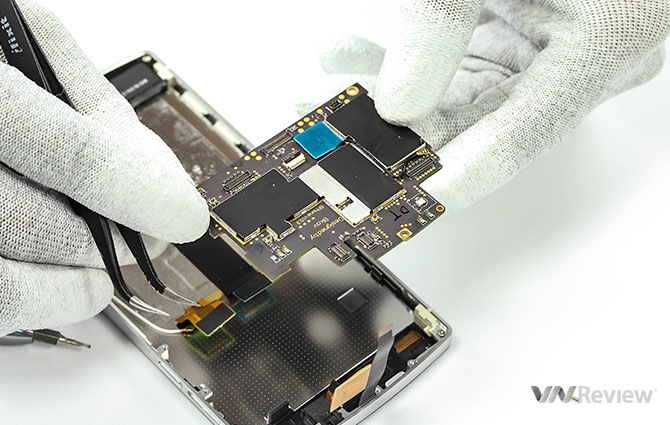 After removing screws and some components connecting to main board as SIM tray, camera and vibrate motor and audio jack, the circuit can be picked out of the frame easily.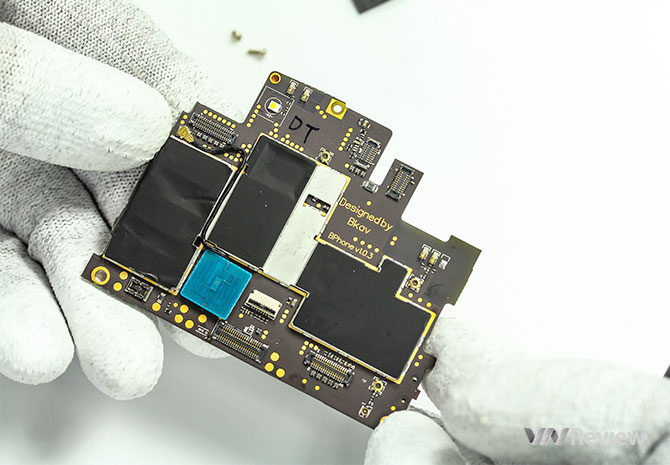 Main board is stated clearly "Designed by Bkav" with description Bphone v.1.0.3 which might be the version of print main board. Looking at this circuit we can see that the circuit is plated with gold, which helps prevent oxidization, increase the connection between components on main board.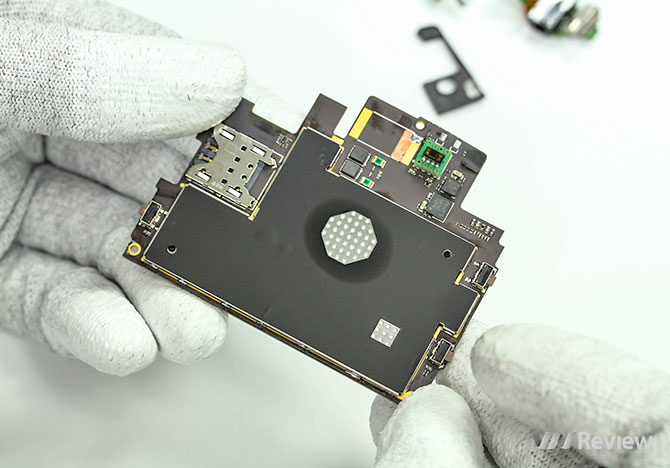 The back of main board. Components on two sides of main board are protected from jamming by EMI Shield, and covered with Graphite radiator which helps better cooling to the whole surface of the product.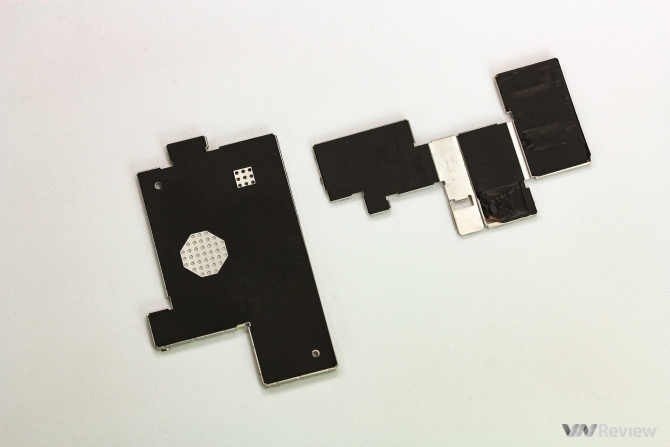 Remove anti-jamming cages covered with radiator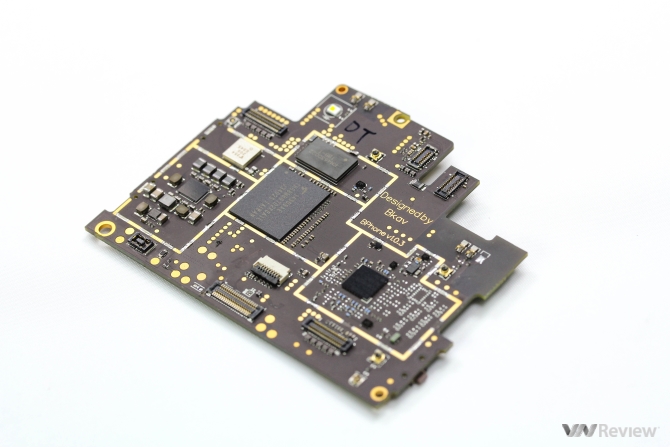 Main board of Bphone after removing anti-jamming layer and the Graphite radiator.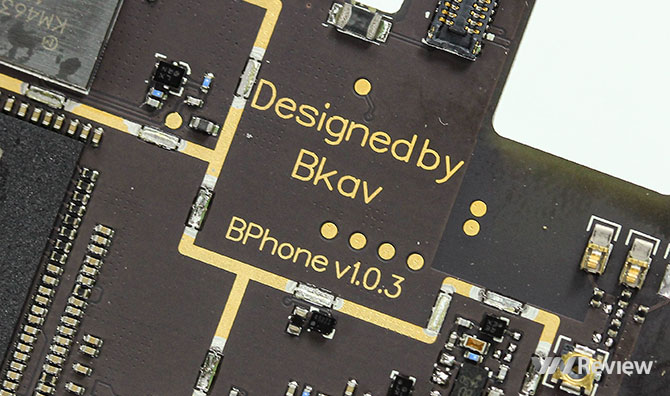 On the main board, the sentence "Designed by Bkav" is stated clearly. Close capturing can show the welding roots of anti-jamming cages which run along gold circuit lines.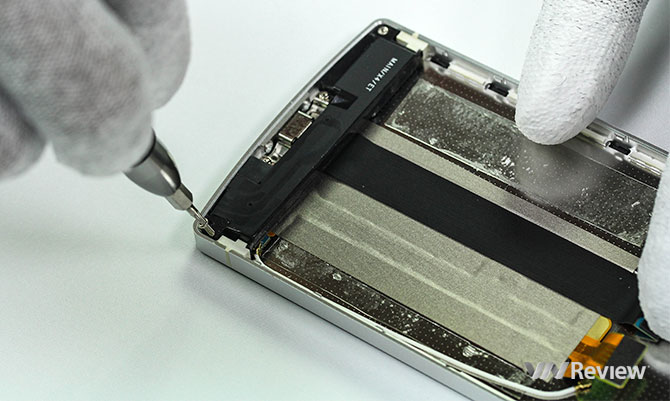 Remove external speaker box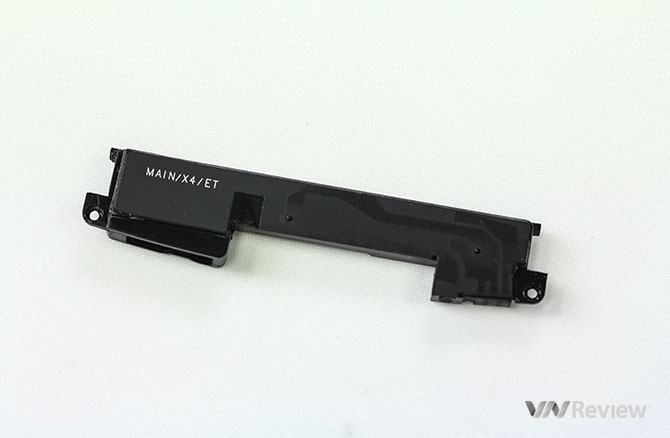 External speaker box has GSM/3G antenna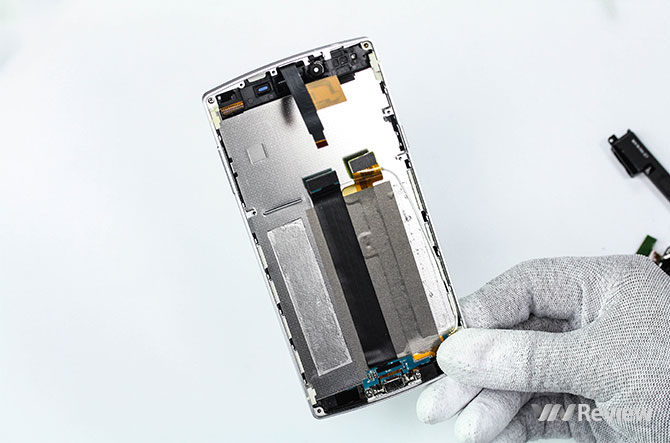 The frame is solid thanks to being cut from unibody aluminum. In addition, we can see the Stainless Steel sheet in the middle which helps to increase the strength for the exterior frame and to keep the screen.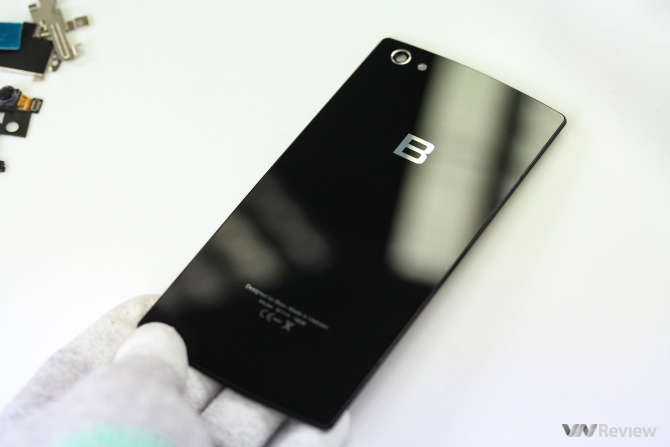 The back face is made of tempered glass Gorilla Glass 3 of Corning (US)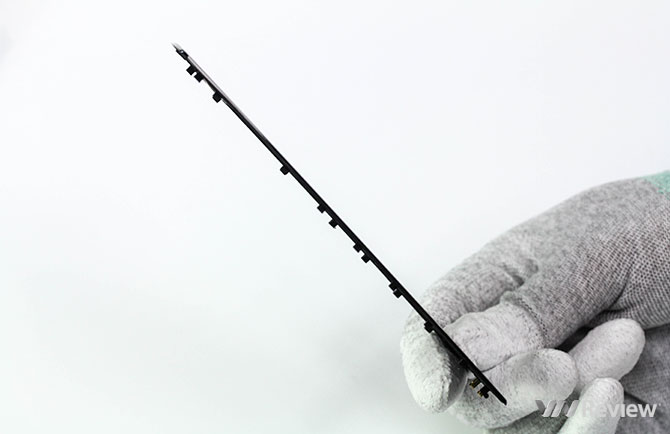 The back is quite thin and there are camlocks to connect with the frame.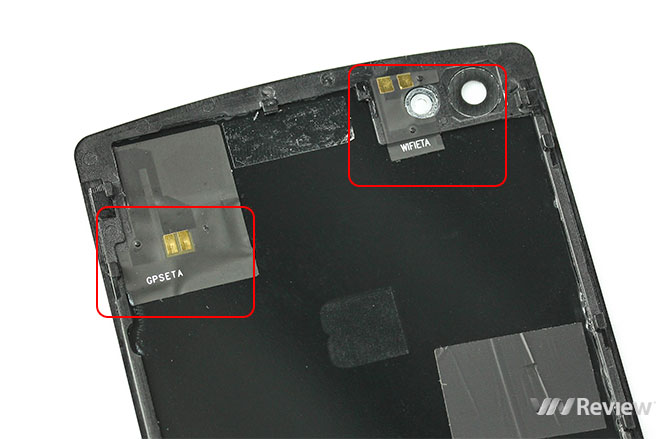 Some antennas receiving GPS and Wi-Fi are integrated directly on the back side, with copper roots contacting with main board.
In general, Bphone is designed for easy disassembling and reassembling. Modules of camera, audio, speaker are connected to main board through connectors; therefore the repair and replacement are easy and ensures high stability. The only component the removal of which is more difficult than other modules' is the screen connected to the frame by camlocks and glue.
The electronic circuit is designed in eye-catching black. The space of main board is small so it will increase the space for battery which will help increase battery capacity. Circuit of Bphone is plated gold which helps avoid oxidization and increase the connection between components on main board. Although main board is small, with closer look we can see there are still spaces for more components. Thus, the next version of Bphone can integrate more new technologies or reduce the area of circuit to increase the capacity for battery.
Components
Bphone is affirmed by Bkav to be a high-end smartphone. In addition to careful investment in mechanical and electronic components, the manufacturer also uses high-end components from reputed suppliers who are partners of Apple, Samsung, Sony and HTC.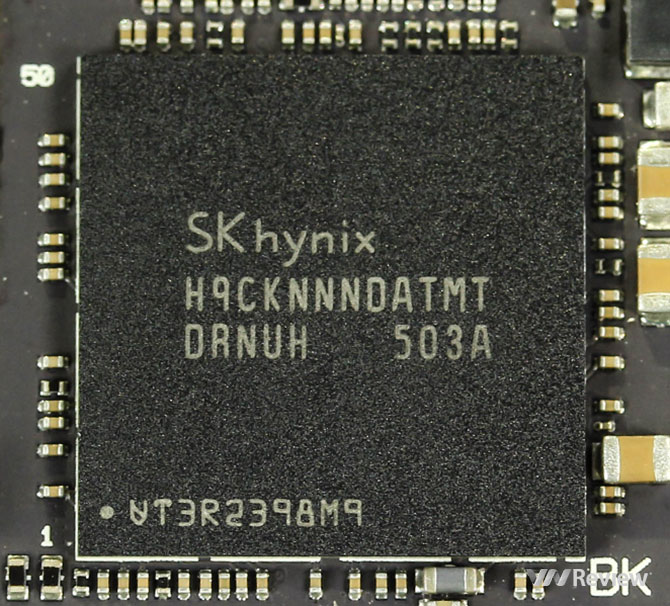 3GB RAM of SK hynix, famous supplier of RAM and flash memory from Korea. Beneath RAM chip is the processor Snapdragon 801 2.5GHz quad-core of Qualcomm (US). Checking the software also shows that the processor of the phone is Snapdragon 801 2.5GHz quad-core. This is the solution PoP (package on package) integrating upper RAM/memory and lower processor at the same position on the main board, which helps optimize the main board design. Smartphones such as Galaxy Note also use the same PoP solution.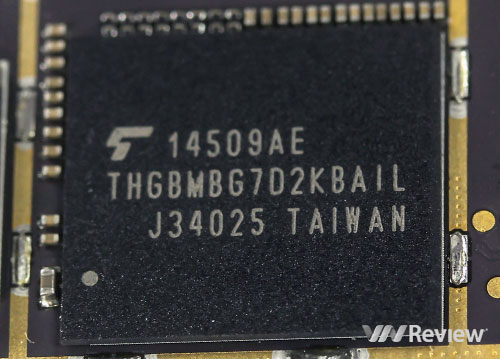 Internal memory of 16GB of Toshiba (Japan). In addition to 16GB version, Bphone offers two options of 64GB and 128GB for internal memory.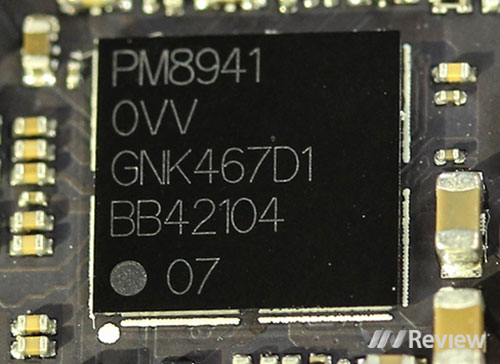 Power management block is integrated with QuickCharge 2.0 of Qualcomm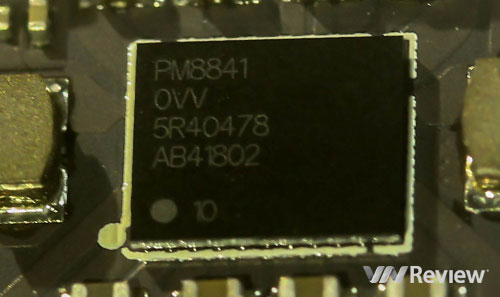 Chip provides source directly for processor of Qualcomm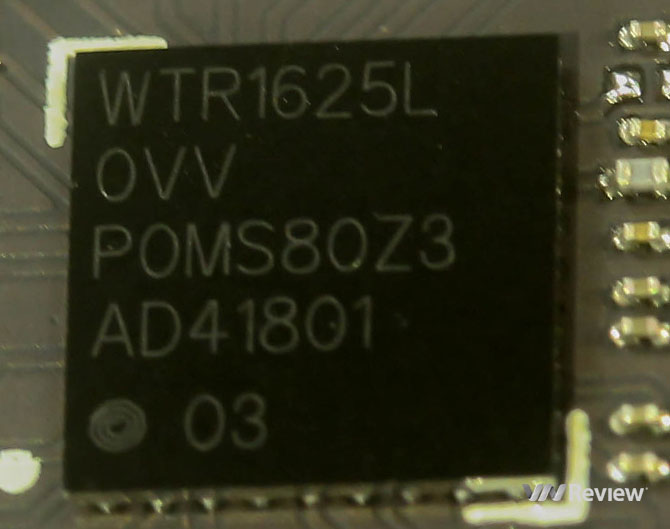 Chip sending and receiving wave 2G/3G and LTE 4G, including GPS chip of Qualcomm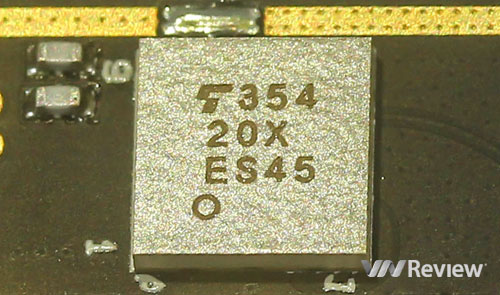 Chip transferring data at high speed TranferJet of Toshiba. Bphone is the first smartphone in the world integrating this technology.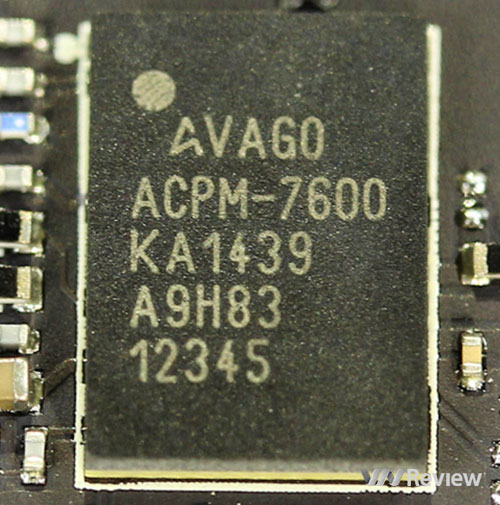 Chip amplifying 2G/3G wave capacity of Avago Technologies (US), this corporation has just bought back semi-conductor manufacturer Broadcomm with the price of 37 billion USD.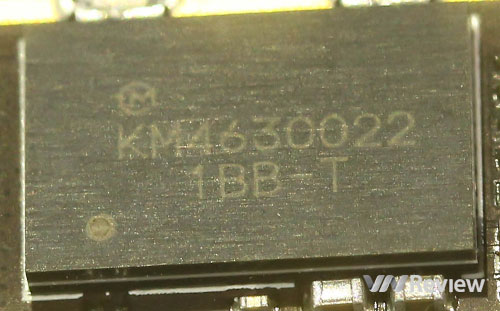 Module providing Wi-Fi and Bluetooth of Murata, electronic component supplier of Japan.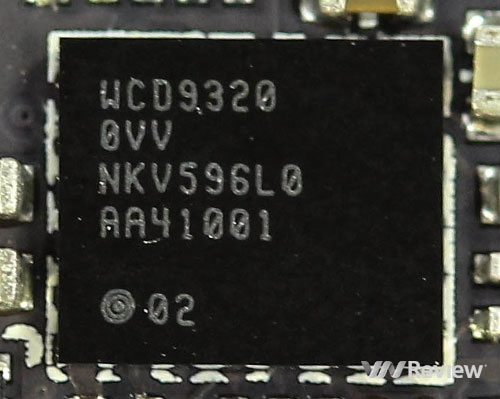 Audio chip supports processing sound of high-resolution 24bit/192kHz of Qualcomm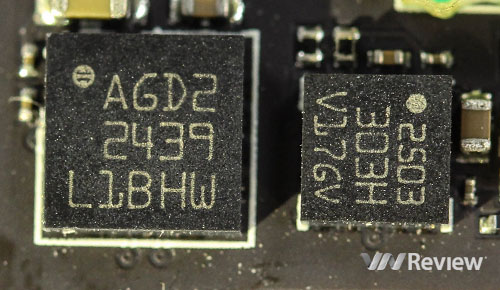 Acceleration sensor (left) and magnetic field (right) are from STMicroelectronics, the largest semi-conductor manufacturer of Europe located in Swiss.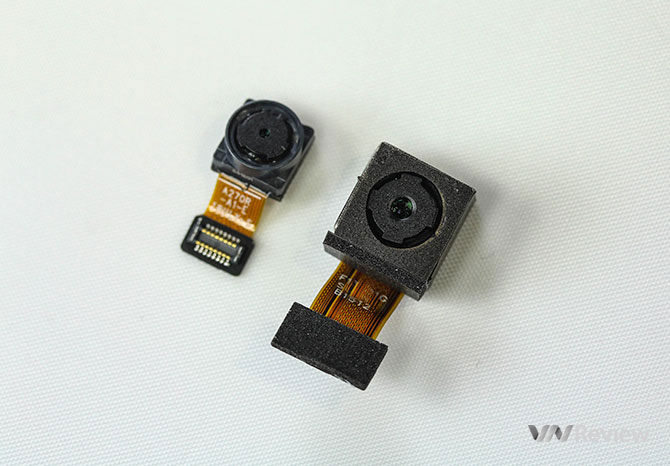 Front camera 5MP (left) and rear camera 13MP (right) use sensor of OmniVision Technologies (US).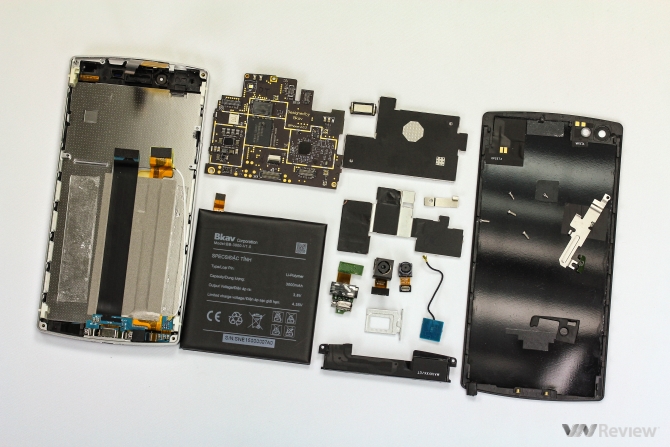 All components of Bphone
Source: VnReview.vn
Not less than 5 characters!