"To walk barefoot" company of Nguyen Tu Quang
15:47:00 | 06-10-2013
In a talk with the reporter of VnExpress, the most read Vietnamese newspaper, CEO, Chairman of Bkav, Mr. Nguyen Tu Quang shared his views on running the business and creating a business culture unique to Bkav. Bkav.com is pleased to introduce readers the article and images about Bkav posted on Vnexpress.net.
(VnExpress) Since Bkav antivirus software was commercialized after 10 years of free provision, every word from Mr. Nguyen Tu Quang has always been scrutinized. However, the former "Knight" continues to do things like nobody else.
As a third year student at Hanoi University of Science and Technology (1995), Nguyen Tu Quang began writing Bkav antivirus software. At that time, the number of viruses was small, a new virus even did not appear after half a month so there was not much work for this software. Being at school in the morning, Mr. Quang spent the afternoon or the evening groping his way with new viruses. After the updated version was released, he distributed it to his friends through a floppy disk.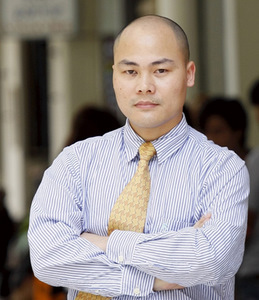 Though going into business Nguyen Tu Quang continues to do things like nobody else
In 1997, when the Internet began to appear in Vietnam, Quang sent new versions of Bkav antivirus software via email to all interested people. His cellphone was also in charge of the operator answering all questions about the virus and was public under the email. At that time, the Internet of Vietnam still used the dial-up connection so it was very slow and often malfunctioning. Everytime Quang sent new antivirus software to others, it took a lot of time as the connection needed to be repeated again and again.
After graduating, Quang worked as a lecturer at his own university and did many other jobs to have a source of income following his antivirus passion. However, the deeper he was into this field, the more worried he was when realizing his strength was too small. Before, a few hours per day was enough for him to spend on new viruses.
As the Internet appeared, Quang spent all of his free time to write new versions of antivirus software and still felt short of breath. Then, Quang came up with the idea of gathering some friends who had the same passion into a group, joining hands to make new versions of the antivirus software. Like Quang, new members also had to do various jobs to feed themselves and save money and time for a passion that brought back no money.
It was thanks to many years of unconditional devotion to the community that Quang was dubbed "Computer Doctor" or "Knight of Information Technology". He was also considered a distinguished computer expert because people who were knowledgeable about information technology all went into business and earned a lot of money, while Quang was enthusiastic to do free jobs.
However, along with the spread of the Internet, new viruses appeared at such a tremendous speed that Bkav Network Security Company of Mr. Quang was overloaded. Though his group devoted almost of their time, it was not enough to meet the needs of users. "We need more and more people, but we cannot force them to work as free as we do. Moreover, if we spend all of our time and effort on writing antivirus software and there is no revenue from it, we cannot maintain as well as develop sustainably", Quang said.
In 2005, after 10 years of providing the software freely, the "Knight of Information Technology" officially commercialized Bkav antivirus software. Along with this movement, Quang chose the slogan for his company as "Do your best, the rest will come". Nguyen Tu Quang himself admitted, "At first, I found this slogan was kind of reformed because according to brand experts, for company slogan, no one choose such a long sentence (in Vietnamese version). That is not to say that this slogan does not mention to the desire of development or customer orientation of the company".
However, he still decided to choose a slogan like nobody else for his company for the reason: "I believe in that so I do." Quang supposes a strong company come from employees, all of who do their best then the desire will be completed, customers will be served with both the heart and the mind rather than the relationships in the market.
This philosophy is reflected in the recruitment of Bkav. Those who work enthusiastically will be prioritized, not smart and skilled people. "Our experience has shown that if you work to your best, even at first you are a less skilled employee, but then you will develop quickly and devote more to the company than the smart and skilled but less enthusiastic ones", shared Quang.
In the early days, not many people noticed the requirement of taking off their shoes and walking barefoot in Bkav Network Security Company. However, when the company has reached more than 800 people, of which the main office area occupies more than 600 employees, this regulation is still maintained. With such a large number of employees, perhaps Bkav is a rare company in Vietnam that goes barefoot in the office.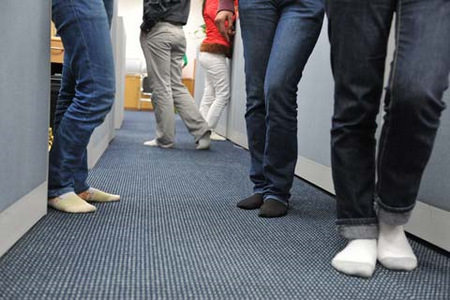 Employees or guests must leave their shoes outsibe before entering Bkav
In order to maintain the rule of walking barefoot in the company, the requirements of carpet and sanitary inside the office must be extremely stringent. In addition, the shoe cabinet system outside must be carefully designed to avoid confusion or loss for hundreds of employees at the same time. The amount of effort and money spent on doing such a little thing is something that very few companies want to do because the benefits are not clear.
But to Quang, walking barefoot in the company represents a very important philosophy that he wants to share with the staff: Consider the company as their second home. He analyzes, "Getting home, everyone must take off their shoes and goes barefoot. If I tell my staff to treat the company as their second home but they do not have the same conditions and feelings, then it's pointless".
In addition to walking barefoot in the office, toilets are also equipped with specialized slippers, just like in the family. Moreover, all employees are provided with pillows and blankets for a quick nap after lunch, resulting in a system of cabinets for these items to avoid the mess.
Quang also invested a kitchen for the company with sources of clean vegetables and meat provided by reputable suppliers to ensure qualified lunches for employees. The cooking process as well as the cooks are Bkav's people and not outsourced, helping the company actively manage the quality of food hygiene and safety. The price of a high quality lunch here is equivalent to the price of an office lunch as the company has sponsored partly.
"Bkav also wants to offer free lunches to employees as Google but not yet", he said. "As the company grows more, we will".a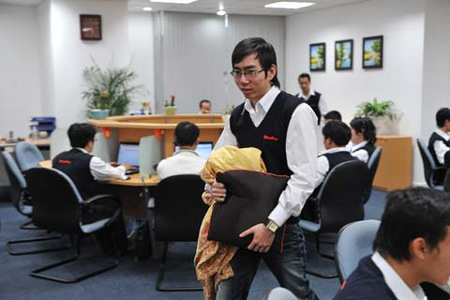 In addition to providing blankets and pillows, Nguyen Tu Quang also wants to provide free lunch for all employees as the company grows more.
After more than five years of commercializing the antivirus product, Quang found that, one year in business helped Bkav progress by 10 years of free provision. Before, if the software was faulty or malfunctioning, users rarely complained about Bkav or Mr. Quang on forums. Now, any minor error of the product or any abnormal speech from the CEO of Bkav receives a very strict look from the online community as well as the media.
From the title of "Computer Doctor", "Knight of Information Technology", Nguyen Tu Quang had new nicknames as "Explosive" Quang, "Bombing" for his speeches. Initially, the Chairman of Bkav was shocked.
After a while being dispirited by new nicknames, the past "Computer Doctor" got accustomed to, and even discovered the positive points from the rigorous supervision of the public for his work. Now, the head of Bkav considers the criticism for the product as well as himself as necessary review to help him not suffer from delusion, always be balanced and motivate himself to go forward.
Each time being criticised, Quang and his colleagues all review the product and themselves to make better changes. However, he still believes that Vietnamese can make technology products that are peer-to-peer or even better than products of the world's leading brands.
Dominating the overwhelming market share of antivirus products in the country, Quang set a target to reach the global market. He also started providing freely the international version of Bkav antivirus software. The slogan in English is: "Do your best, the rest will come". According to CEO of Bkav, he felt satisfied with the slogan in English version because it was shorter and also "less kind of reformed with the second clause without mentioning success, because you simply do your best by time and success will come itself".
"Previously if I said that Vietnam's technology products are comparable, even better than foreign ones, many people think I'm 'explosive'. However, through the independent testing results of the world's reputable antivirus software testing organizations such as Virus Bulletin, people who are interested in Bkav will know better about our work. If I say something incorrect, the product is not good then the independent testing results of reputable organizations will expose the weaknesses", he said.
Then Quang shared, recently many people have not believed that a Vietnamese technology product can be better than products of the world famous brands. This will be a big challenge that Quang and his colleagues in Bkav have to overcome in the future. "If we manage to create that belief, many other people will also be more confident in the competitiveness of the Vietnamese and that will be great. Of course, doing this will not be easy, but it does give us more excitement", he said.
Inside the "To walk barefoot" company of Nguyen Tu Quang: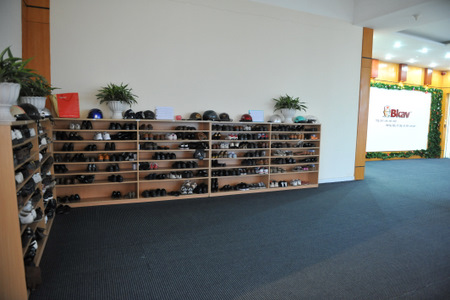 To enter the company, Bkav's employees must put their shoes on the cabinet outside and walk barefoot, just like at home.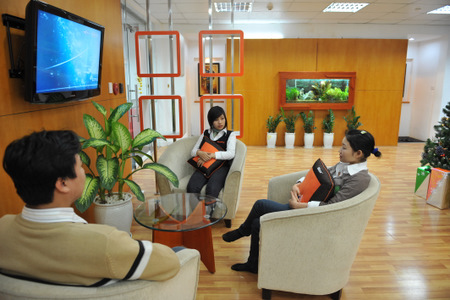 The reception area is like a family living room with a set of tables and chairs, fish tank, trees, TV, ect.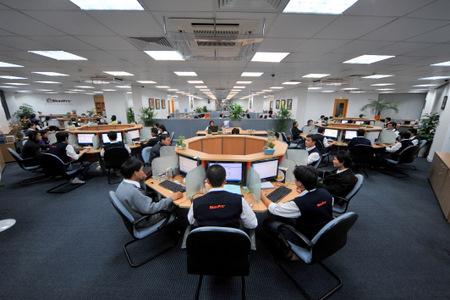 Inside the office, carpet is always kept clean to ensure hygiene for everyone to work.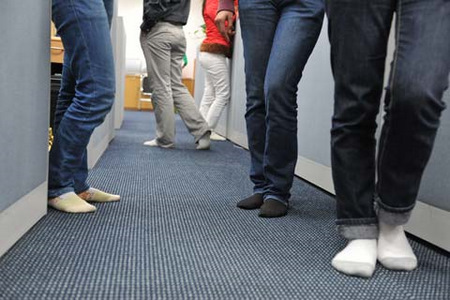 No one wears shoes or slippers inside the company of Nguyen Tu Quang.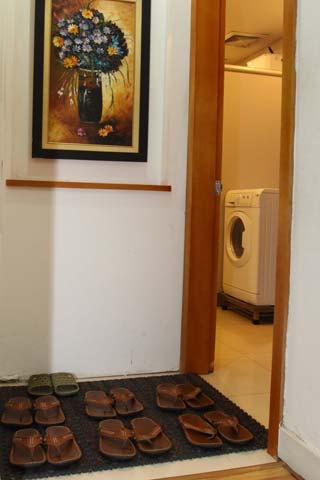 When entering the toilet, employees or guests will use specialized slippers just like at home.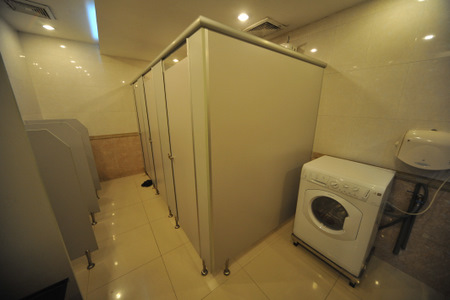 If employees need to wash their clothes at the company, washing machines are available.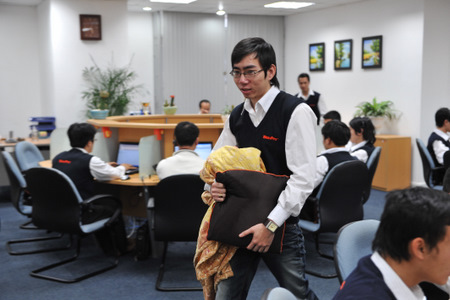 All employees are provided with pillows and blankets for a quick nap after lunch in the company.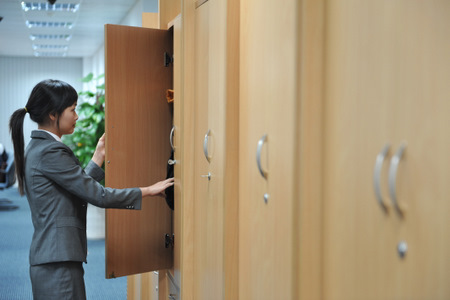 Each employee has a personal closet for pillows, blankets and personal items.
According to VnExpress
Not less than 5 characters!