Bkav CEO: Pioneers must accept storms
20:26:00 | 28-01-2016
It is unnecessary to name what Mr. Nguyen Tu Quang has created. Ten years of providing free antivirus for the community, and another ten years in business to create the trademark of the largest market share antivirus software in Vietnam, and to become the technology corporation providing multiple useful electronic solutions is long enough for him to confirm his strength in the business field.
However, that familiar name is still full of novelty and attraction to people who don't know well about technology. As, with over 20 years of "living in public opinion", when belovedly called as "Computer doctor", awarded the title Technology knight, when being protested as "boaster", as "bomber"…, Mr. Nguyen Tu Quang has only one way of reaction: smile and be loyal with his way of living.
Since Vietnam was in the first steps to information technology, this former lecturer of Hanoi University of Science and Technology has believed strongly that though being later, Vietnam can still own advanced technologies, and create products that can conquer the world.
After antivirus software Bkav, electronic office application eOffice, SmartHome…, four years ago, in September 2010, Bkav triggered the project of Bphone, producing smartphone "designed by Vietnam" by registering the domain Bphone.vn, to answer the question whether Vietnam can design a smartphone that is as beautiful and smart as the world top smartphones or not?
After 5 years of devoting to the research, the answer for that question is the introduction of Bphone. The life span of Bphone is only calculated by days, and it is still between the public opinion of being good and bad…
* How do you feel after the official introduction of the first smartphone "Made in Vietnam?"
For us, everything has just started now. I know, with a strict market as Vietnam, we must conquer by final result, that means whether we can penetrate the market or not, only time can answer this.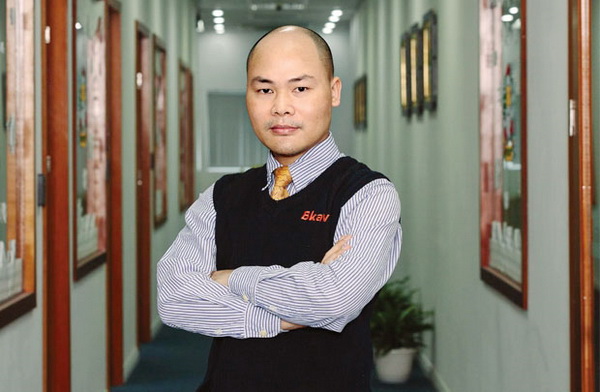 I still remember, it was the same for antivirus software, we received a lot of doubts. Finally, uptil now, it can be said that antivirus software of Bkav has the dominant marketshare over foreign products.
A technological product has many features that require enough time and even disputes so that users can know and understand them.
* It seems that there's a hidden message behind the introduction of Bphone?
The official introduction of Bphone is only a part of the roadmap for people to understand the product. It is the result of the process from early January 2015, when Bphone appeared in CES 2015. For me, this event is not to show off, it is of essence.
This is a campaign. Statistics have shown that this campaign of Bphone in Vietnam is more attractive than the introductions of iPhone, Samsung Galaxy…, in terms of comments, emotions of users in social networks.
Regarding the message, it is consistent with the road of Bphone uptil now: We want Vietnamese people to believe that what the largest corporations in the world can do, Vietnam can also do. We only lack belief in ourselves, in our people.
* With Bphone, do you want to brand for Bkav or to sell the product? It is evident that Bphone must compete with many other luxury smartphones and more importantly compete in the smartphone market that seems saturated, when the world largest smartphone manufacturers also build their factories in Vietnam?
We have produced a luxury product at a reasonable price, at the same time, we have a modern communications campaign. All is to show people that Vietnamese have done what the world largest corporations can do.
I want all Vietnamese young people have the confidence that we can do various great things. And of course, the competition to win foreign brands is secondary and it is the consequence of what we have done, not our top goal.
* With antivirus software, eOffice, SmartHome and now Bphone, is it true that you haven't stopped with "Made in Vietnam" high-tech products? In your opinion, consumers have not trusted technological products of Vietnam or these products have not persuaded them?
Participating in this field, we must have long-term plans and at this moment, various designs, experimental production programs for coming products are in process. However, our goal is to build a successful technology corporation in the world market.
In the current context, it is evident that we must make more efforts than other manufacturers as Apple or Samsung. It is only a joke but even Tim Cook cannot make smartphones in the current conditions of Vietnam.
To be fair, the reason that users lack confidence in technological products of Vietnam comes from two sides. Over the past time, many products of Vietnam have been produced negligently, even in the essence of snatching.
This has prolonged for years, which lost the trust of users. We are really proud when we think differently and do differently. However, we alone cannot gain lost trust. We must exert all our strength. And Bphone is our roadmap.
On the side of users, I think they should have more open thoughts, because Vietnam has experienced too long time of war and has many things to do after war.
In such difficult situation, individualism will develop, communitism will reduce. It is the cause of what we call as snatching. Deep inside, I think it is because of the context, but in the coming time, this will no more exist.
* Is it the reason for you to "award" technological products of Bkav with beautiful words as "great", "unbelievable"…? Is it the ambition for the future of technologies "made in Vietnam" of a former Technology knight or it is trustful information at this time?
We have goals that are greater than a product. In terms of specific products, as Bphone, as the working result of hundreds of engineers in over 4 years and of tens of millions of USD, it is clear that this is not a joke so that I can use such words in the way of "the empty vessel makes greatest sound".
When there is a product, we must arrange for people to experience and then launch to the market. At that time, comments will be much stricter. What I say will immediately be verified so we cannot joke. This project took us more than 4 years to create the product so I confirm that we are completely serious!
* Vietnam has software industry named in the world outsourcing map, has leading technology companies as FPT, Bkav attracting big technology projects of Intel, Samsung, Nidec… In your opinion, is it enough for Vietnam to have models as "Silicon valley" in the future?
In fact, Vietnam has no genuine market for information technology. It is still rare that people spend money on buying software license. Even with enterprises, their size is not large enough and they have not recognized the benefits of applying information technology in enterprise management.
Of course, we can completely overcome that context by considering the global market as our market, but this will be much more difficult than owning our local market. As the local market is like an incubator for our growth, a launcher for our development to the globe.
Looking at the world corporations as Google, Microsoft, Apple…, they have the advantage of US market, which has the huge consumption of technology products. Even Apple, without the purchase of American people right from the start, cannot become current Apple for sure.
* Looking back the time writing the antivirus software Bkav, what do you think about the startup of many Vietnamese young people?
To be trustful, I don't know much about recent startup projects that are often mentioned, but I feel that they lack something, as patience. Some are dependent, that means they start up but wait for someone to help them, especially the help from aboard.
That is the inferiority that seems harmless but affects the success or failure of the project. Or some projects set the short-term target of making a living, gaining profit and it is very difficult to develop sustainably.
Do your best to provide the community with useful products, and the best will come. We have a slogan as the guideline for our corporation from the early startup: "Do your best, the rest will come."
* In one sentence, what will you say to people who protest or don't like products of Bkav?
What I will say is: "Just wait, we will persuade you!". Bkav in particular and Vietnam in general has great opportunities to catch up with the world in terms of technology. The opportunity is unprecedented. You can see that the way we make Bphone is no difference from Apple making iPhone. You should remember that this is our first version while Apple has its eighth one.
* When focusing on only antivirus, was the spiritual and physical life of Bkav employees in general and yours in particular more "leisure" than now? Have you ever felt regretful spending money and passion in smartphone dream?
Many people see our smartphone project big and important, but our goal is much greater. It is to build ethnic pride.
Despite various difficulties, disadvantages, we still have enough motivation to achieve the target. Even in the time of doing only antivirus, each time has its own difficulties, as smaller size, poorer finance and facilities…
* Many people say you are devoted to work and have no time for sleep, eating, coffee, books, newspapers, even… love. When will you start caring for yourself?
Things as big house, leisure life with coffee, books… are not among my goals. Those are not too important. For me, a rather good condition for work is enough, because I have other greater goals.
When goals bring happiness, passion, other things become less necessary. Of course I am a normal person and I have basic needs. However, my current physical condition is much better than many people already.
* After the introduction of Bphone, many Bkav employees express on Facebook that they are very happy, they cry because "we did it". Having such emotion is not easy, how do you plant the passion and pride in your employees?
Since the startup of Bkav, I have built our own culture with the dominant rule: All employees will look at the leaders and vice versa leaders will do the same, look at their employees. It is the culture of Bkav.
* What is your key to be beloved by employees whether they still work for Bkav or not?
It is the sincerity. Not only me, but the sincerity is always available at Bkav.
* What do you want to say about the doubts around ringtone, illustration image, advertising image used in Bphone launching event? How will you deal with employees in charge of those stages?
In this whole event, we have tens of thousands of works. Including a few months since the appearance of Bphone at CES 2015, the number of wok can reach hundreds of thousands.
It is easy to understand if there is an error at this work or that work. I understand that the whole staff did the best, so there is no reason to blame them when they tried to the best of their abilities, when all processes were complied with. Error is a part of life.
* Thank you for your time!
Saigon Businessman Newspaper
Not less than 5 characters!