Bkav enters the world's top three
00:11:00 | 16-11-2012
According to the latest testing results produced by Virus Bulletin (United Kingdom), Bkav antivirus software has successfully entered the world top's three antivirus softwares.
Bkav got RAP score of 98.1/100, occupying 3rd position out of 43 softwares from all over the world participating in the test, surpassing big names like Kaspersky (94.3 points), AVG (94.4 points), Avira (93.7 points), etc.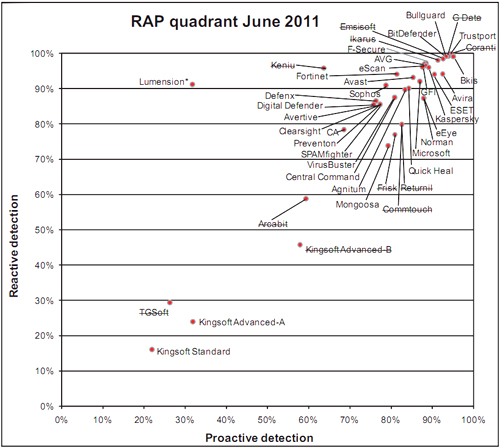 In the year-end test of 2010, Bkav, for the first time, entered the world top 10 after the company's attempts to bring its product to global quality tests. Bkav is also among the few Vietnamese companies whose product is competitive and prevails oversea products in domestic market.
Mr. Vu Ngoc Son, Director of Bkav R&D, said that the company's success was partly due to the great contribution from users. "For more than one year, all Bkav's new products, before being officially launched, are submitted to technological forums for trial by IT users. Bkav then can get recommendations, error reports from users, which helps us constantly develop our Bkav software. Besides, IT forums' members are constructively sending us virus samples so that we can update to our signature database. As a result, Bkav obtained high scores in every detection rate of the test, 2 rates are even the highest, which highlights the strength of Vietnamese product", said Mr. Son.
Virus Bulletin's tests focus on the software's detection ability through sample sets, namely RAP (which shows the software's coverage of the set and proactive detection rate), Wildlist (widely spreading viruses), Trojans, Polymorphic, Worms and Bots. The detection rates of Bkav are: RAP score 98.1%, Wildlist 100%, Trojans 98.8%, Polymorphic 100% and Worms/Bots 99.81%.
Virus Bulletin is world top organization in testing antivirus software. For many years, Virus Bulletin has conducted independent tests of antivirus softwares worldwide. Their tests are widely acknowledged in software industry.
You can read the whole Virus Bulletin Comparative Review here:
http://www.virusbtn.com/vb100/latest_comparative/index
Related articles:
Bkav enters top 10 antivirus softwares in the world
Bkav achieved VB100 Award two times in a row
Bkav got first VB100 certification
Bkav
Not less than 5 characters!