Bkav officially introduced Bphone
20:13:00 | 28-01-2016
Today, May 26th, Bkav Corporation officially launched Bphone, the world's smartphone masterpiece at Vietnam National Convention Center, Hanoi. The launching event attracted the attendance of 2,000 guests, including Vietnam's and international reporters, Bkav's partners, customers and tech lovers.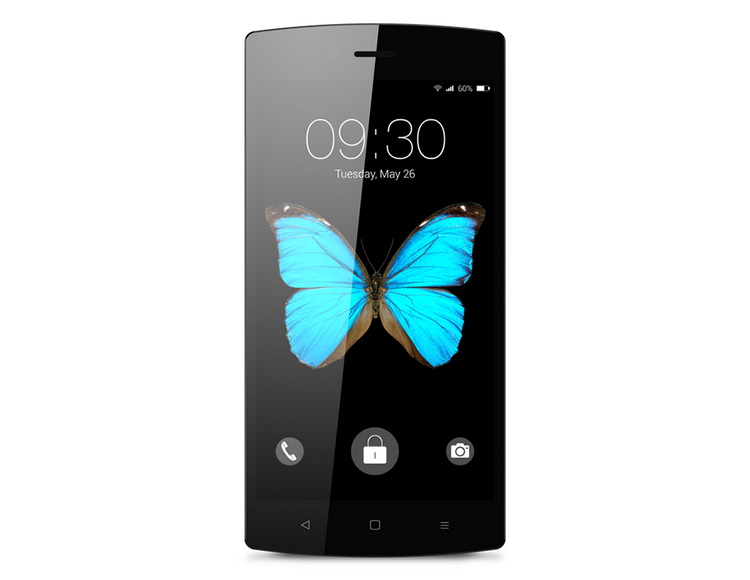 After the first clip introducing the first smartphone designed, manufactured and installed in Vietnam, at 10:13, at Vietnam National Convention Center (Hanoi), CEO, Chairman of Bkav, Mr. Nguyen Tu Quang, appeared with a Bphone on his hand and said: "Very challenging, and today, I am extremely happy to introduce to you the world's smartphone masterpiece: Bphone. More than 1,500 days, hundreds of Bkav engineers with high enthusiasm and deep passion have created this masterpiece. I strongly believe that when holding it in your hand, you'll think like me: one of the world's most beautiful smartphones."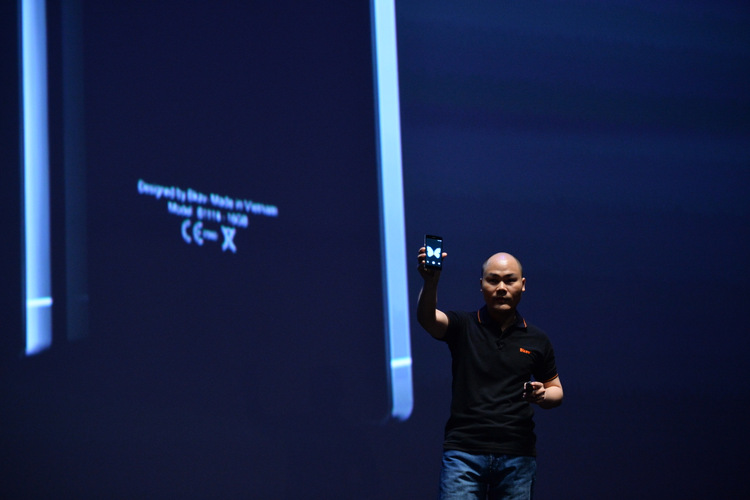 CEO Nguyen Tu Quang and Bphone in his hand
On the screen, for the first time, the appearance of Bphone was exposed to 2,000 attendants. However, many guests and reporters flew down towards the stage to have a closer look at the smartphone of Bkav.
Sharing information about Bphone Designed by Bkav, Made in Vietnam, Mr. Quang said: "Over 4 years ago, in September 2010, we started the project Bphone. You can check on the website of Vietnam Internet Center (VNIC) to see the domain "Bphone.vn" registered on September 07th 2010. We raised the question if we could design a smartphone that was more beautiful than top smartphones in the world or not. To Bkav, smartphone is not only a phone, not just a computer. In addition to the convenience it brings, smartphone is a daily close friend, a fashion product".
CEO, Chairman of Bkav, Mr. Nguyen Tu Quang confirmed: "We are later than other firms in this field; therefore, to become a strong brand, we have no other way but to create a better product than theirs". The hall broke out with applause on strong confirmation of Mr. Quang: "Beautiful sophisticated and powerful are the first criteria. And we made it".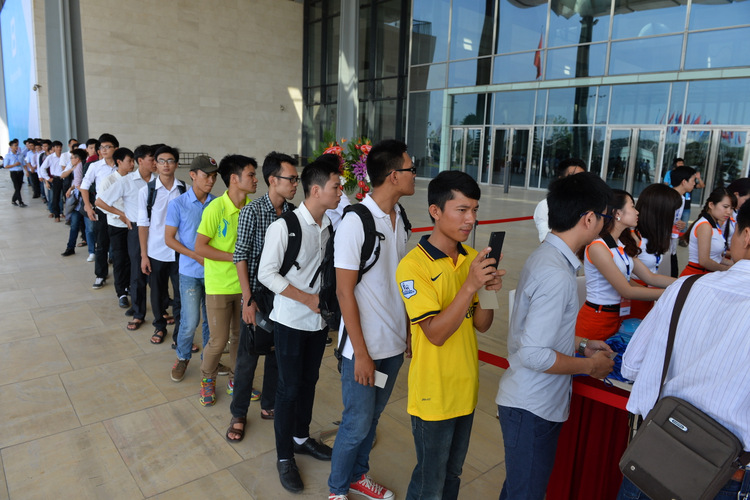 Guests in queue to enter Bphone launching event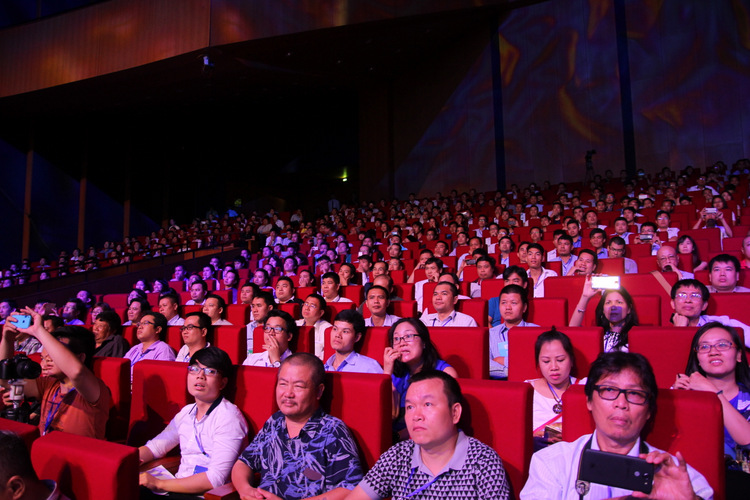 The event attracted the attendance of 2,000 guests including Vietnam's and international reporters, Bkav's partners, customers and tech lovers…
1. Bphone's flat design
About the design of Bphone, Mr. Quang informed: "Bphone is the first flat-design smartphone in the world. Looking at the front side of three smartphones on the screen, you will see the difference. Two smartphones on two sides have many unnecessary details. You can see a large edge circling the screen, and it goes the same for all other smartphones in the world. To Bkav, they are unnecessary details. They make the product less sophisticated". Guiding audience to the screen, Mr. Quang continued: "Let's look at Bphone. The simplicity in design makes Bphone look exactly like a glass, as mentioned by our Design Director in the clip. The simplicity as a bezel-less glass sheet! As a result, we have a product which is simplified, strong, high-personality but still dedicate. We call it flat design. Bphone is the first flat-design smartphone in the world".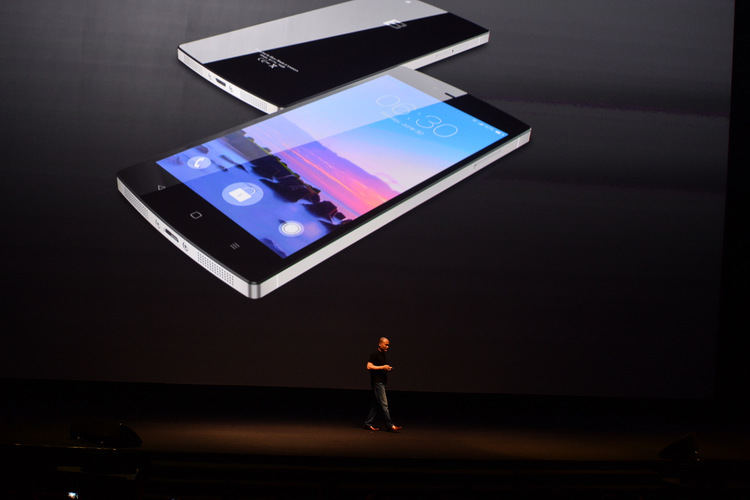 According to Mr. Quang, to complete the details, Bkav engineers spent thousands of hours of research and testing to create these dedicate details. This is the exclusive design of Bkav. Bkav has been copyrighted for this exclusive patent for the design. This patent has been valid globally.
"All Vietnamese people have always had a desire that Vietnam can produce a world-class smartphone. Millions of Vietnamese people are using imported high-end smartphones. If we can produce by ourselves, it will be so wonderful. And we made it. Bphone is for you, for Vietnam", Mr. Quang stated proudly.
Before the end of CEO Nguyen Tu Quang's speech, many guests in the hall stood up and expressed their feeling for a special product that was "Made in Vietnam" that they had been expecting.
2. No-protruding camera, battery capacity reaching 3,000mAh
After the first introduction of Bphone, CEO Nguyen Tu Quang sent his thanks to all guests at the National Convention Center, Hanoi and audience following the Event via online channel Emeeting, and then stepped back to give the stage for another leader of the corporation. At 10:20 am, Vice President of Hardware, Mr. Vu Thanh Thang appeared on the stage to talk about the Electronic Engineering of Bphone. He shared that Bphone had a strong configuration with 801 Qualcomm Snapdragon processor, 4 cores, 2.5GHz with SK hynix 3GB RAM DDR3, flash eMMC 5.0 memory of Toshiba, Sharp 5 inch Full HD screen with 441 pixels per inch, back camera of 13 Mpx with Omnivision sensor, front camera of 5 Mpx with width of 88 degree. Front and back faces were made of Gorilla Glass. "Only a masterpiece can gather all these features", Mr. Thang affirmed.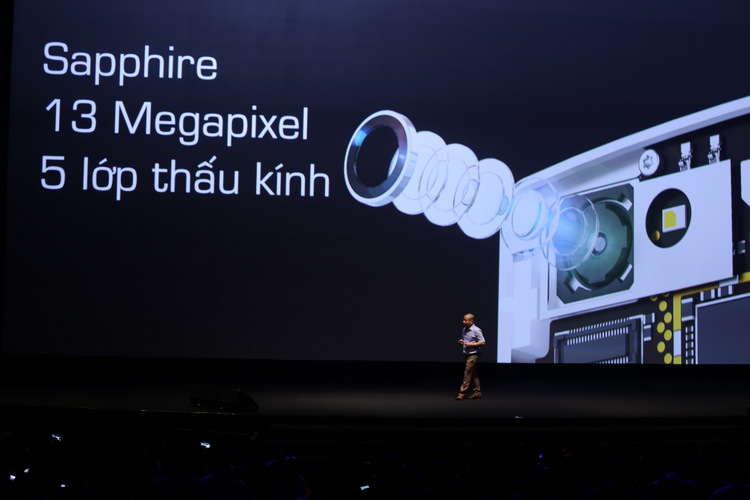 Specs of Bphone's camera
Bkav Vice President also introduced the attendance of Indochina Qualcomm General Director, Mr. Thieu Phuong Nam and 82 partners of Bkav globally.
Mr. Thang added the battery capacity of Bphone up to 3,000 mAh. In addition, Bphone was equipped with Quick Charge 2.0.
When producing a high-end smartphone, Bkav faced a huge challenge of putting 800 electronical and mechanical components into a product with a size of 141 mm x 69 mm x 7.5 mm, fitting your hand but ensuring the beautiful and harmonious design. Talking more about this challenge, Mr. Thang said: "This challenge is very enormous. You cannot be easy-going during the process of designing mechanical components. If you extend to 0.1 mm when each component faces difficulty, it will destroy the designed style. It can easily increase from 7.5 to 8, 9 or 10 mm. And you should know that 0.1 mm is smaller than the diameter of a hair shaft. Our engineers have to control and limit the dimension inaccuracy to 0.1mm, or even 0.05mm. And that is the reason why on the market now there are not many hi-end smartphones that are beautiful, thin with a no-protruding camera and big battery capacity like Bphone, up to 3.000 mAh".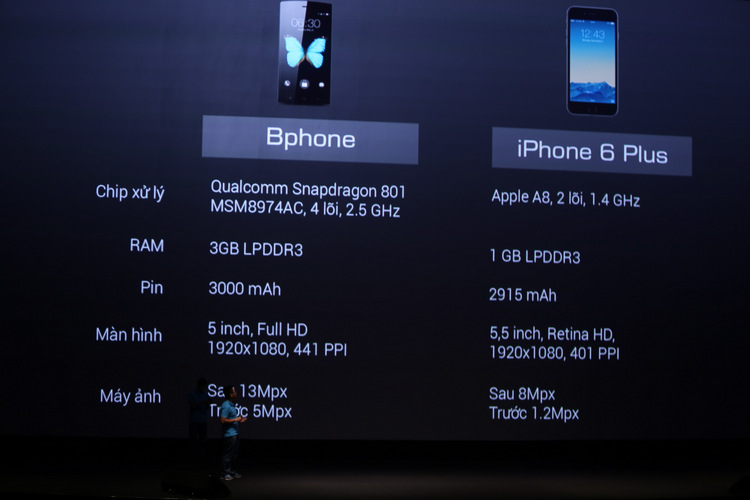 No-protruding camera, 13 Mpx
Next, Bkav Vice President introduced more about Bphone's camera which was 7.5 mm thick, with resolution up to 13 Mpx, no-protruding and ensured the designed style. Mr. Thang emphasized Bphone was among the rare high-end smartphones in the world with no-protruding camera.
Battery capacity reaching 3,000 mAh
The Vice President added: "To have a powerful battery capacity, up to 3,000 mAh, our engineers must optimize components to 0.1 mm to have the maximum space for battery, accounting for 45% area and 35% volume. And to achieve the dedication and thinness, blocked aluminum structure is the optimal choice, from a block of aluminum, being cut through 10 CNC stages with highly precise milling equipment, more than 130 drills with absolute precision. Next is rough surface treatment to achieve a delicate, smooth, bright, and luxurious look. Finally, it is the anode surface treatment to create the best durability for the product. During 4.5 years, thousands of tests have been carried out to have a very dedicate finished product as today. We do all these to create a high-end, luxurious, dedicate product, and it is for you".
Gold plated PCB
Following the impressive presentation of Bphone's configuration, Chairman Nguyen Tu Quang returned the stage and emphasized: "Not only delicate to achieve sophisticated luxury, but also we care for users' experience that may not be seen. PCB is a part of that kind. No one can see the main PCB, but we do gold plating to ensure the best quality, the most durable and the stability of the product. We care for the smallest details. We do all of these jobs to create a product that is sophisticated in every detail."
Type B USB Connector
Bphone is designed to have a USB connector type B. This type is the most popular with very high compatibility. However, this standard is inconvenient because it is difficult to distinguish the upper side and the lower side. Therefore, when charging, you must look at the connector to distinguish two sides. To Bkav, there should not be this inconvenience for users. Bkav has studied to design a slightly concave area on the surface of the connector. It ensures the aesthetics. Meanwhile, when you hold it, you can distinguish the upper and lower sides, even in the dark. As a result, you can use the USB type B with high compatibility and great comfort.
Another example that was stated by Mr. Quang as an evidence for the dedication to details of Bphone is ringtone. Mr. Quang shared: "You are very busy with your daily work and we wish that when using Bphone, you can feel relaxed every time there is a phone call. Ringtone is cared as well. We collaborate with the famous Vietnam musician - Huy Tuan to create exclusive ringtones for Bphone and we are very grateful to musician Huy Tuan for this…"
"When there is a phone call, there is more fun with Bphone" was the message that Chairman Nguyen Tu Quang wished to transfer to all guests at the event.
Smooth experience
At this moment, Bphone appeared more apparently in the eyes of all guests at Vietnam National Convention Center, Hanoi. At 10:30, Bkav's Mobile Product Director, Ta Minh Hoang offered exciting experience about this masterpiece to attendants. "Before the demo of Bphone processing speed, I would like to choose some specifications that express the power of a smartphone. On the screen, Bphone configuration is on the left side, and on the right side is iPhone 6 Plus configuration – a smartphone considered as very powerful in the market. Bphone and iPhone 6 Plus are in the same segment of high-end products. Bphone has a microprocessor of 2.5G 4 cores, 3GB RAM, battery capacity of 3,000 mAh, Full HD screen with 441 pixels per inch, while iPhone 6 Plus has a microprocessor of 1.7G 2 cores, 1GB RAM, battery capacity of 2,915 mAh, 5.5 inch Retina HD screen with 401 pixels per inch".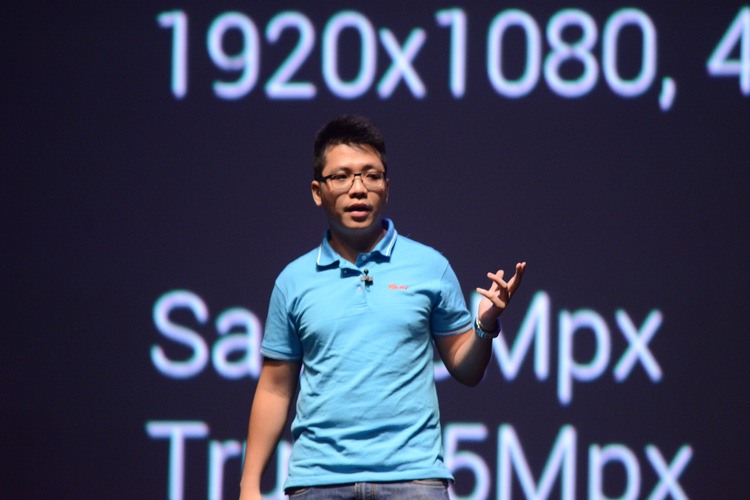 Bkav Mobile Product Director presented the powerful configuration of Bphone
Power of microprocessor
To show guests the power of microprocessor and the smoothness of Bphone, Mr. Hoang conducted a small demo. He played Asphalt 8, a game with heavy capacity that was very famous on Play Store, requiring high configuration. "You can see on the screen that Bphone processes graphical images of the game very smoothly and in detail. The effects of light and shadow look real. High frame rate helps the images move smoothly and truthfully", he shared while playing. "You can see that it is very smooth. Naturally you know this is a high-end product and it owns a processing speed equivalent to a PC. Bphone is a high-end product, though being small, thin, fitting the hand palm, Bphone has the calculation power as a PC that you use daily. Therefore, Bphone can process smoothly graphics operations with the highest requirements".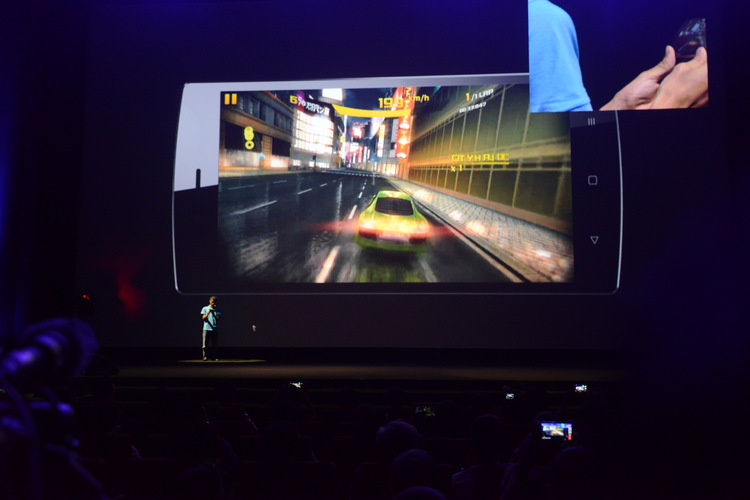 3. Capturing great photos even in low light conditions, one of the first smartphones in the world to be equipped with Fast Tracking Auto Focus
Next to the exciting experience, the 3-minute clip about camera and screen of Bphone was presented on the screen. The clip guided guests to many areas of Vietnam through lively images and videos together with the appearance of Bphone. Vice President Vu Thanh Thang continued with clear introduction about Bphone to guests:"This is Fansipan with natural surroundings. In such a good condition, for sure, Bphone can produce great photos", said Mr. Thang.
Not only in good light conditions, but Bphone can also generate beautiful photos in low light conditions. Talking more about this, Mr. Thang introduced: "This is Sword Lake in the evening. In such a low light condition, Bphone can still take detailed and clear photos. This is thanks to Bphone's lens of f/2.2 openness, one of the smartphones with the best openness in the world currently. The camera components could be high quality, but that's not enough. In order to get good photos, our engineers have developed a firmware with thousands of measurements and adjustments to produce high-resolution images, even in low-light conditions."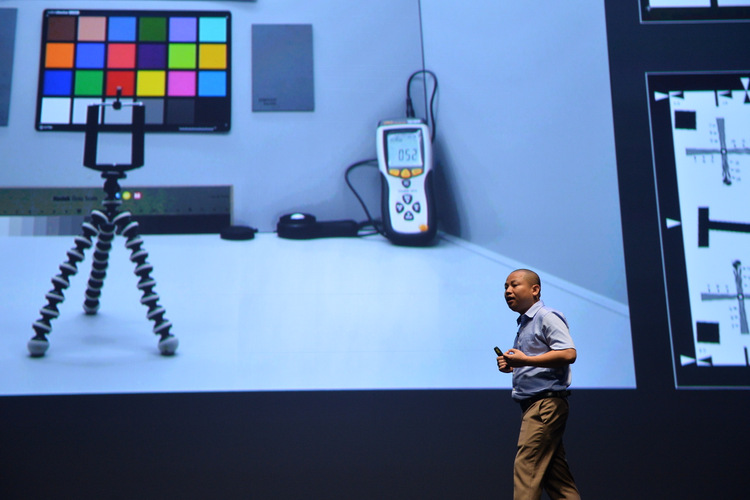 Analyzing more technically, Mr. Thang said: "We put this color table in a dark room with standard light conditions to measure the specifications and record the adjustments with the firmware of the system. Our engineers continued doing this for thousands of times until reaching the accuracy of each color to the limit. That is the reason why Bphone can produce images of great quality in low-light conditions".
In his presentation, Mr. Thang introduced more pictures of brilliant colors taken by Bphone in low-light conditions in Hoian. The result showed that these photos were lively and colorful, and helped capture various emotional moments.
Fast Tracking Auto Focus
In addition to taking good photos in low-light conditions, Bphone can function fast tracking, following moving objects. "Bphone is one of rare smartphones which have the "selective focus" feature. With this advanced feature, you can take pictures just the way you like to record every moment of life, without worrying whether the pictures have been focused. If the pictures taken are not to your liking, you can tap on another desired portion of the picture to make a new focus point", Mr. Thang continued. "Bphone is one of two first smartphones in the world equipped with Fast Tracking Auto Focus – fast tracking following moving objects. The second one with this feature is Samsung Galaxy S6 Edge. With this feature, you can capture every moment. For example, children are very active, we want to record their playing moments. If we use other smartphones, the focus will be lost. But since now, with Bphone, you won't be afraid of losing such moments any more. And I am pleased to repeat that in this world there are only two smartphones that can do this".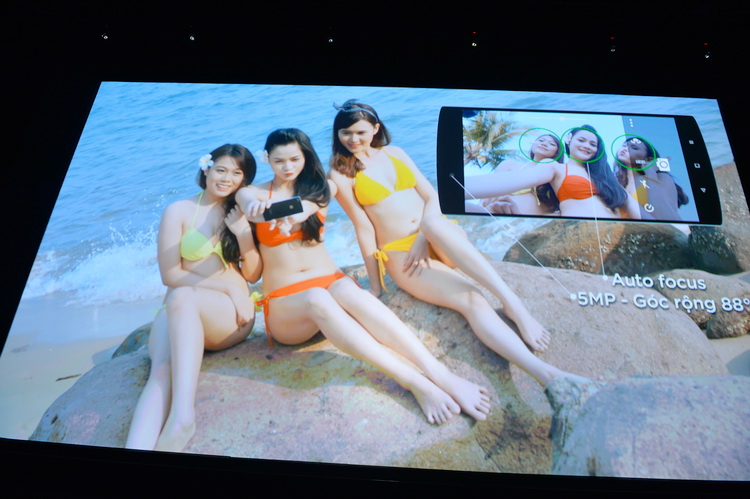 Not by speech, all guests in the hall watched a clip on the screen to see the effectiveness of Fast Tracking Auto Focus on Bphone.
Slow Motion video recording
Next to the clip about Fast Tracking Auto Focus was the slow motion video recording feature of Bphone. According to Bkav Vice President, for a high-end smartphone, slow motion video recording was an indispensable feature, which allowed you to record amazing natural physical phenomena that could not be clearly seen with naked eyes. With Bphone, anyone can fully enjoy such interesting phenomenon with 120 frames per second and 5 times the normal visibility. In addition, Bphone was integrated with 4K video recording capability. With Bphone, users could record video in 4K resolution and play on the premium 4K TVs on the market today. You can enjoy high quality videos just like being in a home theater.
Camera lens is protected by Sapphire glass
Vice President added: "We care for the hardware and software of the camera. However, if the lens is scratched, blurred during the usage, it is unacceptable. We wish to bring you the best, in spite of spending huge cost. Bphone's camera lens is protected by Sapphire glass. Sapphire glass ensures not only a nearly absolute clarity but also a high image quality over time because it is very hard to cause a scratch on Sapphire. According to our knowledge, there are only two smartphones in the world equipped with Sapphire to protect camera lens. One of these is Bphone of Bkav."
The fidelity of color reproduction on the screen
Not only camera was cared, Bphone screen was also focused to manufacture the screen with the best colors. To specify, Mr. Thang made a comparision of Bphone screen with screens of iPhone 6 Plus and Samsung Galaxy S6 Edge. Clearly, Samsung is in the standard mode, while iPhone and Bphone is in the defaut mode.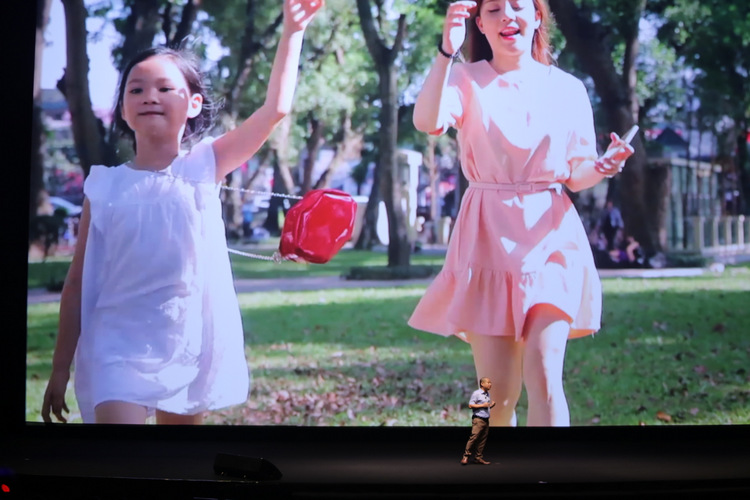 "Color triangle presents the fidelity of color reproduction on the screen. Square and round pixels are standard pixels. The closer they are to each other, the more fidelity of color the device reproduces. Three smartphones have brilliant screens. However, you can see that Samsung Galaxy S6 Edge have standard color pixels that are more deviated than two other smartphones. Iphone 6 and Bphone have color pixels matched almost perfectly. but if you take a closer look, you can see that the color pixel matching in Bphone is a bit better and color pixles seem fitting", said Mr. Thang.
To achieve the seemingly optimal fidelity, in addition to hardware, Bkav engineers had to optimize the software. It can be said that Bphone is one of smartphones with the screen of world-top fidelity.
4. One of the first smartphones in the world which can play 24bit – 192 kHz music
In the next part of the Event, Mobile Product Director returned the stage with the clip about Bphone's sound. Mr. Ta Minh Hoang shared the product philosophy of Bkav: "We consider smartphones not only for communication, working, photo capturing but also a high-quality entertainment device. We have put a lot of efforts to make Bphone a specialized high-end music player. Bphone is one of the first smartphones in the world capable of playing lossless music for professional and demanding music listeners. The sound output is 24-bit audio at 192 kHz, equivalent to the high quality of LPs."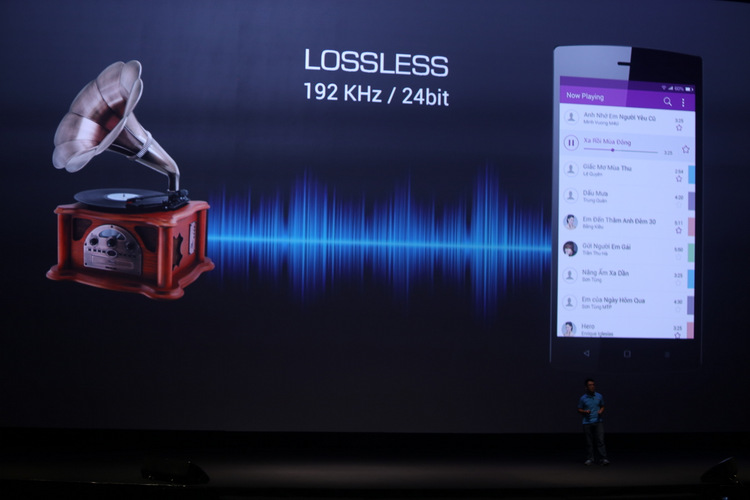 Mr. Hoang also made a comparison between 16 bit sound and 24 bit sound. With the same original sound, in form of standard sin, 24 bit sound had the fidelity of 224 while normal 16 bit sound had the fidelity of 216. Thus, 24 bit sound had very high fidelity, up to 256 times higher than the normal 16 bit sound.
Sharing more details about the quality of Bphone's sound, Mr. Ta Minh Hoang said: "And of course, Bphone will bring the best sound. To achieve this capability, our engineers have put a lot of efforts not only in hardware but also in software, where thousands of analyses and corrections of deviations in details of output sounds. 24-bit is not only a simple number, but also the absolute fidelity.
"With such sound of top quality, listening to music with Bphone will be like listening to music in a concert right at your home. You can enjoy to details of each instrument. And of course, with vibrant and live sounds, the fidelity of sound reproduction of Bphone will help you easily live in that music space", Mobile Product Director stated.
Mr. Hoang also shared the practical experience carried out by Bkav which showed that Bphone had the world top sound quality, better than the best masterpieces that users have known currently. It is easy to understand because Bphone is one of the first smartphones in the world which can play 24bit – 192 kHz music. He also added that users could enjoy 24-bit music absolutely if they used high-quality microphones.
5. 500 times faster data transfer than NFC
At 10:55, the stage screen continued to present a clip which brought guests the excitement and curiosity. To be detailed, Mr. Nguyen Tu Quang, Bkav's CEO and Chairman, appeared again on the stage: "And today, right here, you will have the chance to witness the start of a new trend in the global technology industry." He emphasized: "For the first time in the world, appears a smartphone integrated with ultra-high and close-range data transfer technology – Transfer Jet".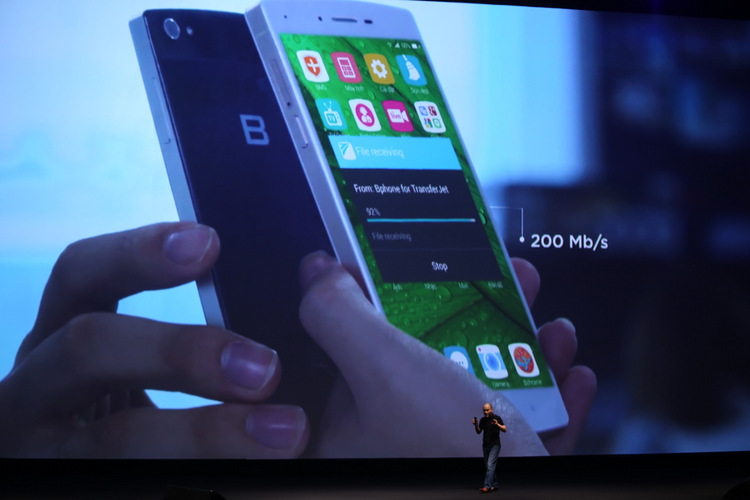 According to the Chairman of Bkav, with just one touch, in less than 2 seconds, you could transfer a HD music video to another device. And in less than 30s, you can share a HD movie up to 1G. With Bphone, if you are an architect and you want to transfer your design to your partner, what you need to do is simply to touch. This is what you cannot do with any other smartphones in the world. It is very useful when you are working at your desk, your phone is right next to your computer and your data has been transferred from your smartphone to your computer immediately. You don't have to plug, there is no need for USB. Simply touch. "And this can only be seen in fictional films. Unbelieveably, right here, today, it has come true," he said.
To illustrate, CEO Nguyen Tu Quang made a comparision of data transfer between Transfer Jet of Bphone and NFC of other luxury smartphones as iPhone 6 Plus, Samsung Galaxy S6 Edge. As a result, Transfer Jet was 500 times faster than NFC. According to Mr. Quang, with such transfer speed of heavy data and simple verification, TransferJet would replace the traditional data transfer. The traditional method was complicated because it must combine NFC to verify and Wifi Direct or Bluetooth to transfer data. Not every user knows how to use it. He also affirmed Transfer Jet was the trend of the future and Bphone was the first smartphone in the world equipped with this technology.
At the stage of Vietnam Conventional Centre, Hanoi, the capability of close-distance wireless data transfer of Bphone was demonstrated before the eyes of all guests authentically when Bkav Vice President of Security transferred the video he had just recorded at the event to the smartphone of the Chairman by just one touch. The file that Mr. Quang received had a volume of 72 Mb.
6. Software – the soul of Bphone
Bphone is not only beautiful and dedicate in design, powerful in hardware, but the soul of the smartphone, software is also a masterpiece that Bkav had cared for very carefully. At 11:05 at the Event, Mr. Nguyen Tu Hoang, Vice President of Software, appeared on the stage and introduced more about the features of Bphone.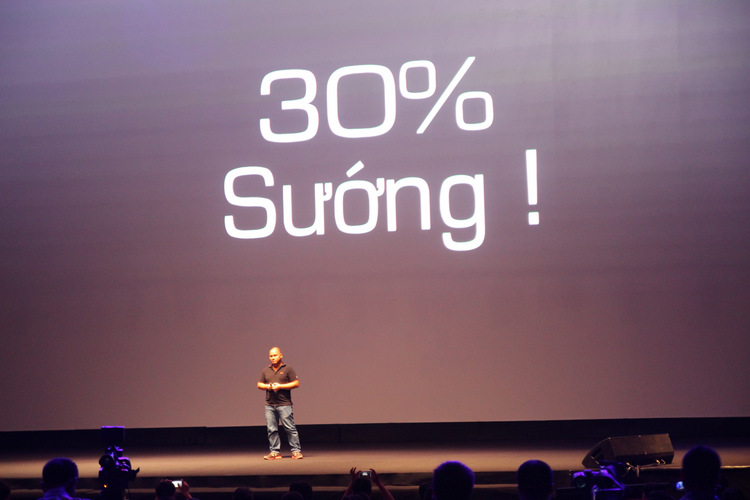 BOS operating system, based on Android 5
Mr. Hoang introduced: "In order to bring the most amazing experiences in proportion to its extraordinarily beautiful and subtle physical design for Bphone, we have developed a specific ROM, which we call "BOS", based on Android 5."
5-inch screen
Talking more about smartphone screen, Bkav Vice President said that 5 inch was the suitable size for almost everyone to browse the webs, watch films, play games… However, screen of 4.5 inch and up caused users difficulty in using because it exceeded the size of hand palm.
He added: "iOS is considered to be a very good operating system. However, with the latest version in iPhone 5, you can see that it is nearly impossible to use one hand comfortably, when they increase the width of the screen to 4.7 inch. Other Android smartphones, of other manufacturers, even cause more difficulties. In fact, BOS and Bphone will give you great experiences. You can perform multiple tasks with just one hand. I repeat this is a comfortable use."
Bkav Chairman said that using iPhone was simple but limited; Android smartphones had open software but they were not convenient. BOS and Bphone were dedicated in design, offering good experience but still open. This was because Bkav was the genuine software manufacturer with culture of software producer and experience of hardware manufacturer.
With Bphone, not only can you use the phone comfortably with just one hand, but also with least manipulations, 30% less than other smartphones in the world, including ones using iOS, Android and Windows Phone.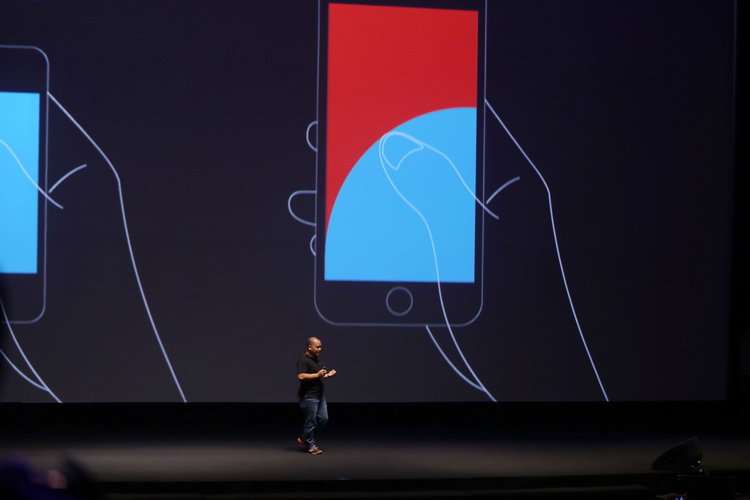 "This will bring you great experiences. 30% is an impressive number. When using, you feel very cool and surprised about the intelligence of BOS. I don't know any other word, but truthfully, it is very "cool", Mr. Hoang shared.
To offer the best experiences for Bphone and BOS even when you install 3rd party apps, Bkav support the feature of moving down the screen. Accordingly, with features out of reach, you can still use one hand, but the screen must be moved down a bit.
Interface design
He said: "To have the best experience, we not only focus on performance, but the interface design is also taken care of. All icons' designs are unified with physical designs. It makes a throughout design concept with simplicity in details. We choose bright colors so that using Bphone will bring you the excitement everyday. We choose the emotional purple for music player software, or the blue color for the weather software.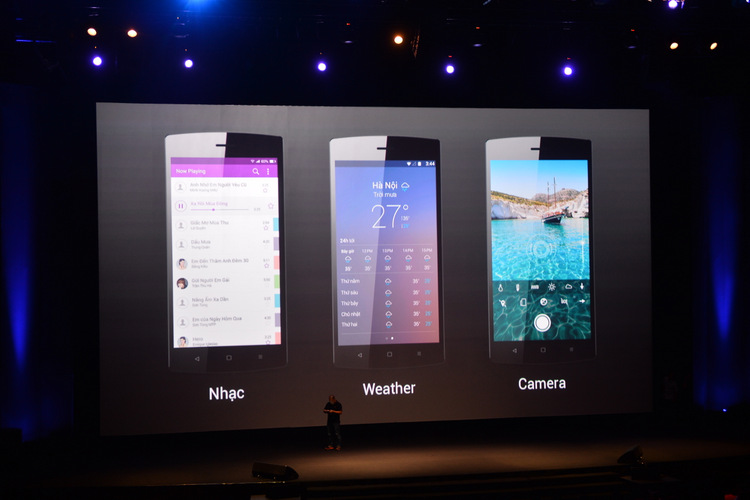 The Vice President continued to introduce more about software used frequently including phone, message and web browser by directly demonstrating on the stage to show the intelligence, convenience of the product. In addition, web browser BChrome (Bkav Chrome) was also specifically developed for BOS. All functions of Bkav were arranged in the reach of one hand. In other browers, URL bar was at the top of the screen, and users faced difficulties to reach it or they had to use two hands. In Bphone, this bar was arranged at the bottom of the screen, within your reach.
Mr. Hoang continued his description by accessing the technological page VnReview to read news about technology. He only needed to use one hand to touch URL bar at the bottom of the screen and searched VnReview. He also added that after finishing reading, you only needed to draw letter L on the screen to close the tab to open next news.
After carrying out the manipulations smoothly, he eagerly said: "Did you see that? Totally by one hand! Are your smartphones as fast as this? Too fast! Too smart! Too fashionable!"
Health software – your health coach
After the emotional presentation of the Vice President, Mr. Lam Hong Quang, Director of Mobile Product continued to introduce the health software to all guests. At the end of the clip about the software on the screen, Mr. Quang appeared on the stage and shared: "Bphone will be a health couch because Bphone will record all your activities about your health within a day. How many steps do you take in the morning, how far do you cycle. With a scientific method, Bphone will calculate to give you warnings and adjustments for your physical exercises in a scientific way to bring you better health."
The main interface demo of the health software was presented on the screen. All guests can see Bphone record your physical exercises and health in a day such as time of walking. In addition, Bphone also showed the consumption of calories in a day.
"If you have a professional training regime, you can set up exercises and Bphone will help you do those exercises. Bphone will make the training more exciting, make the goal more specific. And thus, the feasibility will be higher", Mr. Quang added.
Next, Mr. Quang demonstrated the run of 45 minutes in the training room. He pressed the orange button to create a new exercise, then selected the 45-minute one and started running. Right when he moved, Bphone calculated the time. When running, if he ran too fast or too slowly, Bphone reminded him to have suitable steps. Bphone informed him when he reached 1/3, 1/2, 2/3 the way, and congratulated him when he finished. Thus, Bphone played the role of a coach and a supporter when you did the exercise.
According to Mr. Quang, Bphone is a perfect assistant, working as a coach and a co-worker in every important work everyday.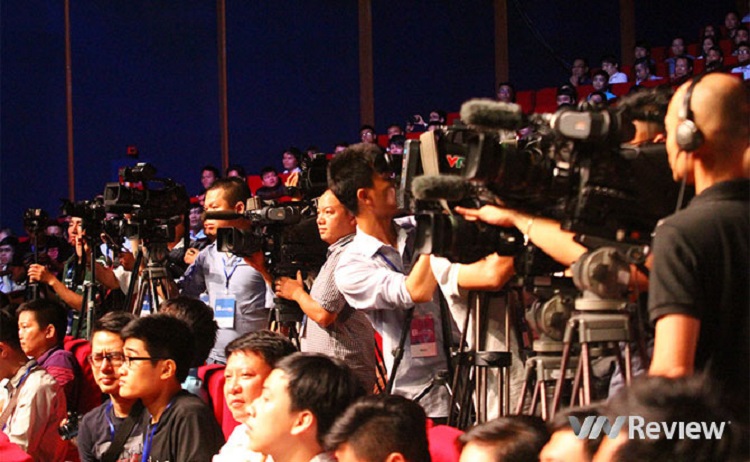 The event attracted a lot of attention from the press
Note and reminder
Talking about the Note feature of smartphone, the Director shared: "Taking notes is a scientific habit but it is hard to perform and maintain. If there are good and convenient means, it would be more feasible. The Note of Bphone is designed to turn you from a person who is not familiar with taking notes into one who does it in a comfortable and exciting way."
Another scientific and good habit is to record important events, to remind occasionally. You really want to do that but feel impossible to do so. The Reminder of Bphone is designed to offer you reminder needs. Even when you have no idea, the software will suggest you note down events such as birthdays, anniversaries…
For easy imagination, during the presentation, Mr. Quang performed the demo of some functions of Bphone. In the state of locked screen, he could still take notes easily by pulling Dashboard up and accessing Note. Next, Mr. Quang demonstrated to all guests how to use the Reminder software. After accessing the software, he pushed the botton Plus to create Reminder. He chose the date, time to remind and then named it "Daughter's birthday".
Finishing the demo, Director Quang presented another great experience: "For sure you have heard and seen people saying that, smartphones replace cameras, calculators, flash… With Bphone and BOS you will have these features as specialized devices, not merely applications. We respect the availability, you can use when you need. For example, when it turns dark, you need flash, you get out the flash and turn it on. You want to listen to music; you get out the music player. Vice versa, if you consider they are applications on smartphones, the story will be different. They cannot be called as specialized devices."
With Bphone, with a simple manipulation, you can turn on the flash, calculator, music player… instead of logging in and running the applications with many complicated manipulations. Bphone has a control panel that you can approach from everywhere, everytime.
7. Blive – Your Direct TV
After the demonstration of a specialized useful and general-purpose device, at 11:28 Chairman Nguyen Tu Quang appeared after the 3-minute clip about Blive. He shared: "Bphone is connection. You have watched the clip. You're traveling and have happy moments. You want to share with relatives or friends who are on the internet. You just draw Bphone out, share online videos, then all your friends can share happy moments with you. This is what many people have always wanted to do but see it impossible. Golden moments! Capturing pictures and posting on Facebook cannot tell all".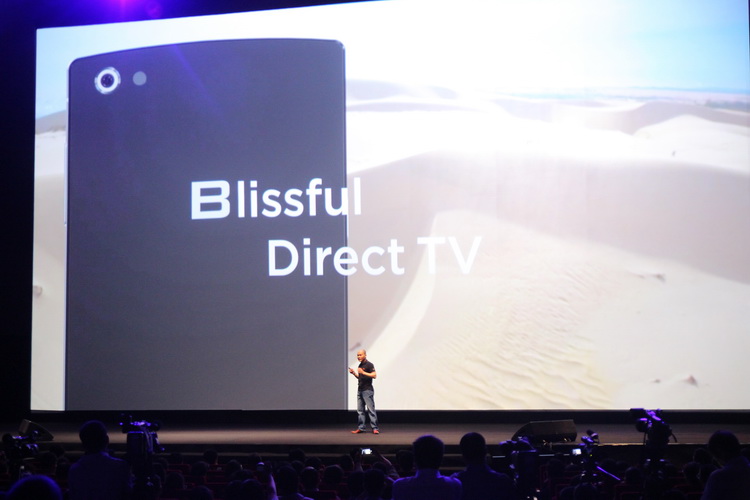 According to Mr. Quang, with video call, you cannot share the similar file with many people at the same time. Or you can only share file with limited size between two points. If you cannot do that before, Bphone will be the first smartphone in the world to help you as well as make that trend popular.
He also believed that Bphone would start a new trend of sharing: "Connect family, connect people. We also want to connect you with us, manufacturer of smartphone. Whenever you need our assistance, click on the connection icon available on Bphone screen, you will be connected to our support team, who can help you 24/7. You can only see this connection on luxurious smartphones as Vertu or Mobiado, and it is not free for those products. You cannot see this connection on any other smartphones. Bphone will certainly be the smartphone of best customer care. Millions of people who are using services of Bkav will agree with us about this. Customer care originates from our heart. It is not obligation, or responsibility. Thank you!"
8. The most secured smartphone in the world
Bkav is a network security firm; therefore, Bphone is a smartphone with special security. In the next part of the Event, Vice President of Anti Malware, Mr. Vu Ngoc Son appeared and introduced the security of Bphone.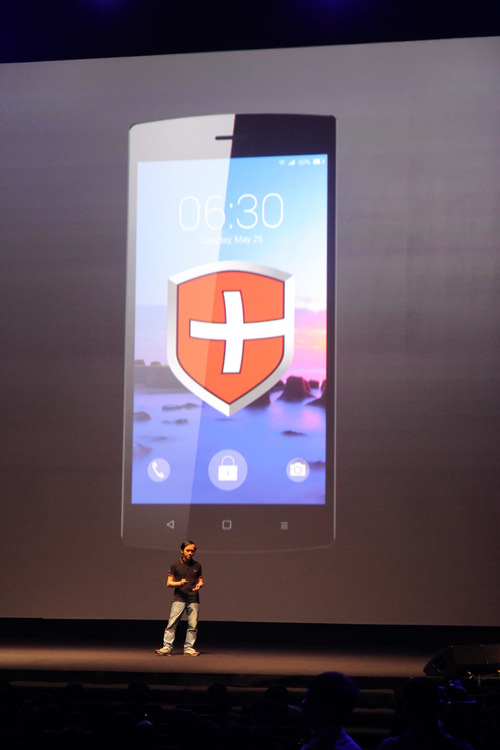 He affirmed: "Bphone is the most secured smartphone in the world! For sure! The only smartphone is produced by a network security corporation! It is different from all other smartphones in the market."
According to Anti Malware Vice President, Bphone was protected by special edition of Bkav Mobile Security built deep in the BOS operating system. Bkav engineers built most advanced security technology in design and core of the BOS operating system.
Firewall system
"Bphone is protected by realized time, with cloud computing, smart scanning eliminating all risks of virus and spying software", Mr. Son noted. "Especially, for the first time in the world, a smartphone is equipped with Firewall system."
Talking more about Firewall, Mr. Son said: "The security risk for phones is increasing and exploring in the near future. In the growing trend, it will be as dangerous as or even more dangerous than security on computer. Bphone is the first smartphone in the world equipped with Firewall system, preventing internet risks at present and in future. Firewall system built in Bphone helps block dangerous connections and control security risks. It can be said that Bphone is the safest smartphone in the world".
He also affirmed: "Bphone is a smartphone with no virus, no spam, no spyware and no eavesdropping".
Bphone Firewall
According to Mr. Son, a special feature that many people will like is that Bphone Firewall will support the prevention of advertising in App. You can experience the whole area of the screen without any disruption from ads when using Bphone.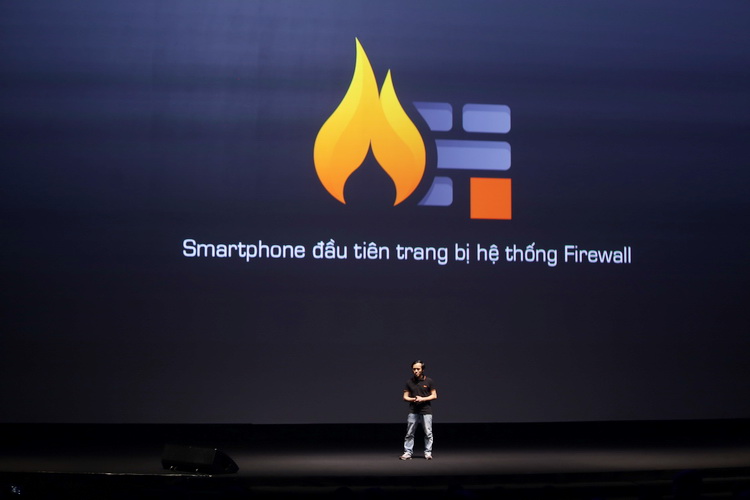 "The first smartphone in the world to be equipped with Firewall system"
The Vice President added: "With current 3G fee, the big demand of users is to control the usage traffic of software. Functionality of Bphone will help control the usage traffic of 3G, warning software that uses great traffic of 3G/2G, which costs a lot".
Anti-theft
Anti-theft feature on Bphone helps you find the position of the devices directly on a map, lock the device, control data remotely in case you lose your phone. Especially, unlike Find my Phone on iPhone or Device management of Android which requires the phone to be connected to the Internet, and you have to use another device connected to the Internet to command and see the result, the probability to have these two conditions is not high, Bphone is the unique smartphone in the world providing two methods to connect. The first method is through Internet channel like other smartphones. The other is via SMS – that you can order and view live result via SMS.
Talking about this feature, Mr. Son commented: "Two channels help connect to increase 400% possibility to find or control device. Bphone is always ready to serve you even if its Internet connection is lost".
Automatically optimizing system performance
Bphone has the feature to automatically optimize the performance of the system, clean waste and unused memory, remove applications that haven't been used for long, increase the capacity of battery.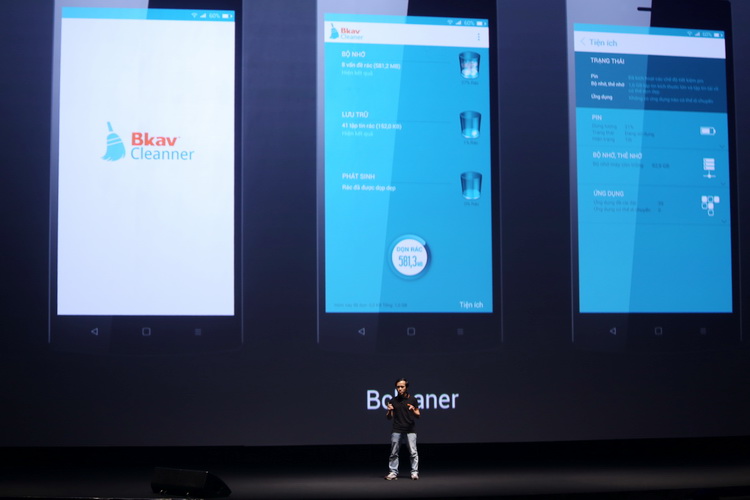 Bdrive
Also today, Bkav introduced Bdrive cloud computing. Customers' data will be synced on Bdrive, ensuring the sync in case of resetting or using a new phone. Or even in case of incidents causing data loss, you can still get data back. All these can be done very easily. Anyone can do it, with just 1-2 touches.
9. Be completely assured when lending your phone to others thanks to Private mode
Of course, the most secured device in the world cannot lack the Private mode to protect personal data. Mr. Nguyen Cong Cuong, Security Director helped all guests experience this feature by a direct demo on the stage.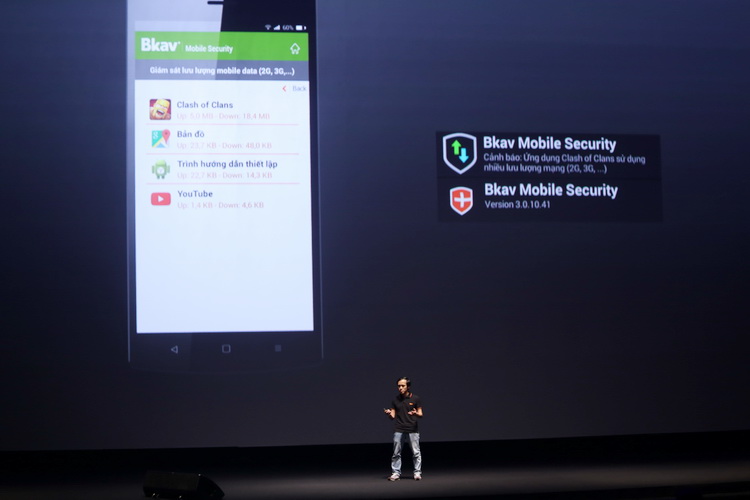 Mr. Cuong continued: "In each family, a practical demand is that parents often have to lend their phones to their children for games. Active children often touch any icons on the phone and sometimes, by accident, they might buy items in games, buy software on stores, and in some cases parents only acknowledge this when their account gets deducted. With Bphone, with just one simple touch, you can give your phone to your children without being afraid of losing your money. Because then Bphone's Private mode has been enabled. Your children can use the phone without affecting your data as well as money in your account".
Accordingly, in some certain cases, when friends or colleagues borrow your phone, with Private mode, you can be assured to give them your phone, without worrying about your private data because it cannot be viewed. Only a simple operation, touch the Private mode icon on the screen. Children cannot access your contacts, read your messages, or view your private and personal images, videos saved on the phone.
Mr. Son ended his presentation by a confirmation: There is no smartphone in this world that can perform this function as simply and easily as Bphone".
10. Less than $500 for a smartphone masterpiece
At 11:40, Chairman Nguyen Tu Quang returned the stage of the Launching event with information that people were expecting about the first smartphone Made in Vietnam. He said: "To bring users the most high-class products but suitable with economic conditions for Vietnamese people and people all over the world, we bring an unexpected thing. The world's smartphone masterpiece has an extremely attractive price. This is our effort. A price which we believe is extremely reasonable for the majority of people all over the world, and of course for Vietnam as well. We bring you the truest value, the most beautiful smartphone, the best sound, fastest data transferring. All are true, but rumor is always a rumor. 13 million or 15 million. Yes, rumor is always a rumor.
Mr. Quang formally declared: Only VND 9.99 million (US$455) for the world's smartphone masterpiece… I would like repeat once more, only VND 9.99 million!"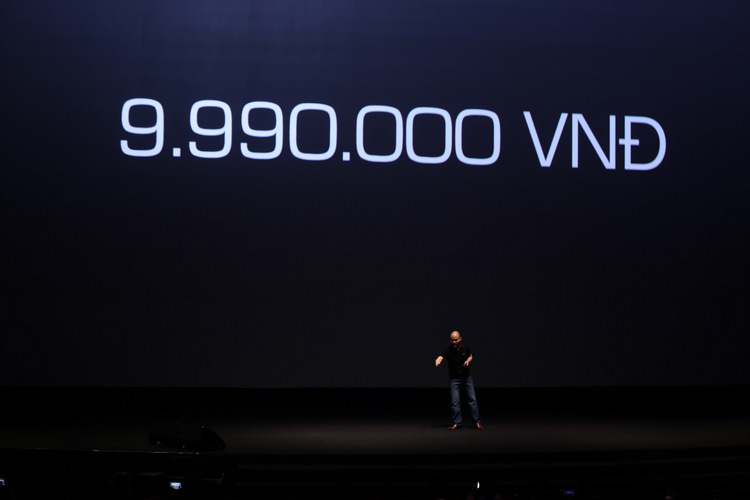 After the price of Bphone was declared, the whole hall seemed brusting out by applause and praise of all guests because the price for the world-top masterpiece was so reasonable.
"So you can save up 50% of the money to have a high-end, sophisticated, beautiful, impressive and strong product. Amazing! And this is our effort," Bkav Chairman added.
Besides, Bkav also informed that, users would have 5GB for free on Bkav cloud system, Bdrive. The 64GB version has three color choices, black, white and champagne. It is sold for 12.690 million Vietnam dongs ($595). Especially, Bphone had a special version – Limited Edition, the 24k gold version with 128GBfor special demands, at the price of 20.190 million Vietnam dongs ($927).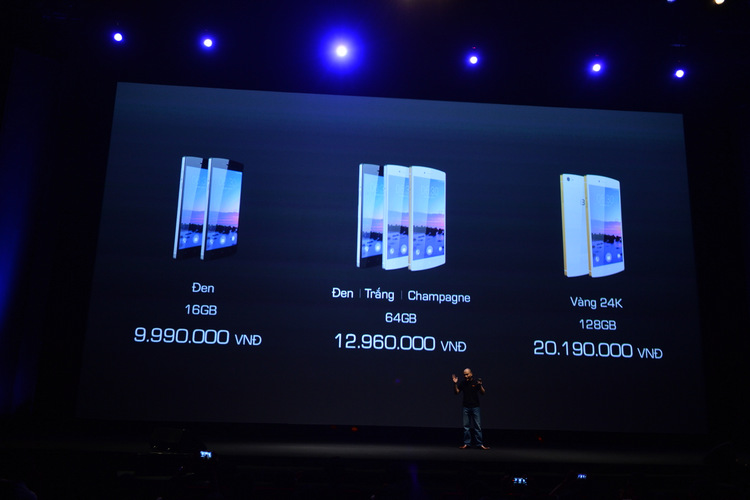 Mr. Quang noted: "Beyond a product, we want many people to be able to experience human technological adchievements; we want to have more products suitable with the financial conditions of the majority of people all over the world and Vietnam. And that is the reason why we offer such a reasonable price".
To offer the most reasonable price to users, Bkav applied the online direct distribution.
11. Smartphone of Bkav sold online via electronic commercial website Vala.vn
Also in this event, Bkav CEO declared that: "And to prepare the best for the online distribution, make it most professional, today, I am happy to officially introduce our commercial website Vala.vn (offering everything). We do not focus on items of immediate profit as other commercial websites in Vietnam currently, but we want to serve everyone with the true meaning of offering everything."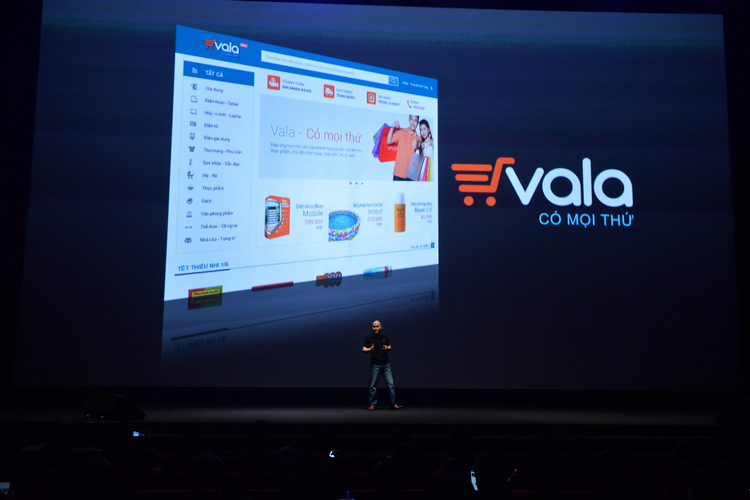 According to Bkav Chairman, more than 5 million people had been purchasing Bkav Anti-Virus during the last 10 years and Bkav was strongly proud to be the largest-sized electronic commercial firm in Vietnam.
Sharing more information about Vala, Mr. Quang said: "We make sure that no electronic commercial websites in Vietnam have such a large number of online customers. The difference is that in the past, we only sold our products, now we want to serve everything. You can buy the smallest things for daily life such as needle or thread…, things with the smallest value. We are very happy to serve the community in that way. This is the difference between Vala and other electronic commercial websites".
Mr. Quang also informed that, customers could order Bphone via Vala or official website Bkav.com. All information about the product, today, would officially be posted on website of Bkav.
In addition, on Vala, customers could buy accessories for Bphone of high quality such as cover, adapter, microphone… Bphone has two kinds of cover, standard and superior with different colors for customers' options as green, purple, yellow… Bkav will provide 2 batches of order. One week after today, the system will be open for the first order, from 10:00 to 22:00 on 2 June. The product will be delivered nationwide with 14-day return policy if customers are not satisfied. Especially, customers can register with Bkav to engrave their names on the product.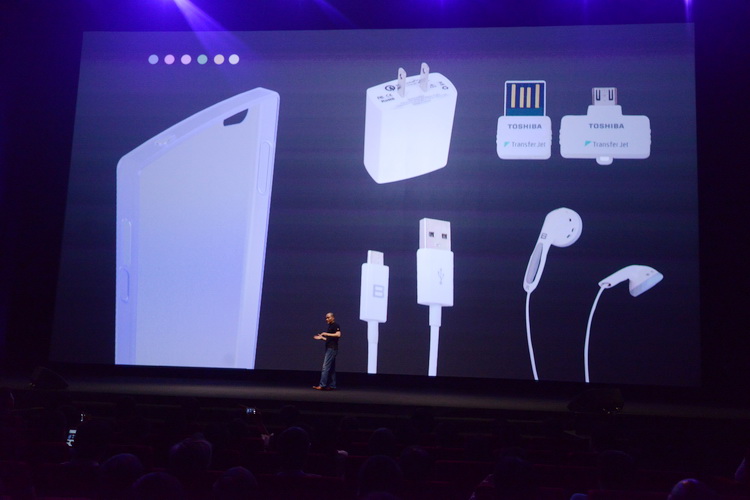 12. Smart Devices allow controlling home electronic appliances
At the end of the Launching Event, Mr. Nguyen Tu Quang introduced more about other products of Bkav to all guests. He said: "Another interesting thing is that, today we will introduce a new segment, our smart devices. You can buy Bphone together with smart socket, or smart switch. With these devices, you can control home appliances via smartphone or tablet. So you are prepared to join the world of future, the world of Internet of Things with us. We are very glad to serve you. And so, Vietnam is no longer a low land of technology".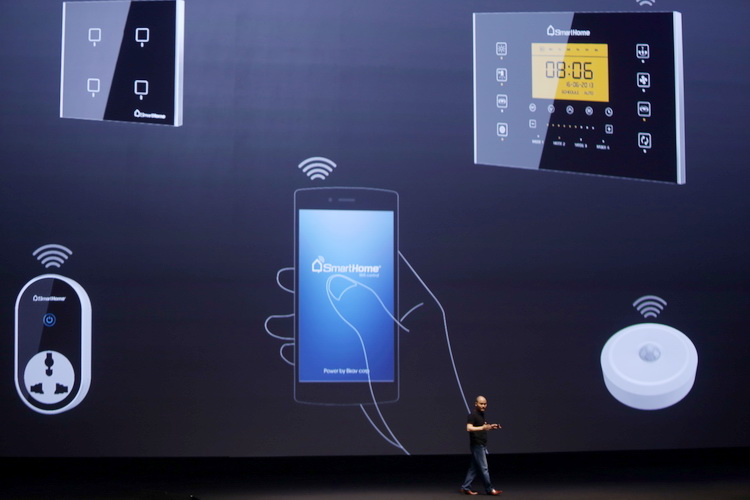 Mr. Quang finished the Event by strongly assuring that: "We believe that, today will make history of Vietnam technology. Today, Bkav Corporation brings you one world-class masterpiece, with exquisite and beautiful design, sophisticated manufacturing and strong performance, world-class sound, camera and screen, the fist data transmission technology in the world, the smartest operating system. And we are strongly proud to be able to design and manufacture such product in Vietnam, a country which is still facing many difficulties and unfavorable conditions. We can achieve because we have strong motive to walk abreast with powers in the world according to Uncle Ho's recommendation. And of course because we love you, love Vietnam. Thank you very much!"
13. Directly experiencing Bphone of Bkav
After the Launching Event, all guests experienced Bphone in experience zones. They had chance to touch Bphone masterpiece. They could feel each dedicate detail in design and superior materials…, experience features presented in the Event.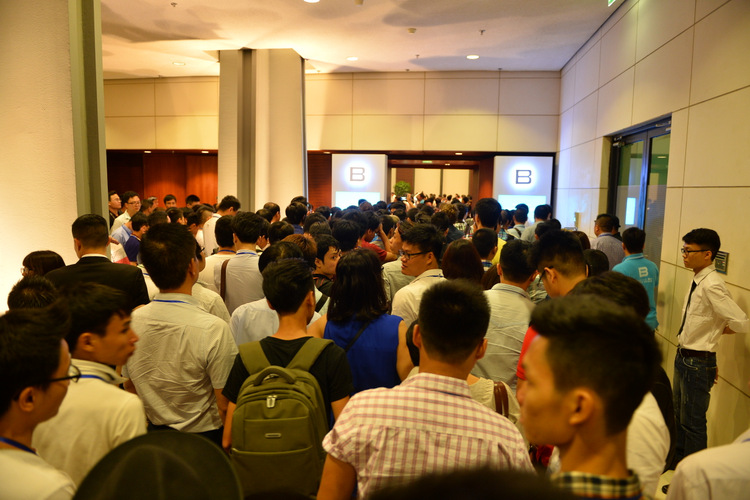 People in queue to experience zones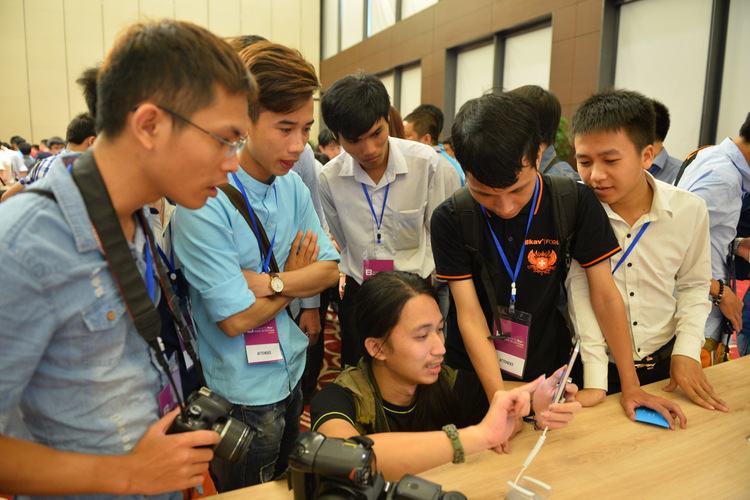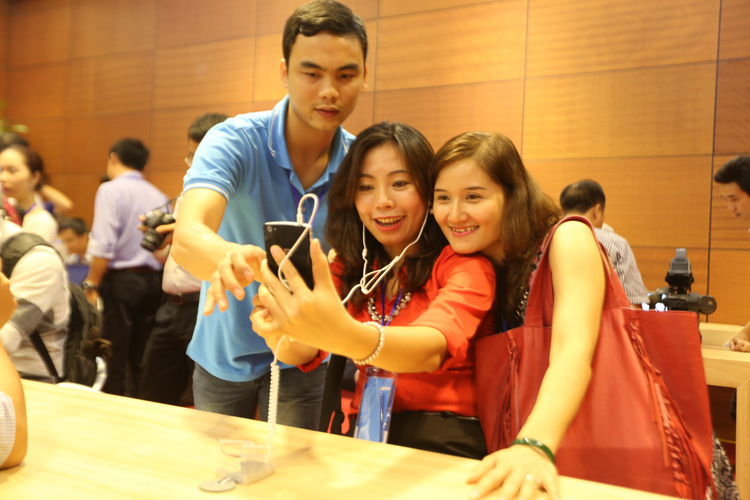 Bkav
Not less than 5 characters!