Bkav Anti Fake AV Technology
17:17:00 | 03-01-2014
Bkav Anti Fake AV – Anti fake antivirus software is the smart technology which detects and removes all kinds of fake antivirus software without updating malware definition database.
Fake AV is the type of malware which disguises as an antivirus software to misrepresent the security status of a computer, threaten and swindle money out of user. Once infected by this type of malware, user will be continually warned about serious virus infections and asked to pay for the software to remove them. Indeed, all the warnings are fictitious and the fake software itself is the virus.
Bkav Anti Fake AV applies smart analyzing method to recognize characteristics of installed software programs, detect and remove Fake AV from system. Therefore, the detection rate of 100% is guaranteed without updating malware database.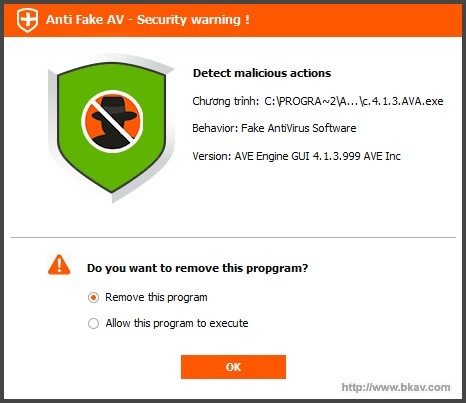 Equipped with this technology, Bkav helps protecting user from inconvenience and economic loss caused by fake antivirus software.
Bkav
Not less than 5 characters!