Unveiling Bkav 2012 integrated with Anti Keylogger
00:25:00 | 16-11-2012
Today, Bkav has officially launched Bkav 2012 antivirus software integrated with Anti Keylogger. Bkav is one of the first antivirus software producers to integrate the technology into its product.
The recent explosion of frauds via Yahoo accounts mainly results from users' losing their passwords. According to Bkav's research, the tool that scammers used in these frauds is keylogger. In order to protect themselves from the threat, users need to install both anti keylogger software and antivirus software on their computer. This is uncomfortable while not really effective.
Bkav 2012 is one of the first antivirus softwares in the world to be integrated with Anti Keylogger technology, blocking actions like keystroke logging, screen capturing, injecting executable code into running processes, stealing data from clipboard, etc.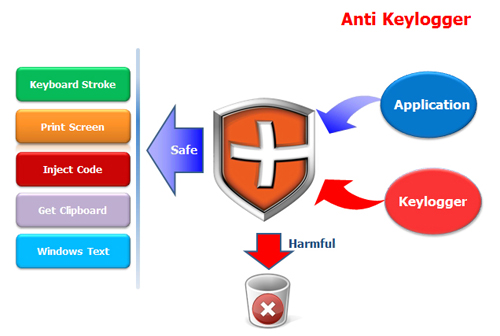 Anti Keylogger is a built-in technology of Bkav 2012
"An antivirus solution does not merely protect computers against malware, but also blocks acts of deliberate sabotage such as: installing keylogger to steal information of competitors, tracking others' activities. This is the reason why our engineers have researched and integrated Anti Keylogger into Bkav2012," Mr. Vu Ngoc Son, Director of Bkav Research & Development (Bkav R& D) said.
Bkav 2012 uses cloud computing technology; its scanning speed increases by 2 times compared with that of the previous version. Besides, Safe Run technology is upgraded in this new version, permitting users to open files downloaded from the Internet in insulating zone. Site Advisor technology helps users avoid phishing websites, basing on a blacklist provided by Anti Phishing Working Group of which Bkav is a member.
In June 2011, according to the testing results produced by Virus Bulletin (United Kingdom), Bkav antivirus software successfully entered the world top's three antivirus softwares. Bkav got RAP score of 98.1/100, surpassing big names like Kaspersky (94.3 points), AVG (94.4 points), Avira (93.7 points), etc.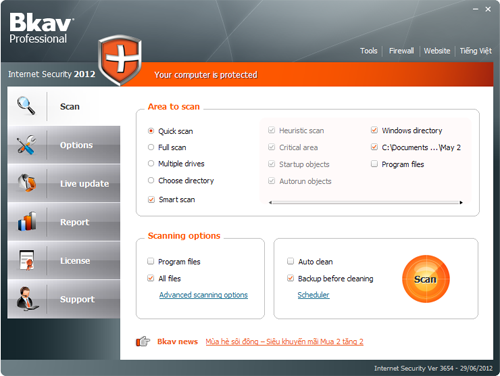 Bkav 2012 Interface
Bkav
Not less than 5 characters!