Bkav Endpoint Enterprise

Download Bkav Endpoint Enterprise brochure here

Bkav Endpoint Enterprise is a comprehensive anti-virus solution equipped with most advanced technologies of Bkav. Bkav Endpoint Enterprise works on a server/client, centralized management model with the Server located at headquarter. The workstations are installed with Bkav Endpoint Enterprise and connect to this Server through IP or domain. The system works as follow:

- Bkav Endpoint Enterprise Server updates new virus definitions from Bkav server, then comprehensively gets all network's workstations updated with these definitions.

- Bkav Endpoint Enterprise Client on workstations will automatically detect and remove (Auto Protect) virus, trojan, spyware, adware right upon their penetration onto computer. Removing all viruses and trojan which spread through USB drives, web, file sharing as well as through holes of software. Sending reports to Server.

- Bkav Endpoint Enterprise Server helps administrators to be fully informed of the network's overall virus situation, names of the virus propagating in the network, which computers being infected. The administrators can schedule, command computers in the whole network to simultaneously remove virus.

- If a new virus emerges in the network, administrators only need to update the newest virus definition to Server. Then, Server will automatically broadcast this update across the network and process the virus in all workstations at the same time.

- In case the system is decentralized with many servers, specifically a Centre Server and Branch Servers, administrators can customize the Centre Server to manage information from all Branch Servers. This helps administrator of Centre Server to best control the antivirus situation in the whole network.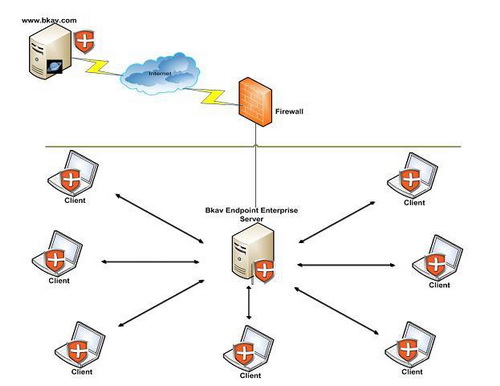 Bkav Endpoint Enterprise Solution Model
(Small network scale with a server)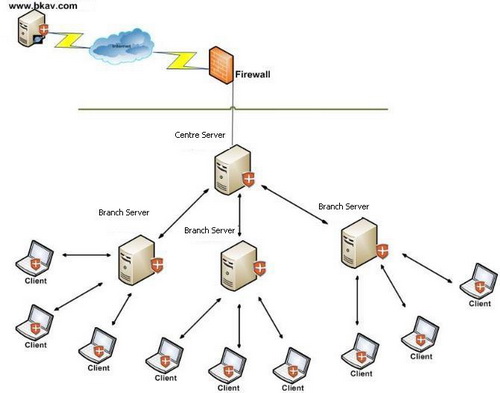 Bkav Endpoint Enterprise Solution Model
(Big network scale with decentralized servers)
Features of Bkav Endpoint Enterprise

- Real-time Protection

- Safe Run

- USB Protection – Controls in/out portable storage devices (USB, hard disk drives, etc.)

- Safe Removing

- Site Advisor

- Removes virus, worm, trojan, spyware, adware, keylogger, backdoor...

- Removes rootkit

- Removes metamorphic virus

- Repairs Exel file

- Shows hidden file

- Firewall

- Proactive Protection

- Heuristic Scan

- Web Protection

- Self-Defense

- Reputation Based Detection

- Parental Control

- Supports different scan modes: Normal scan, Quick Scan, Smart Scan, Deep Scan, Compressed file Scan

- Partial updates of signatures

- Manages virus situation in workstations from Server

- Manages virus situation in hierarchy model under multiple servers

- Manages status, version of Bkav Endpoint Enterprise Client on workstations

- Automatically installs workstations through Server

- Produces statistics and reports of virus situation in the whole network

- Schedules scan for all workstations in the whole network

- Remotely commands certain workstation groups or all workstations in the network to scan for virus at any time

- Divides and manages workstations by groups

- Works on background mode of operation system (Kernel Mode)
Bkav Cloud System Model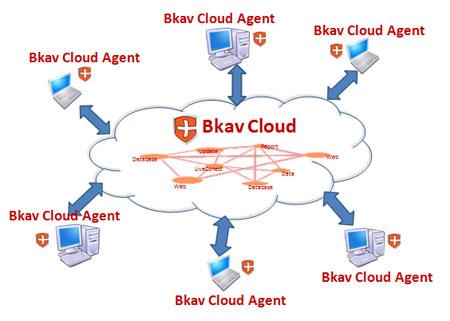 Bkav Safe Run Model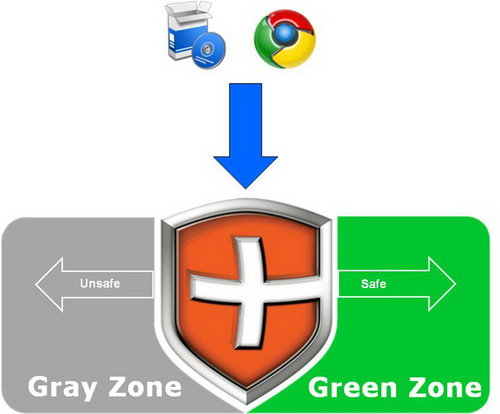 Bkav Endpoint Enterprise screenshots

Main interface

New features

Technical Support

A part of Bkav Contact Center
[Updated on December 10, 2013]